---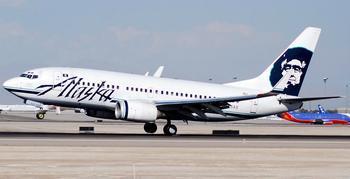 Alaska Air, a carrier operating primarily on the West Coast, is acquiring Virgin America. It's the latest airline industry consolidation and perhaps the only combination that wouldn't raise significant anti-trust hurdles at the Justice Department.
Virgin founder Richard Branson admits, however, that he is sad to see his little gem of an airline join the consolidation trend.
"I would be lying if I didn't admit sadness that our wonderful airline is merging with another," Branson wrote Monday in a post on Virgin's website. Because of federal regulations, Branson -- who is British -- was not allowed to hold controlling interest in his airline and was thus effectively sidelined during merger negotiations. 
"So there was sadly nothing I could do to stop it," he said.
The merger expands Alaska Air's existing footprint in California and will help it compete with the big four domestic carriers. Virgin America operates some transcontinental flights, but its major presence is in California.
Alaska Air says Virgin America customers will find expanded service to Silicon Valley markets, as well as Seattle. It says the combination of the two airlines will provide more connections to international flights leaving Seattle, San Francisco, and Los Angeles.
East Coast presence
It will also create an East Coast presence for Alaska Air, with access to slot-controlled airports like Ronald Reagan Washington National Airport and the two major New York City-area airports, JFK and LaGuardia.
"With our expanded network and strong presence in California, we'll offer customers more attractive flight options for nonstop travel," Brad Tilden, chairman and CEO of Alaska Air Group, said in a release. "We look forward to bringing together two incredible groups of employees to build on the successes they have achieved as standalone companies to make us an even stronger competitor nationally."
Besides being a win for stockholders, the two companies say the merger is a win for consumers too. They point out that Alaska Air has won the Wall Street Journal's top ranking among the nine largest domestic carriers for overall operational performance three years in a row. The number two airline? Virgin America.
Virgin America has also been consistently voted "Best Domestic Airline" by Leisure's Annual World's Best Awards and Conde Nast Traveler's Readers' Choice Awards. Both airlines have been highly rated in terms of quality and efficiency.
1,200 daily departures
The combined company will maintain hubs in Seattle, San Francisco, Los Angeles, Anchorage, Alaska, and Portland, Oregon, with 1,200 daily departures. Its fleet will include 280 aircraft, including Virgin America's 60 Airbus A319 and A320 jets, with three classes of service.
The deal has won the unanimous approval of the boards of directors of both companies, but is conditioned on regulatory clearance, a green light from Virgin America shareholders, and satisfaction of other customary closing conditions.
The companies say they expect to complete the transaction with regulators' approval no later than Jan. 1, 2017.
---