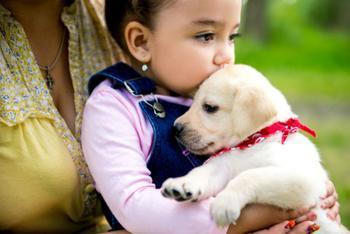 For the 26th year in a row, the Labrador Retriever is America's top dog. In its 2016 ranking of the most popular dog breeds, the American Kennel Club (AKC) once again dubbed the family-friendly lab the nation's most popular pup.
But a few other breeds may be catching up to the intelligent and eager-to-please lab. The Rottweiler's number 8 ranking was its highest in almost two decades, French Bulldogs are rising up the ranks, and terriers have also made huge strides in popularity as of late.
Here are the ten most popular dog breeds of 2016, according to the AKC:
Labrador Retriever

German Shepard

Golden Retriever

Bulldog

Beagle

French Bulldog

Poodle

Rottweiler

Yorkshire Terrier

Boxer
Breeds poised for a takeover
"The Lab is such a versatile dog that it's no wonder it makes a great companion for a variety of lifestyles. Keep your eye on the Rottweiler, though. It's been quietly winning hearts over the past decade," said AKC Vice President Gina DiNardo.
Another breed to keep your eye on? The French Bulldog. DiNardo noted that the playful breed has risen 32 spots over the past decade and shows no signs of stopping.
Last year, the French Bulldog jumped three spots to number six. This year, the breed held on to its number six ranking and took the number one spot in three cities: Miami, Florida; New York City, New York; and San Francisco, California.
The Russell Terrier rose an impressive 14 spots this year (from 104 to 90), while the Rat Terrier and the Parson Russell Terrier rose five spots and two spots, respectively. 

Of the 189 breeds recognized by the AKC, the least popular were English Foxhounds, Norwegian Lundehunds, and American Foxhounds.