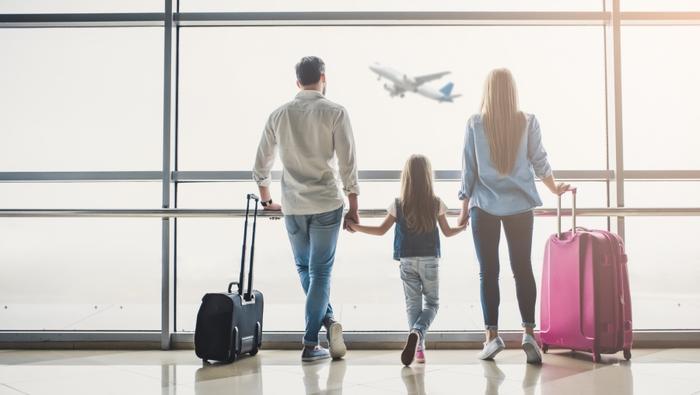 Every traveler knows the hoops they have to jump through these days when making it through the maze at an airport. That task can become even more perplexing when you have a child in tow, especially if they have allergies or you have an infant that requires a car seat, stroller, and a duffle bag of wipes, diapers, and bottles.
"Airports can be quite tricky for families," writes Christy Rodriguez in TravelPoints' new rankings of America's 10 most kid-friendly airports. "They often suggest you arrive hours ahead of your departure, require you to stand in long lines during security checks, and make things like breastfeeding more challenging."
In a recent TravelPoints study, researchers examined the 50 busiest airports by total passenger boardings in the U.S. for 2018. Since there are no federal regulations governing how airports cater to children, the study created a point system based on the quality and number of kid-friendly activities offered at each airport, as well as free access to Wi-Fi since being connected to the internet can keep a child occupied for hours. Family-friendly lounges were also given points.
If you're a new mom, you might be asking "But, what about nursing stations?," and that's a valid question. The reason those weren't included is airports are now required to cater to breastfeeding moms as part of the recently enacted Friendly Airports for Mother's Act. That act requires all U.S. large- and medium-sized airports to provide a "clean, private, non-bathroom space in each terminal for the expression of breast milk."
The Top 10
After TravelPoints crunched all the various metrics, here are the airports that made their way onto the study's Top 10 list:
Boston Logan International (BOS). The biggest draws include: "Kidsport" play areas in 3 terminals with a baggage claim slide, a climbable airplane, and a replica built of the airport's control tower. Logan also placed its play areas stationed close to bathrooms for those much needed potty breaks. For moms who need a place to sit and calm their child, there are rocking chairs throughout the airport. And for those seeing free Wi-Fi and charging stations, Boston thinks of itself as a "wired airport" and goes the extra mile to make those technical pluses available throughout the airport.

Portland International (PDX). Portland International Airport's high ranking comes as no surprise for those who've passed through. The airport was given top marks for terminal facilities, accessibility, food options, and entertainment. While the airport doesn't have the same number of play areas as Boston Logan, it does have two in the pre-security areas, which include small climbing structures, a toy telescope to watch planes out on the tarmac, and two post-security areas with Lego tables and foam play elements.

San Francisco International (SFO). You would expect an airport close to Silicon Valley to have plenty of electronic gadgets, and San Francisco doesn't fail in that area. The airport sports Kids' Spots located post-security in all terminals, which feature unique, interactive displays. One particular Kids' Spot comes complete with a weather-themed play area with crawling equipment and the interactive "Plasma Wall", where colorful shapes move around in response to the sounds the kids make.

While San Francisco didn't make the list of most pet-friendly airports, it does have its own "Wag Brigade," where trained dogs are brought to the terminals in hopes of some special attention from travelers.

Chicago O'Hare (ORD). If you've flown cross-country on United or American, it's a safe bet that you've changed planes at O'Hare. If you have the time between flights, O'Hare's "Kids on the Fly" exhibit in Terminal 2 gives children the space to crawl around and inspect an airplane, a control tower, and a helicopter model. If the kiddos are more of the Lego-loving crowd, there's plenty of mini-figs for them to enjoy, too.

In O'Hare's other terminals, kids can also see a 72-foot long Brachiosaurus model, a replica of a WWII fighter plane, and what's billed as the world's first airport aeroponic garden with more than 1,000 plants and sustainability tips.

Atlanta's Hartsfield-Jackson (ATL). Not only is Hartsfield the busiest airport in the world, it's also carved out some magical space for the young ones. If your child needs to blow off some of that pent-up energy, the airport has two play areas with slides, an art program featuring a 20-piece Zimbabwean stone sculpture, and a fully assembled skeleton of the Chinese Yangchuanosaurus, a Jurassic period dinosaur.
Rounding out the Top 10 kid-friendly airports are Detroit Metropolitan Wayne County (DTW), home to a 39-foot wide water feature that was inspired by the lines of a flight map; Washington D.C.'s Dulles International Airport (IAD) which has a wow-inducing kids' play area developed by NASA; Philadelphia International Airport (PHL) which has caricaturists and story time; San Jose International Airport (SJC), where children can listen on the phone connected to live communications between the control tower and pilots; and Nashville International Airport (BNA) which features live musical performances from a variety of genres.