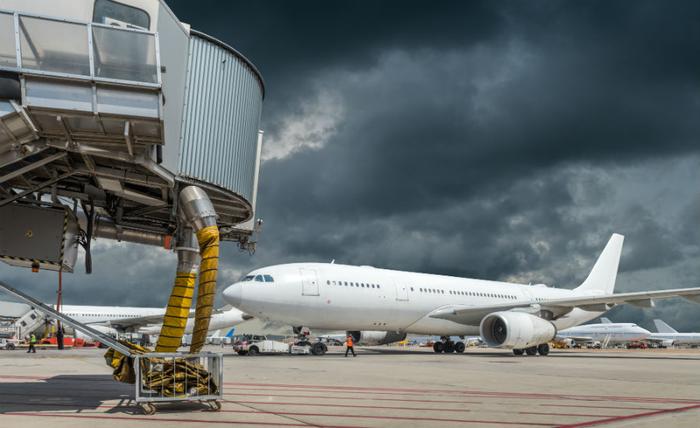 Ahead of the arrival of Hurricane Florence on the East Coast, several airlines have announced that they will waive ticket change fees for customers who need to change their travel plans due to the storm's predicted path.
Change fees normally set customers back around $200 plus a difference in fare, CNBC reports. However, Delta, United, Southwest and other big airlines say they will waive change fees or fare differences ahead of the impending storm.
Carriers said many flights are likely to be affected by the hurricane, which is expected to make landfall at the end of this week as a Category 4 with sustained winds of 130 m.p.h.
Affected cities
Southwest Airlines announced in a travel advisory that because of Hurricane Florence, flights going to and from nine airports along the east coast could be canceled, delayed, or diverted. The airline said following airports could be affected by the storm:
Baltimore/Washington (BWI)

Charleston, SC (CHS)

Charlotte, NC (CLT)

Greenville-Spartanburg, SC (GSP)

Norfolk/Virginia Beach, VA (ORF)

Raleigh/Durham, NC (RDU)

Richmond, VA (RIC)

Washington Dulles International (IAD)

Washington, D.C. (Reagan National–DCA)
Airlines waiving fees
Southwest said passengers booked into six cities in South Carolina, North Carolina, and Virginia can re-book their flights within 14 days of their original dates with no additional cost.
Delta says travelers booked to and from airports from Virginia to Georgia won't be charged change fees. United also announced that it will waive date-change fees and fare differences for travelers booked to or from 16 area airports if they were booked to fly between September 10 and September 16.
JetBlue announced that it will waive change and cancel fees and fare differences for customers traveling from September 13 to September 15 in five cities in the Southeast.
As of 11 a.m. ET, 192 flights to, from, and within the U.S. have been cancelled for today; 362 flights for tomorrow have already been canceled due to the storm's predicted path, according to flight-tracking service FlightAware.
FlightAware said it expects those numbers to rise significantly over the next 24 hours as the storm approaches and airlines finalize their plans.