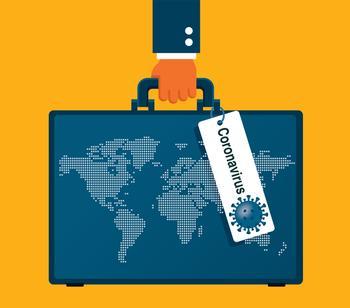 For travelers forced to change plans due to the COVID-19 epidemic, many airlines are doing what they can from their end by offering fee waivers and flexibility in rebooking.
However, it's not a cut-and-dried thing. The original travel dates have to be considered, as do routes and the timeline for when destinations were pegged with coronavirus-related alerts.
ConsumerAffairs has assembled the basics of what airlines that fly between the U.S. and Asia -- as well as Italy, a place that has become a major concern for parents with college-aged children who might be doing their semester abroad -- are offering and compiled a basic list of what consumers can expect. 
Waiver and rebooking details by airline
All airlines offer waivers of some sort, but applicable dates vary from one airline to another. Most travelers will also have to pay any difference in fare for a rebooked flight. 
Any traveler who has a reservation on any of those airlines is urged to click on the "full details" links for that particular airline for a complete rundown of what's available.
Air France
Since Air France serves both China and Italy, it has two sets of policies regarding waivers and rebookings. Unlike some of its peers, Air France also allows consumers to postpone their trips completely and receive a full refund (until June 30). Full details are available here.
Alaska Airlines
Alaska Airlines is probably the most compassionate of the airlines in this situation, offering a "peace of mind" waiver which covers every single fare the airline offers, even the ones which generally do not allow for any changes or cancellations. Change and cancellation fees are suspended for any new ticket purchase made from February 27 through March 12, 2020. This applies to travel through June 1, 2020. Full details are available here.
Alitalia
Because the outbreak has a significant presence in Italy, Alitalia is offering waivers to travelers with tickets for a destination in Northern Italy (Milan Malpensa, Milan Linate, Milan Bergamo, Bologna, Genoa, Turin, Venice, Verona and Trieste airports). Full details are available here.
American Airlines
American will waive change fees up to 14 days prior to travel for customers who purchase travel between March 1 and March 16. It will also waive any change fee for tickets bought by February 27 for travel scheduled between February 27 - April 24, 2020. Full details are available here.
British Airways
British Airways has cancelled flights on most of its Asian routes, but -- as of Tuesday, March 3 -- it has not cancelled flights into or out of Northern Italy. The company says that it's "continuing to monitor the situation closely," but because the situation might be causing some uncertainty, it has "introduced flexible rebooking options for customers booked to travel to/from some Northern Italian airports." Full details are available here.
Delta Air Lines
Like United, Delta's list of can's and cannot's runs the gamut and is highly dependent on when the tickets were purchased, the destination, when travel has to be rebooked, etc. Full details are available here.
Hawaiian Airlines
Because Hawaii is a frequent destination for both U.S. and Asian travelers, Hawaiian Airlines has taken a very liberal -- and simple -- approach to rebookings. The company says guests who book any flights between March 1-16, 2020 may change their travel to a future date without incurring change fees. Full details are available here. 
JetBlue Airways
JetBlue is suspending any change/cancellation fees for reservations made between February 27, 2020 and March 11, 2020 for travel through June 1, 2020. Full details are available here.
Lufthansa 
Lufthansa has cancelled all flights to mainland China through April 24 and estimates that it will reduce the number of its flights into Europe by as much as 25 percent depending on the spread of the coronavirus. Any traveler whose flight is impacted by those changes can request a refund free of charge, and Lufthansa will rebook those customers at no additional charge. Full details available here.
United Airlines
United's waiver program is a bit complicated, but depending on what the destination is and when the travel was booked, the range of refunds includes everything from unflown flights and nonrefundable tickets to end dates when any travel change must be completed by. Full details are available here.