---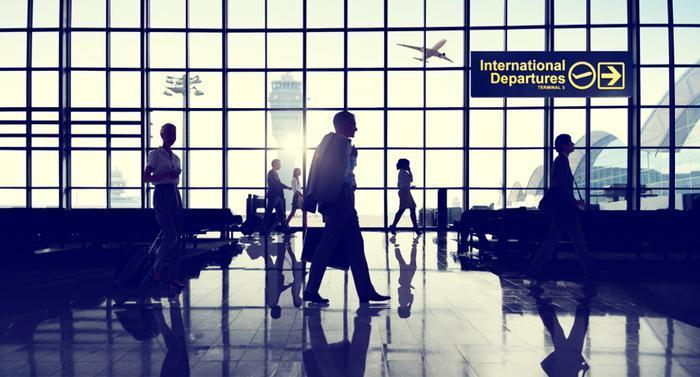 The good news for airlines is that consumers don't hate them quite as much as they once did. But it's nothing to get excited about -- only Internet service providers, subscription TV and health insurance rate worse with consumers, according to the American Customer Satisfaction Index (ACSI).
Airlines reach an ACSI benchmark of 71 on a scale of 0 to 100 for 2015—approaching the category's peak score of 72 in 1994.
"Airlines are doing a better job of getting travelers to their destinations on time, with less frustration over baggage," says ACSI Director David VanAmburg. "ACSI findings show that timeliness and baggage handling have improved, which is in-line with Department of Transportation data on reductions in both flight delays and baggage mishandling over the past year."
The on-board experience still lags, however, with seat comfort remaining the worst part of flying (ACSI benchmark of 65). Passengers are happier with in-flight services such as entertainment options, up 7 percent to 72, but there is still room for improvement.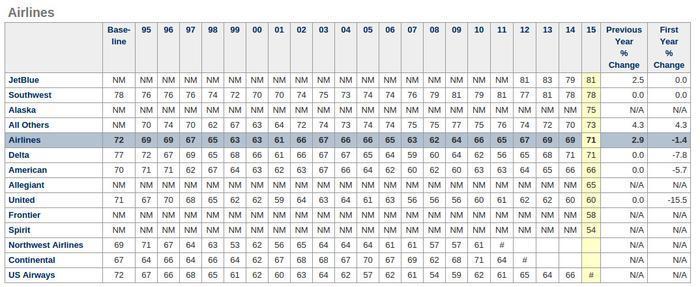 The ACSI Travel Report 2015 covers customer satisfaction with airlines, hotels and Internet travel agencies.
JetBlue soars, Spirit sinks
Low-cost carrier JetBlue, up 3 percent to top the field at 81, increases its lead over rival Southwest. JetBlue has been number one for passenger satisfaction since 2012, but the airline's plans to start charging for bags and reduce legroom may make it difficult for JetBlue to keep its title.
Southwest is flat at 78, but still maintains an edge over the remainder of the field. ACSI newcomer Alaska Airlines debuts at 75, ahead of three other ACSI entrants: Allegiant Air (65), Frontier Airlines (58) and Spirit Airlines (54). The major legacy carriers also are unchanged from last year, with Delta (71) holding an advantage over American (66) and United (60).
"Southwest appears to have successfully managed its AirTran acquisition, but its expansion into international travel may cause some turbulence ahead," says Claes Fornell, ACSI Chairman and founder. "On the other end of the spectrum, Spirit may offer low fares, but its score reflects its minimalist approach to customer service."
Hotel satisfaction steady
Guest satisfaction with hotels is steady at an ACSI score of 75. Upscale and luxury brands top the category, while budget chains lag far behind.
Travelers paying more at a range of higher-priced properties from Marriott, Hilton and Hyatt are the most pleased (ACSI scores of 80), while economy operator Motel 6 enters the Index at an all-time industry low of 63.
Wyndham stays out of the industry basement despite a 6 percent decline to 68, with Choice and Best Western coming in just shy of average at 73 and 74, respectively. Midscale operator La Quinta debuts at 76, tying InterContinental and Starwood.
According to guests, hotels do an excellent job when it comes to reservations and check-in (ACSI benchmarks of 86 and 85, respectively). Staff courtesy is lower than a year ago, but still quite good, as is website satisfaction (both 83). Strong user satisfaction with hotel websites is advantageous as the industry seeks to reduce its reliance on Internet travel sites for booking.
Online travel improves
Customer satisfaction with online travel agencies edges up 1.3 percent for a second year to an ACSI score of 78. While this matches the category's previous high points, customers continue to prefer booking directly with hotels or airlines.
Travel websites occupy a crowded field that includes numerous start-ups and search engines, as well as hotel and airline websites. Mergers are a major industry trend, but for the most part these are transparent to consumers as sites maintain their brand identities.
Among the major agencies, Expedia holds a small lead with a 1 percent uptick to 77. Travelocity, recently added to Expedia's website portfolio, and Orbitz are deadlocked at 75. User satisfaction drops 3 percent for Orbitz just as Expedia pursues a merger.
Outside the potential Expedia family, Priceline is flat at 75 as well. Beating out all four is the combined score of smaller travel websites, stable at 78, which includes both Internet start-ups and direct booking on the websites of hotels or airlines.
---