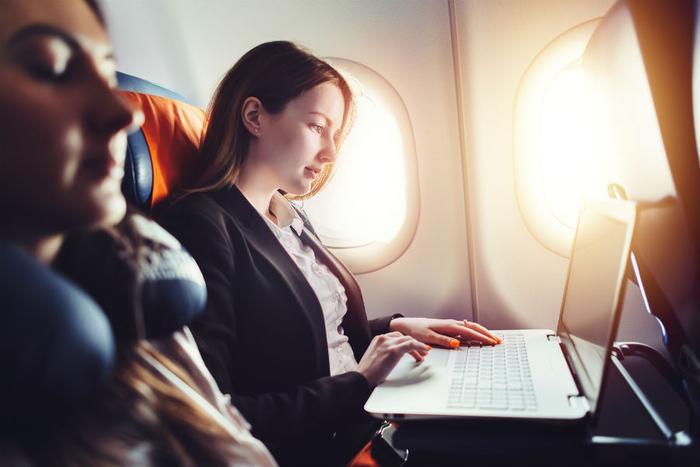 Airlines currently partner with services like Gogo to offer Wi-Fi connectivity to passengers who are willing to pay a fee. However, airlines could soon start offering Wi-Fi for free. 
Carriers who make in-flight Wi-Fi possible say the service will likely become free on most flights in about two years, according to a Wall Street Journal report. 
If in-flight internet connectivity were to become free, the Journal notes that the current percentage of passengers who choose to purchase access would rise significantly, from 6-7 percent to about 40-60 percent. 
High demand for Wi-Fi on planes
Airlines are increasingly looking to use satellite systems, which offer a larger coverage area and more consistent connectivity, to provide internet access to passengers. 
Just last month, American Airlines finished equipping its fleet of more than 700 narrowbody aircraft with faster and more consistent satellite-based internet access  The faster service will either be provided by Gogo 2Ku or ViaSat Ka depending on where passengers are traveling. 
"Satellite-based Wi-Fi allows customers to stream video without buffering or interruptions; upload and download les with ease; and stay connected from gate to gate," the airline said in a statement. "Upgraded bandwidth capacity ensures customers won't compromise on connection quality or speed, even if every customer chooses to access inflight internet at the same time." 
Many passengers surveyed have said having a reliable internet connection while flying is more important to them than food or even comfort. For this reason, airlines making it a priority to deploy faster satellite-based Wi-Fi.
"We did a good job of training people that the Internet was slow and expensive on a plane," says John Wade, president of commercial aviation at Gogo, told the Washington Post. "We now need them to realize that they're in a different world today."