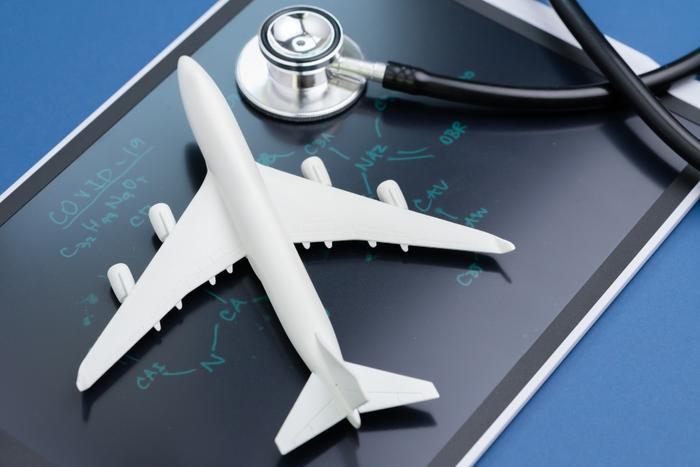 After the September 11, 2001, terrorist attacks, U.S. airlines were grounded for several days and then saw a huge drop in business. The coronavirus (COVID-19) is creating a similar situation.
Airlines have scrambled to cancel flights as consumers have increasingly shunned air travel over fears of getting the virus. Now, airlines are actually contemplating the idea of canceling all U.S. flights.
In the last week, the U.S. government has taken steps to discourage, and even prevent, large congregations of people in an effort to slow the spread of the coronavirus.
Such a ban on domestic air travel -- at least temporarily -- is not out of the realm of possibility. Airline executives interviewed by CNBC said they don't believe a ban on air travel will happen anytime soon, but it's something they're taking into consideration.
President Trump has said that Americans should avoid unnecessary travel. On Monday, the government increased its 30-day ban on most European travelers to the UK and Ireland. U.S. airlines have already reduced flights and are expected to park even more jets.
Bookings in freefall
Airlines have seen bookings plunge in the last two weeks. Last week, the CEO of JetBlue said the drop in business was worse than in the wake of 9/11. Other airlines executives agreed.
"We are working night and day on support and ideas to keep as much pay as we possibly can flowing to you — even if [it] gets worse from here and demand temporarily plummets to zero," United Airlines CEO Oscar Munoz and President Scott Kirby said in a joint statement.
To understand the damage that has been done so far, United says its March revenue may be as much as $1.5 billion lower than a year earlier. The company said it will slash capacity by 50 percent in April and May, cuts it expects to extend to the summer travel season. 
Meanwhile, United is trying to reduce its expenses. It's reportedly in talks with union officials to find ways to reduce its payroll.
The airlines say they have to take some steps to deal with the plunge in business. Delta Airlines CEO Ed Bastian said capacity might have to be cut another 40 percent in the coming months. He's hoping for help from the government.
"We are in discussions with the White House and Congress regarding the support they can provide to help us through this period. I'm optimistic we will receive their support," Bastian said. "That said, the form and value is unpredictable, and we can't put our company's future at risk waiting on aid from our government."
Pilots seek government help
In a letter to President Trump and congressional leaders, Joseph DePete, president of the Airline Pilots Association (ALPA), asked for a coordinated response to bolster the airline industry and pledged the union's assistance.
"ALPA members recognize that stabilizing the U.S. airline industry and restoring its indispensable role as a driver for America's economy and supply chain is critical—as is protecting the hard-working Americans who make it possible," he wrote. 
But DePete also said any economic relief package must contain strong labor protections for the airline employees affected by the coronavirus outbreak.