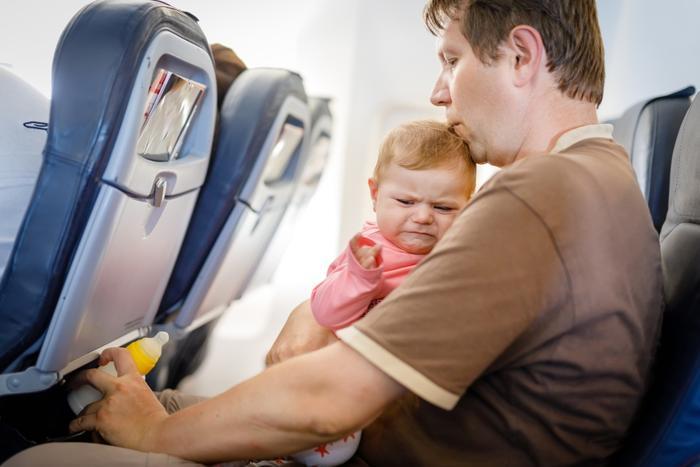 There's nothing to let travelers know where personal space perpetrators, seat kickers, or other etiquette offenders are sitting on a flight, but if you're a flyer who agonizes about being seated close to a baby, one airline is rolling out the means to give you a heads-up.
Japan Airlines (JAL) has made the first move in letting passengers know what seats have been selected by other fliers traveling with children between 8 days and 2 years old. When a traveler goes to select their seats online, a child icon will appear on those seats. Whether those travelers want to seek out solace somewhere else on the flight is up to them.
It's not a perfect system, though. JAL wants fliers to know that where those child icons show up might not be correct if the aircraft changes after booking. Seats booked as part of a tour, through the use of awards, or seats chosen through any other way than the JAL website aren't part of the system either. 
Other airlines offer something similar, but not in the same technology-driven manner as JAL. Abu Dhabi-based Etihad Airways offers free flying nannies on some long-haul flights; Scoot Airlines, Singapore Air's budget brand, has child-free seating zones; and AirAsia X has a "quiet zone" on its flights, albeit for a $15 upcharge.
Improving the industry
Some travelers may think that the federal government should regulate seating. However, the Federal Aviation Administration (FAA) doesn't hold that same view.
In spite of complaints about potential safety issues caused by the shrinking sizes of seats and legroom, the agency says it's not in that business and it "has no evidence that there is an immediate safety issue necessitating rule-making at this time."
Fliers have no "bill of rights," per se. However, while flying continues to be low on the list of things consumers look forward to, airlines and airports are both doing what they can to turn that perception around. 
Airports are going as far as creating mazes, selling tacos, offering ice rinks, and even making 24/7 animal care and veterinary services available to travelers while they wait. And the airlines? There's a lot of infrastructure that has to be modified, but airlines are trying to catch up to the digital age by offering charging outlets and free Wi-Fi.