---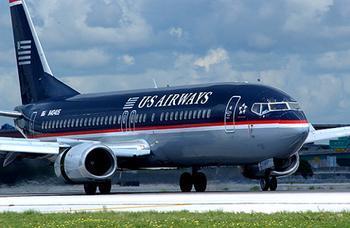 If more customers took the attitude "We'd sooner not fly at all than fly under these conditions," traveling through American airspace would be far less infuriating. But it happened Wednesday night in Philadelphia, after passengers walked off a US Airways plane to protest what they say was a flight attendant's unfair treatment of a blind man and his guide dog.
Alfred Rizzi, a legally blind man aided by a guide dog, tried taking a US Airways flight from Philadelphia to Long Island on Wednesday night, but a flight attendant ordered him off the plane, claiming that his dog was "out of control."
Rizzi's fellow passengers begged to differ. As ABC news reported:
The passengers say the flight attendant would not let the plane leave without the guide dog going under the plane's seat, which they helped him do. But after waiting on the tarmac for more than an hour and a half, the dog began to get restless.

That's when the flight attendant kicked the man and his dog off the flight.
The outraged passengers said Rizzi did nothing wrong and the flight attendant was being unreasonable; a US Airways spokesman later claimed that Rizzi was being "verbally abusive" to the flight attendant. Regardless of which is accurate, the passengers undeniably all walked off the flight, and US Airways ended up sending everybody to Long Island by bus.
It's worth pointing out that, even if there hadn't been any difficulty with Rizzi, his dog and the flight attendant, the passengers on that "express" flight still had to spend over 90 minutes sitting on the tarmac, in addition to however early they had to arrive at the airport to be scanned, searched, and/or prodded by the Transportation Security Administration.
Meanwhile, Google Maps shows that it takes roughly two and a half hours to drive from Philly to Long Island. Not that this matters for a man who is legally blind, but the rest of Rizzi's fellow passengers might find that next time, driving is not only quicker, but also frees you from involvement with TSA agents, flight attendants, and other people with the authority to make traveling even harder than it is already.
---