---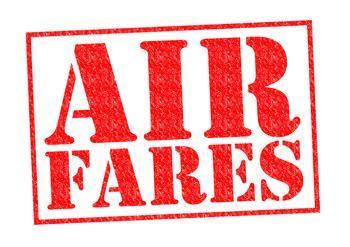 The cost of flying was lower during the third quarter of last year than it was for the same period in 2015.
The Transportation Department's Bureau of Transportation Statistics (BTS) reports average domestic air fare fell 8.8% to $344 in the between July and September.
Average fares are based on domestic itinerary fares consisting of round-trip fares, unless the customer does not purchase a return trip. In that case, the one-way fare is included. One-way trips accounted for 38% of fares calculated for the third quarter.
The average domestic one-way air fare was $242 in the third quarter, while the average round-trip air fare was $424. Fares are based on the total ticket value, which consists of the price charged by the airlines plus any additional taxes and fees levied by an outside entity at the time of purchase.
Fares include only the price paid at the time of the ticket purchase and do not include fees for optional services, such as baggage fees. Averages also do not include frequent-flyer or "zero fares."
Historical comparison
Third-quarter fares were up 17.2% from the recession-affected low of $343 in 2009 to the third quarter of 2014. In the two-year period from the third quarter of 2014 to the third quarter of 2016, fares fell 14.4%.
The third-quarter 2016 fare was down 26.5% from the average fare of $468 in 2000 -- the highest inflation-adjusted third quarter average fare in the 21 years since BTS began collecting air fare records. Since 1995, inflation-adjusted fares declined 24.1%.
In recent years, airlines have obtained additional revenue from fees charged to passengers, as well as from other sources. U.S. passenger airlines collected 74.7% of their total revenue from passenger fares during the third quarter of 2016 compared with 87.6% in 1995.
The complete report may be found on the BTS website.
---