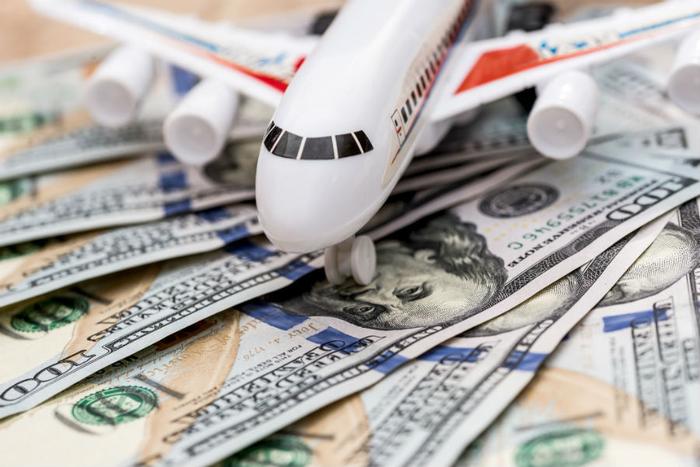 Ticket prices up, seat sizes down, extra charges for almost anything that can be turned into a profit center -- everything seems to be fair game for the airline industry.
While industry-wide revenues from passengers grew 9 percent in 2017 -- leading to earnings estimated at $581 billion -- flyer advocacy groups are saying it's a win-lose situation for consumers, who are getting the short end of the deal. And there's even more on the horizon for airlines if the Trump administration's push for deregulation sees the light of day.
Over the last four years, the seven largest U.S. airlines have averaged $19.65 "profit per passenger" per one-way trip, according to the Wall Street Journal. That's up from an average post-tax profit per passenger of $2.05 in 2012.
While $19.65 seems like a fair amount, it's the gravy that's churned out of everything else -- from seat upgrades and baggage fees to high-priced in-flight services -- that might raise red flags for consumers.
Some examples include:
Delta Air Lines charging a $200 change fee for domestic flights and up to $500 for international flights;

Southwest recently canceling its "$5 Happy Hour;" and

American Airlines charging $75 for award tickets booked less than 21 days prior to departure.
Pushing out third-party sites
You may have thought that every trick in the book has been tried, but not yet. Nearly 50 airlines are now holding auctions for upgrades to business and first class. Some carriers are even considering ripping out the chairback entertainment screens on the assumption that most flyers carry a digital device they can use. In turn, using those devices might call for internet access, which the carrier is probably more than happy to sell them.
To make matters worse, third-party airfare aggregators like Kayak, Momondo, and CheapOair (an Accredited Partner) might also get yanked to the chopping block.
"The airlines are working to eliminate providers of independent travel information through actions including withholding schedules from consumers' favorite travel websites, or refusing to allow them to display airfares, which are public information," Kevin Mitchell, Chairman of the Business Travel Coalition, told ConsumerAffairs.
"Some airlines actually demand that travel websites pay the airline for helping them sell you a plane ticket. You read that correctly – the airlines not only want to collect the price of the ticket from you, but on top of that, they want the travel website - that enabled you to easily compare all of your options before selling you a ticket - to pay the airline, too."
"Wringing" money out of travelers
With airline profits clearly above the clouds, has the industry's eagerness to fill seats gone too far? There are flyer advocacy groups that think so, and they are trying to keep carriers mindful that the passenger deserves better.
FlyersRights.org has crafted a "passenger bill of rights" that ask for changes on everything from seat size to compensation for excessive flight delays and cancellations. The organization has also proposed several reforms to improve passenger well-being and deal with common issues that often occur in airports.
Those requests include ending the ability of airlines to overschedule flights at popular times (which often creates chronic delays and deceptive schedules) and encouraging the use of larger aircraft to reduce congestion for long haul flights.
FlyersRights also thinks many regulators may be turning a blind eye to how airports are leveraging extra revenue. Among their concerns are airport revenue from parking fees and taxi services and how things like airport shopping and remote car rental centers are "wringing more revenue from passengers."
Recent estimates show that total airport revenues have grown nearly 50 percent since 2000.
Does anyone really care about the passenger?
One would think that United Airlines' public relations calamities, which include a passenger getting dragged off a flight and the recent death of a dog, would raise some industry concern on the perceived value of a customer. However, advocates say that getting the attention of airliners is like rolling a boulder up a mountain.
"In short, they want to do what they want, without regard to comfort or well-being of the passenger," reported Douglas Kidd, executive director of the National Association of Airline Passengers, after attending the US Chamber of Commerce Aviation Summit on March 1. "Both the airline reps and the TSA head spoke in glowing terms of the passenger experience and the passenger perspective, without any real appreciation of either subject."
But despite the Trump administration's desire to deregulate the airline industry and kowtow to their wishes, there's one congressperson who's taken up at least part of the fight.
U.S. Senator Susan Collins of Maine is spearheading an effort that would require the U.S. Department of Transportation to clearly disclose charges for airline fares, baggage fees, itinerary changes, and anything else that might cost travelers money.
"I'm not trying to dictate what airlines can charge, or what services they can charge for," she said, in an interview with Maine Public. "But I do believe there should be complete transparency."