---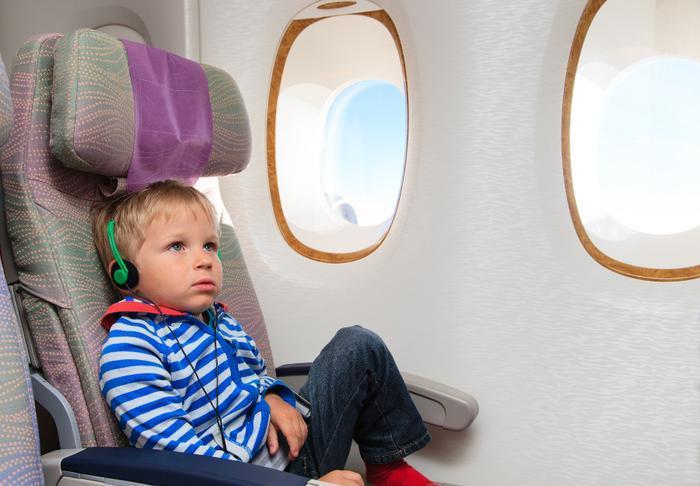 The busiest travel season is upon us and if you have younger kids and are planning on going over the river and through the woods you just might be getting a little stressed out coordinating the trip and how you will handle those rambunctious youngins.
Car travel and air travel are a little different. You can stop a car and let everyone run around for 5 minutes. That doesn't work so well in flight. 
So how can you make a flight as stress-free as possible for you and those around you if you have kids in tow?
The key with smaller kids is novelty. You need a trick bag -- things you can whip out that will hold their attention for a while.
Find things around the house that you can wrap up like a present so they won't know what you are pulling out. Every second counts so opening them up takes a few minutes and it's exciting. Some things to wrap up are little play doh jars, magnetic checkers, a few crayons, books, cars, anything to distract.
Backpacks are great for little toddlers and older kids. They can stuff them with a blankie or favorite toys. They love carrying them around and it gives them a sense of independence. Older kids can put books and electronic games in them.
Don't forget snacks
Snack it up! Bring snacks in your own bag. This might be the time for a treat that they don't normally eat. Those Rice Krispie treats can be a nice bargaining tool to keep kids in their seat. Maybe a sucker that lasts a while so they sit still to eat it.
If you have a real baby -- the kind that are under 20 pounds -- request bulkhead seats and a bassinet, a folding crib that attaches to the front wall in some airliners. (Take advantage of this free amenity while you can, because babies grow out of them once they're over 20 pounds.)
Brightly colored clothes are a good idea as it is a busy season and if you happen to have a child that sprints you can quickly spot him or her in a crowd of people eager to get to their destination. Also keep in mind that airplanes have fluctuating temps so layer up so you don't have to carry a sweater. It will already be on and if it's too hot you just pull it off and stuff it in the backpack the child is carrying.
Instead of drugging your kids, (giving them cough syrup or whatever) fly at a time that they normally nap or at their bedtime.
There is always that descent that is an ear killer for adults and kids. You can purchase Earplanes ear plugs, available for kids 1-10 and adults 11 and up. These earplugs are designed to relieve air pressure discomfort. You can get them on Amazon.com.
Just remember the key is to smile no matter what. The lady in the next row may be giving you that furrowed eyebrow and the man in front may keep turning around because your 4-year-old daughter is singing the soundtrack to the Disney hit "Frozen," but you -- you just smile and you will be there soon enough!
---