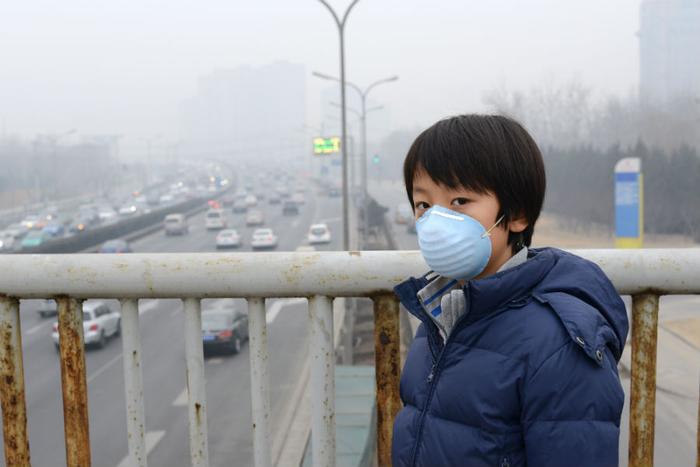 Nine of ten people are subjected to high levels of pollutants from the air they breathe, according to the latest report from the World Health Organization (WHO) on urban air pollution.
Seven million people are killed annually by breathing in dangerous levels of air pollutants, according to the report.
WHO researchers said exposure to fine particles in polluted air can penetrate deep into the lungs and cardiovascular system, causing diseases including stroke, heart disease, lung cancer, chronic obstructive pulmonary diseases, and respiratory infections such as pneumonia.
The data showed that air pollution is to blame for 24 percent of all adult deaths from heart disease, 25 percent from stroke, 43 percent from chronic obstructive pulmonary disease (COPD), and 29 percent of lung cancer deaths.
Poorer countries 'bear the brunt'
The study drew its findings from the world's most comprehensive database on outdoor air pollution. The WHO's database collects information on 4,300 cities in 108 different countries.
While air pollution affects everyone, the problem is far worse in low- and middle-income countries. More than 90 percent of deaths linked to air pollution occur in poorer countries, mainly in Asia and Africa, the data showed.
"Air pollution threatens us all, but the poorest and most marginalised people bear the brunt of the burden," WHO chief Tedros Adhanom Ghebreyesus said in a statement.
Researchers say the lack of access to clean energy at home is a key issue in these areas. More than half of air pollution-related deaths were linked to cooking with polluting fuels and stoves.
"It is unacceptable that over 3 billion people ― most of them women and children ― are still breathing deadly smoke every day from using polluting stoves and fuels in their homes," Dr Tedros said.
Major public health risk
Air pollution is the lowest in high-income countries. However, in some high-income countries in Europe, air pollution still shaves between two months to two years off of the average life expectancy.
"There is no doubt that air pollution represents today not only the biggest environmental risk to our health, but I would also clearly say this is a major challenge for public health at the moment – probably one of the biggest ones we are contemplating," said Dr. Maria Neira, director of the WHO's Department of Public Health, Environmental and Social Determinants of Health.
Dr. Tedros said that although an increasing number of governments and political leaders are increasing their commitment to monitoring and reducing air pollution, "urgent action is needed on air pollution" or the world "will never come close to achieving sustainable development."
The WHO has scheduled a meeting of world leaders at its Geneva headquarters for October 30 – November 1. The conference will focus on both pollution and climate change.