---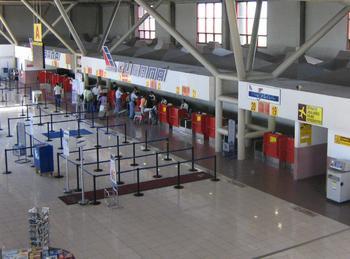 There has been a lot of hoopla about the resumption of commercial airline flights between the U.S. and Cuba. But behind the scenes, there's also been a lot of friction over the level of security Cuba's airports will be providing for U.S.-bound flights.
As a partial solution to those concerns, the Transportation Security Administration will put air marshals on board many of the first flights, the TSA announced.
"In the spirit of enhancing the security of international civil aviation, the United States and The Republic of Cuba entered into an aviation security agreement that sets forth the legal framework for the deployment of U.S. in-flight security officers — more commonly known as federal air marshals — on board certain flights to and from Cuba," the TSA said in a statement to the U.S.-Cuba Trade and Economic Council. "For security reasons, we will not divulge which flights air marshals will be aboard."
Just a stopgap
But, flowery language aside, Rep. Michael McCaul (R-Texas), chairman of the House Homeland Security Committee, says the air marshals are just a stopgap.
"While the agreement to allow Federal Air Marshals on-board flights between the United States and Cuba is a positive step, the American people should have grave concerns about the level of security currently in place at any foreign airport where the host government refused to allow Congress to visit," McCaul said in a prepared statement.
McCaul says the addition of air marshals doesn't change the fact that the Cuban government has, at least so far, refused to let U.S. lawmakers visit the country to size up its airport security. The Cuban government refused to approve visas for McCaul and other lawmakers who had planned a visit to the island nation in June. 
Cuba was once a popular destination for hijackers, but the issue that concerns McCaul and others is the reverse of that -- terrorists using Cuba as a point of embarkation into the U.S. 
International airports must meet TSA requirements for screening passengers, checking luggage, forwarding passenger lists, and taking other steps to ensure that U.S.-bound flights aren't importing trouble.  
Congressmen blocked
Three congressmen -- Reps. John Katko (R-N.Y.), Richard Hudson (R-N.C.), and Henry Cuellar (D-N.Y.) -- introduced a bill last month to block flights between the U.S. and Cuba, but it has gone nowhere so far. They were among the congressmen blocked from visiting Cuba in July.
"I still have serious concerns about the capabilities of Cuba's airport screening equipment and procedures, how Cuban airport workers are vetted, and whether or not Federal Air Marshals will even be able to fly missions on American plans to and from Cuba," Katko said in a statement issued prior to the agreement to allow air marshals on the flights.
Katko said in May that Cuba had a long way to go to meet U.S. security requirements.
"Cuba possesses no explosive trace detection equipment, only two body scanners, and poorly trained K9 units. What's more, flights to and from Cuba have historically been attractive targets for terrorists and hijackers," he said.
Flights to Cuba are scheduled to resume on Aug. 31 when JetBlue begins regularly scheduled service between Fort Lauderdale-Hollywood International Airport to Santa Clara, Cuba.
Thanks
Keep an eye on your inbox, the lastest consumer news is on it's way!
Unsubscribe easily whenever you want
---