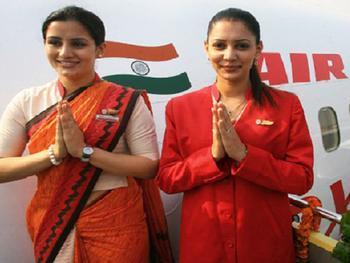 Forget about business class. Air India is setting aside "women-only" rows on its flights, hoping to reduce complaints about male passengers groping and harassing women travelers. It's thought to be the first airline to do so.
The airline said there will be two rows set aside for women on its domestic flights starting this week, expanding to its international routes later in the year. There will be no fee to sit in the designated rows, which will be open only to single women, not those traveling with families.
"It is our responsibility to enhance comfort level to female passengers," Air India's general manager Meenakshi Malik said, according to a report in The Guardian. 
The airline made the decision after two recent incidents of men allegedly groping cabin staff and other passengers.
And just in case the set-aside rows aren't enough, Air India said it is also equipping its airplanes with restraints that can be used to corral unruly passengers. 
While this might sound like gender discrimination to U.S. travelers, The Guardian noted that separating the sexes is not unheard of in India, which already has segregated train carriages and buses. There are pink auto-rickshaws driven by women in some Indian cities.