---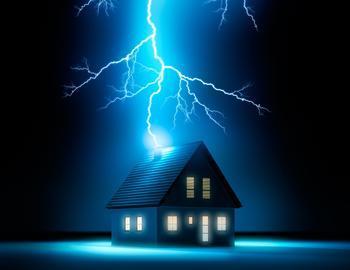 Insurance is a numbers game. When risk increases, as shown by additional claims, companies manage their risk by writing fewer policies, or being more selective about properties they will insure.
When this happens, consumers often feel like they are being blindsided.
"After 27 years and no claims, State Farm is not renewing me," Robert, of Great River, N.Y., wrote in a ConsumerAffairs post. "I live in New York and they say I am in a flood zone. I am over a mile from the water. Can they do that?"
At present they can, but Sen. Chuck Schumer (D-NY) thinks they shouldn't be able to. Schumer says that after last fall's Hurricane Sandy, insurance companies have been canceling policies in New York "in droves," even for homes that weren't damaged in the storm. For example, Schumer notes that all 92 units in Long Island's Southold's Founders Village lost their insurance coverage in May.
Long Island homeowners take a hit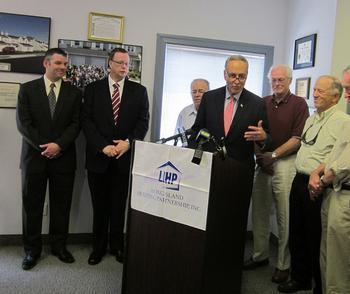 In particular, Schumer says homeowners on Long Island have been hit particularly hard. When they lose their insurance coverage, as many have, they are forced into extremely high-cost, low-coverage plans. He recently joined with the Long Island Housing Partnership to call attention to the issue.
According to Schumer, Long Islanders already have limited homeowners' insurance options. Allstate, State Farm and Liberty Mutual issue most of the policies on Long Island but all three have been withdrawing from the Long Island market.
The situation isn't unique to New York. In the aftermath of 2005's Hurricane Katrina, State Farm withdrew from Mississippi, announcing it would no longer insure homes and businesses in the state. At the time, State Farm held about 30% of the policies in the state.
Since that time, it seems insurance companies have been even more active in managing their risk. Christine, of Cleveland, Ohio, says she had been an Allstate customer for 19 years without a claim when she suffered some roof damage in connection with Sandy.
Roof issues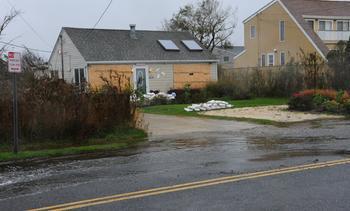 "I asked my insurance agent to come check and see if I needed my roof replaced and if my insurance would cover the cost," she writes. "When the agent came out and checked the roof, he said the insurance would only give $250 to fix the hole and a bucket of paint. Two weeks later, I received a non-renewal letter stating Allstate would not renew my homeowner insurance because my roof is dry-rotted and deteriorated and in need of repair."
Greg, of Traveler's Rest, S.C., also reports losing his Allstate homeowners' policy over a roof damage issue.
"After seven years, I filed my first claim with Allstate," he writes. "They sent an adjuster out who said, 'Oh, it's just some loose nails and such.' Three months later, I get a cancellation (non- renewal) notice due to the poor condition of my roof. So the adjuster says my roof is fine, and they cancel my policy due to a poor roof condition. This is a joke, right?"
Schumer has announced plans to step up pressure on insurance companies – primarily State Farm, Allstate and Liberty Mutual – to reverse their decisions to cancel homeowners' policies. As leverage, he said he is asking the Federal Emergency Management Agency (FEMA) to penalize them by limiting or prohibiting their participation in the National Flood Insurance Program, which is operated by FEMA.
"It's bad enough that homeowner insurance policies are limited on Long Island, but now – with precious little justification – policies are being dropped left and right, even for those who paid all their bill on time and had little-to-no storm damage" said Schumer. "Many of these homeowners were not even affected by Superstorm Sandy and now they're being forced into extremely expensive plans. These insurance companies should not leave Long Island families and the federal government holding the bag and so today I am urging them to put a stop to these policy cancellations."
When a homeowner loses their insurance coverage, they have to seek coverage in what is known as the "excess market." According to Schumer, coverage in this market can be two to three times more expensive than a standard policy.
Thanks
Keep an eye on your inbox, the lastest consumer news is on it's way!
Unsubscribe easily whenever you want
---