---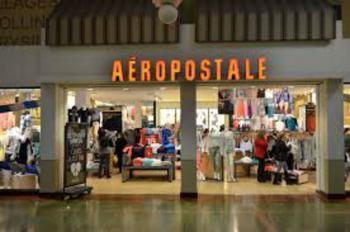 It seems that changing shopping trends have claimed another well-established retailer. Aeropostale, a staple in many smaller, regional malls, filed for Chapter 11 bankruptcy on Wednesday, according to a Washington Post report.
The company said that it will be taking a $160 million loan through Crystal Financial LLC  in order to operate during the bankruptcy period. Executives hope that the move will give the chain a chance to reorganize and return to profitability; shares of the company had recently been selling for mere pennies, causing it to be delisted from the New York Stock Exchange (NYSE) two weeks ago.
While consumer preferences for online shopping are a large factor in Aeropostale's decline, critics are quick to claim that a large amount of the blame rests on the retailer itself. They argue that the company, and others like it, have failed to adapt to the trends and preferences of their younger, teen-aged clientele. This has led to a drastic decline in the chain's profits. In a recent earnings report, the company reported a 16% sales decline, contributing to a net loss of nearly $22 million.
"The majority of the blame for poor performance lies squarely with [Aeropostale's] failure to realign itself to the changing fashion demands of younger shoppers. . . Against this backdrop Aero has a brand and range that is ill-defined, somewhat dull, and rather out of tune with modern tastes," said Neil Saunders, chief executive of Conlumino, a retail analytics firm.
Despite the uphill battle it's sure to face, Aeropostale says that it will try to "emerge from the Chapter 11 process within the next six months as a standalone enterprise with a smaller store base." This "smaller store base" will be achieved through closing 113 U.S. locations and all 41 of its stores in Canada. A full list of the U.S. stores that are expected to close can be seen below.
| | | |
| --- | --- | --- |
| City | State | Location |
| Anchorage | AK | 5th Ave |
| Anchorage | AK | Dimond Center |
| Fairbanks | AK | Bentley Mall |
| Birmingham | AL | Pinnacle at Tutwiler Farm |
| Spanish Fort | AL | Eastern Shore Center |
| Hot Springs National Park | AR | Hot Springs Mall |
| Little Rock | AR | Park Plaza Mall |
| Rogers | AR | Pinnacle Hills Promenade |
| Scottsdale | AZ | Scottsdale Fashion Square |
| Tucson | AZ | Foothill AZ Mall |
| Chico | CA | Chico Mall |
| Chula Vista | CA | Town Center at Otay Ranch |
| Citrus Heights | CA | Sunrise Mall |
| Los Angeles | CA | Westside Pavilion |
| San Jose | CA | Oakridge Mall |
| Grand Junction | CO | Mesa Mall |
| Lakewood | CO | Bel Mar |
| Silverthorne | CO | Outlets of Silverthorne |
| Meriden | CT | Meriden Square Mall |
| Waterford | CT | Crystal Mall |
| Beach | FL | Indian River Mall |
| Estero | FL | Coconut Point |
| Miami | FL | Shops at Sunset Place |
| Orlando | FL | West Oaks Mall |
| Palm Beach Gardens | FL | The Gardens Mall |
| Sarasota | FL | Sarasota Square |
| Athens | GA | Georgia Square Mall |
| Lithonia | GA | Mall at Stonecrest |
| Macon | GA | Shoppes at River Crossing |
| Aiea | HI | Pearl Ridge Mall |
| Honolulu | HI | Ala Moana Center |
| Kaneohe | HI | Windward Mall |
| Chubbuck | ID | Pine Ridge Mall |
| Twin Falls | ID | Magic Valley Mall |
| Bolingbrook | IL | Promenade at Bolingbrook |
| Bourbonnais | IL | Northfield Square |
| Carbondale | IL | University Mall |
| Geneva | IL | Geneva Commons |
| Forsyth | IL | Hickory Point |
| Springfield | IL | White Oaks Mall |
| Tuscola | IL | Tanger Outlets |
| Bloomington | IN | College Mall |
| Wayne | IN | Jefferson Pointe Mall |
| Elizabethtown | KY | Towne Mall |
| Owensboro | KY | Town Square Mall |
| Paducah | KY | Kentucky Oaks Mall |
| Monroe | LA | Pecanland |
| Shreveport | LA | Mall at St. Vincent |
| Slidell | LA | Northshore Square |
| Glen Burnie | MD | Marley Station |
| Ocean City | MD | Ocean City Outlets |
| Worcester | MA | Greendale Mall |
| Fort Gratiot | MI | Birchwood Mall |
| Howell | MI | Tanger Outlet Center Howell |
| Jackson | MI | Westwood Mall |
| Muskegon | MI | The Lakes Mall |
| Traverse City | MI | Grand Traverse |
| Blaine | MN | Northtown Mall |
| Coon Rapids | MN | Riverdale Village |
| Woodbury | MN | Woodbury Lakes |
| Branson Landing | MO | Branson |
| Columbia | MO | Columbia Mall |
| Kansas City | MO | Zona Rosa |
| Flowood | MS | Dogwood |
| Southhaven | MS | Southhaven Towne Center |
| Missoula | MT | Southgate Mall |
| Asheville | NC | Asheville Mall |
| Lincoln | NE | Gateway Mall |
| Omaha | NE | Oak View Mall |
| Santa Fe | NM | Fashion Outlets of Santa Fe |
| Las Vegas | NV | Town Square Las Vegas |
| Amherst | NY | Boulevard Mall |
| Brooklyn | NY | Fulton St. |
| Buffalo | NY | McKinley Mall |
| Clay | NY | Great Northern Mall |
| New York | NY | Times Square |
| Akron | OH | Summit Mall |
| Cincinnati | OH | Eastgate Mall |
| Cincinnati | OH | Tri-County Mall |
| Clairsville | OH | Ohio Valley Mall |
| Columbus | OH | Eastland Mall |
| Heath | OH | Indian Mound Mall |
| Niles | OH | Eastwood Mall |
| Zanesville | OH | Colony Square |
| Youngstown | OH | Southern Park Mall |
| Norman | OK | Sooner Fashion Mall |
| Oklahoma City | OK | Quail Springs |
| Shawnee | OK | Shawnee Mall |
| Chambersburg | PA | Chambersburg Mall |
| Monroeville | PA | Monroeville Mall |
| Moosic | PA | Shops at Montage |
| Columbia | SC | Village at Sandhill |
| Rapid City | SD | Rushmore Mall |
| Chattanooga | TN | Northgate Mall |
| Cleveland | TN | Bradley Square |
| Kingsport | TN | Fort Henry Mall |
| Memphis | TN | The Avenue Carriage Crossing |
| Hillsboro | TX | Prime Outlets Hillsboro |
| Houston | TX | West Oaks Mall |
| Lake Jackson | TX | Brazos Mall |
| Plano | TX | Willowbend |
| San Angelo | TX | Sunset Mall |
| San Antonio | TX | Village at Stone Oak |
| Bellingham | WA | Bellis Fair Mall |
| Fond du Lac | WI | Forest Mall |
| Bellevue | WA | Bellevue Square |
| Wausau | WI | Wausau Center |
| Bluefield | WV | Mercer Mall |
| Casper | WY | Eastridge Mall |
| Chesapeake | VA | Chesapeake Square |
| Christiansburg | VA | New River Valley |
---