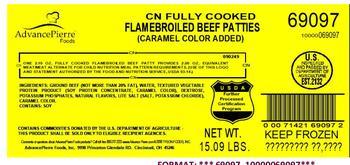 Advance Pierre Foods of Cincinnati, Ohio, is recalling approximately 15,739 pounds of ready-to-eat beef patties.
The product may be contaminated with extraneous materials -- specifically small, green soft plastic pieces.
There are no confirmed reports of adverse reactions.
The following frozen item, produced on September 11, 2019, is being recalled:
15.09 lb. frozen, bulk-packed cases containing "CN FULLY COOKED FLAMEBROILED BEEF PATTIES" with product code 69097 on the case label.
The recalled product, bearing establishment number "Est. 2132" inside the USDA mark of inspection, was shipped to a single distribution location in Iowa. The warehouse then distributed the product to institutions -- including schools.
While the product was distributed to schools, it resulted from a commercial sale and was not part of the food provided by the USDA for the National School Lunch Program.
The recalled product was not sold in retail stores.
What to do
Institutions that purchased the recalled product should not serve it, but discard or returned it to the place of purchase.
Consumers with questions may contact Worth Sparkman at (479) 290-6358.