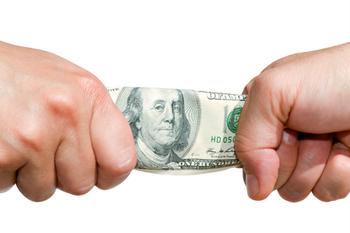 Government agencies are warning consumers to be wary of a type of loan scam targeting holiday shoppers needing extra cash. advance fee loan scams, especially around the holidays.
Scammers are advertising significant holiday loans for consumers with little or no credit and charging a hefty "advance fee" upfront–a practice that is illegal. Consumers who pay the fee soon find the lender has disappeared with their money.
For many consumers, especially those in desperate need of cash, and advance fee may sound reasonable, but they soon wind up with even less than they had.
'Guaranteed' loan approval
Authorities in Pennsylvania say they have seen cases where scammers have enticed victims with "guaranteed" approval of not just loans, but credit cards.
Chris Hodge, chief of consumer services for thePennsylvania Department of Banking and Securities, says her office usually sees a spike in these complaints just after the holidays.
"Right now, people are spending money but next month they have to think about how they're going to pay their bills," Hodge told ConsumerAffairs.
The bogus loan offer may come in many different forms. It could be in an email, a brochure, or an internet ad, but it will likely follow a very established pattern.
Citing an actual complaint her office received, Hodge says a consumer says she was approved for a loan with a company, but only informed of the fee after the fact.
"The consumer then received a phone call saying the company had wired the funds to their bank, and just needed a $300 payment to process the loan," Hodge said. "That was the first mention of any fee."
In a legitimate loan, Hodge says the lender will disclose all fees upfront. The fees are then deducted from the loan amount the borrower receives. The borrowers pays no money out of pocket.
Six signs of an advance fee loan scam
The Federal Trade Commission (FTC) has also tracked these advance fee loan scams. It says there are six signs that a loan offer is a scam.
The lender doesn't care about your credit history
Fees aren't disclosed until the very end of the process
The loan offer comes in a telephone call
The company's name is similar to a legitimate financial services company
The lender isn't registered in your state
The lender wants the fees paid in a wire transfer, often to an individual instead of a company
The FTC says that legitimate lenders never "guarantee" that a consumer will be approved for a loan or credit card.
And if the salesperson even says you are "likely" to be approved, even if you have bad credit, the FTC says that's a sure sign of a scam.
Ed Novak, a spokesman for the Pennsylvania Department of Banking and securities, say the agency operates a hotline at 1-800-PA-BANKS to answer consumers' questions about dubious loan offers. Novak says the agency welcomes calls from consumers no matter where they live.