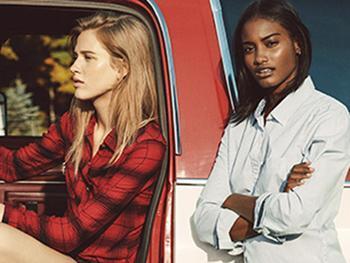 Abercrombie & Fitch is joining Macy's, Sears, and Kmart in the store-closing derby, saying it will close 60 stores this year on top of 53 closings last year.
More closings are likely in the cards as sales have been eroding in recent months, down 5% during the last quarter, the fourth straight quarter of declining sales, despite an attempt at rebranding undertaken by CEO Fran Horowitz, named to her job last month.
"Results for the quarter reflect a still challenging and competitive retail environment, however we continue to make progress on our strategic priorities. Hollister, our largest brand, achieved positive comp sales and the Abercrombie brand renewal continues, although it is a work in progress," Horowitz said in a report to investors.
The shrinking number of stores is having an impact on customers who go online to buy from A&F.
"I have been always fond of their apparel and have purchased a lot of items from them so far," said Meghna of East Lansing, Mich., in a recent ConsumerAffairs review. "However, I have been having a terrible experience with online shopping. With so limited number of stores, even returning an item is a headache. With one item, my refund was altogether $14 less than what I spent, simply because they will deduct additional charges, and their shipping was not free either. This made me sure that I would never purchase an item from them online."
Trying to recover 
The clothing chain has been trying to recover from a strategy of sexuality and exclusivity that most analysts believe backfired badly. Under ousted CEO Mike Jeffries, the brand used provocative ads featuring skimpily clad models.
The rebranding includes an attempt to go a bit more mainstream and also appeal to a slightly older crowd. 
The company insists it will remain competitive, although it has closed about a third of its stores over the last few years, leaving it with fewer than 750 stores in the U.S.
Horowitz said the company would continue to make "improvements to the customer experience through the roll out of store remodels, and ongoing investments in direct-to-consumer and omnichannel capabilities."