---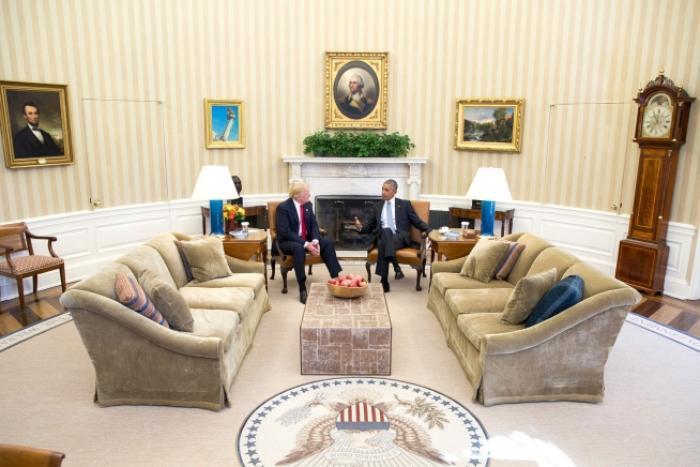 The most famous address in Washington, D.C. is undoubtedly 1600 Pennsylvania Avenue NW. The White House, the iconic symbol of the presidency and part of the National Park Service, is available for public tours, and it's like taking a walk through our nation's history. There's something so special in passing through the very same portico where our president greets dignitaries and heads of state from all over the world.
The rooms that are available for public view are all located on the main floor. No peeking into the Oval Office. Some of the rooms you'll walk through with the center roped off; others you glimpse through an open door. You'll pass through corridors, halls, and the East Garden Room and along the way you'll have a chance to view portraits, sculptures, and a cabinet that displays many of the presidents' china patterns, including the new set from President Obama.
There are framed photos that showcase happy family moments during different presidencies, as well as noteworthy events, such as President Johnson signing the Civil Rights Act of 1964 with the Rev. Martin Luther King Jr. behind him and Jimmy Carter with Menachem Begin and Anwar Sadat signing the Camp David Accords.
What else will you see? Many portraits of our presidents and first ladies, including the famed Gilbert Stuart portrait of George Washington that Dolley Madison saved when the British burned the White House in 1814 and the pensive portrait of Abraham Lincoln that was bequeathed to the White House in 1939 by the widow of Robert Todd Lincoln, the President's oldest son.
Book lovers will wish they could curl up in the Library, which contains 2,700 works by American authors. The Vermeil Room, named for the large collection of vermeil (1,575 pieces of gilded silver) given to the White House by Margaret Thompson Biddle and used as a sitting room. The stunning Red Room, with its furniture upholstered in "Crimson Plush," is a favorite spot for first ladies to entertain guests. You can also see the State Dining Room, just given a fresh update by President Obama and First Lady Michelle Obama, and the China Room which, no surprise, displays china and glass used by the presidents.   
Tour facts
White House tours are free.
Tours are self-guided and available Tuesday through Saturday (excluding federal holidays).
Tours can be canceled at the last minute.You will be provided with a phone number with your confirmation, and it's wise to call close to the tour time to ensure it's still on.
How to book a tour:
U.S. citizens should submit requests through the office of your member of Congress.
Citizens of a foreign country should contact your embassy in Washington, D.C. for assistance in submitting a tour request.
Tour requests should be submitted up to three months in advance, but no less than 21 days in advance. There are a limited number of spaces available for each tour, so submit your request early.
Visitor Information:
For information on White House tours and events go to: https://www.whitehouse.gov/participate/tours-and-events or call (202) 456-7041.
To get the most out of your White House visit check out the White House Visitor Center for additional exhibits, artifacts, and ranger-led talks. It's located a block and half from the White House at 1450 Pennsylvania Avenue, NW, open daily from 7:30 am to 4 p.m.
---