---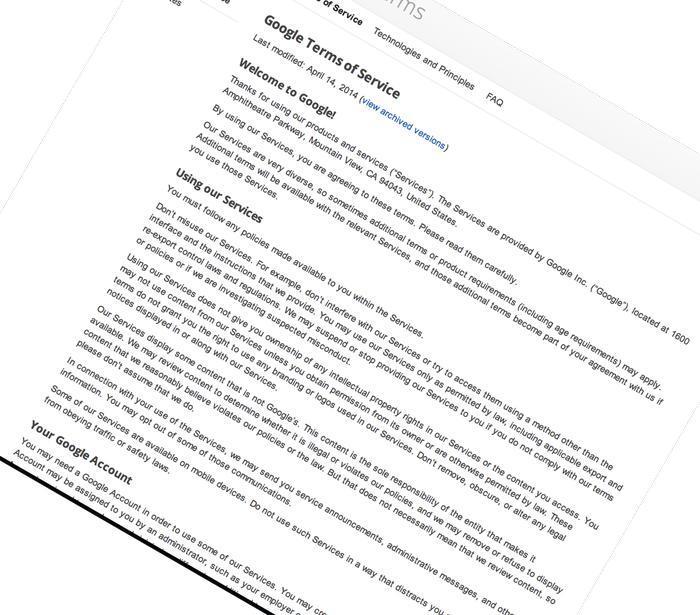 Last week we reported on non-disparagement clauses many companies are now slipping into their wordy terms of service agreements. Our piece highlights the importance of reading these documents when making an online transaction.
But who has the time to wade through all that legalese? And sometimes it might take a legal mind to even understand what it means.
Fortunately, some brave soul has volunteered to do it for the rest of us. The website TOSDR.org – which stands for Terms of Service – Didn't Read – has reviewed terms of service agreements for social media sites like Twitter and Facebook, as well as a host of sites that sell products and services.
Cutting to the chase, it reviews each of these sites' terms of service agreements and, in bullet point form, gives consumers a thumbs up or thumbs down review of the most important clauses.
Rating the sites
For example, Google's terms of service agreement gets an overall "C" rating. But among the important points, TOSDR.org gives all "thumbs down" ratings.
It notes that Google keeps your searches and other identifiable user information for an indefinite period of time. That's changing in Europe, however, as Google has responded to a European Union edict by deleting search data under the EU's Right To Be Forgotten law.
Other negative factors include Google's use of your content for all existing and future services, its tracking your movements on other websites and its sharing of your personal information with third parties.
Oh yes, if a government agency asks Google for your data, it doesn't have to tell you.
YouTube, owned by Google, earns a "D" rating. TOSDR.org lists five points it sees as negatives.
The terms can change with no notice; YouTube may remove your content without telling you; the copyright license is overly broad; the legal period for cause of action has been reduced; and deleted videos aren't really deleted.
Things earning a positive rating
Earning a "B" rating, meanwhile, is SoundCloud. a streaming audio service. It wins a "thumbs up" for allowing you to stay in control of your copyright; collected personal data is only used for limited purposes; and when changes to the agreement are made, you have 6 weeks to review them.
What about big retail sites? Amazon, for instance, hasn't been assigned a letter grade yet but does have five "thumbs down" notations. Terms can change with no notice; Amazon tracks you on other websites; it enables advertisers to target you by default; it won't promise to tell you if a government agency asks for your data; and provides no transparency on law enforcement requests.
While these bullet points might prove helpful in assessing whether you want to do business on a particular website, it should be noted that they are simply opinions – what TOSDR.org has gleaned from reading these sites' terms of service agreements.
Consumers, of course, should read the terms of service agreement for themselves. But TOSDR.org's Cliff Notes version is probably not a bad place to start.
---