---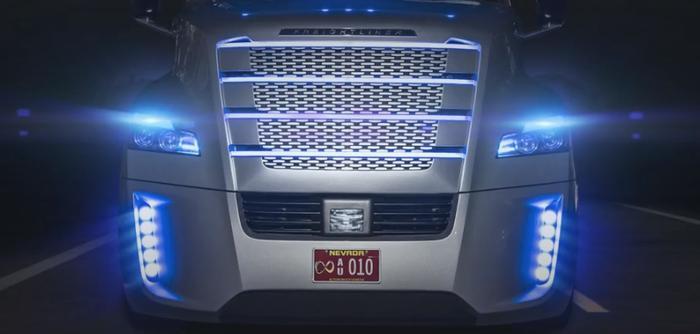 Most of the early versions of self-driving cars have looked like Google's prototype -- small, kind of cute and probably not dangerous to anyone except maybe their occupants.
But how about a self-driving semi? Freightliner introduced its Inspiration Truck last night in a ceremony at Hoover Dam, which just happens to be in Nevada, the first state to license autonomous trucks.
"Putting the Freightliner Inspiration Truck on the road is an historic day for Daimler Trucks and the North American trucking industry," said Dr. Wolfgang Bernhard of Daimler AG Daimler Trucks & Buses, Freightliner's parent company. 
As Daimler officials tell it, the Freightliner Inspiration Truck can reduce accidents, improve fuel consumption, cut highway congestion and safeguard the environment.
Earlier yesterday, Nevada Gov. Brian Sandoval formally granted the license to operate the vehicle in the state, affixing a license plate to the truck and taking part in the ceremonial first drive of the truck in autonomous mode.
Highway Pilot
Freightliner says the truck rumbles along with the help of Highway Pilot, a system that links together a sophisticated set of camera technology and radar systems with lane stability, collision avoidance, speed control, braking, steering and other monitoring systems.
The Freightliner Inspiration Truck operates on highways at what the National Highway Traffic Safety Administration defines as Level 3 of autonomous vehicle capabilities, enabling the driver to cede full control of all safety-critical functions under certain traffic or environmental conditions.
The autonomous vehicle system is responsible for maintaining legal speed, staying in the selected lane, keeping a safe braking distance from other vehicles, and slowing or stopping the vehicle based on traffic and road conditions. The vehicle monitors changes in conditions that require transition back to driver control when necessary in highway settings. The driver is in control of the vehicle for exiting the highway, on local roads and in docking for making deliveries, the company said.
---