---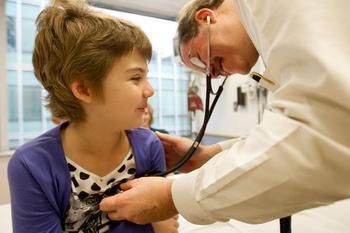 At one time, the diagnosis of leukemia was a death sentence. Recent medical advances have improved the odds of survival but this form of cancer is still a deadly disease that claims many lives.
Now there's an inspiring and hopeful story from Philadelphia where doctors tried an experimental treatment on 12 leukemia patients with very promising results. Doctors at the University of Pennsylvania medical school extracted T cells from the 12 patients, genetically engineered them to attack cancer cells, and injected them back into the patients.
The clinical trial participants, all of whom had advanced cancers, included 10 adult patients with chronic lymphocytic leukemia and two children with acute lymphoblastic leukemia. Two of the first three patients treated with the protocol remain healthy and in full remissions more than two years after their treatment, with the engineered cells still circulating in their bodies.
Great promise
"Our results show that chimeric antigen receptor modified T cells have great promise to improve the treatment of leukemia and lymphoma," said the trial's leader, Carl June, M.D. "It is possible that in the future, this approach may reduce or replace the need for bone marrow transplantation."
T cells are a type of white blood cell that plays a role in the immunity process. Researchers involved in the genetic modification experiments believe the new treatment has the potential to completely change the way blood cancers are treated. They may also believe they will vastly improve survival rates.
One of the 12 patients, a young girl, was featured on a national news broadcast Sunday night. She is one of the cases that is in full remission after two years and her physicians have found no trace of cancer in her body.
Some side effects
In the patients who experienced complete remissions after treatment, the re-engineered T cells grew after infusion, with the most robust expansion activity usually occurring between 10 and 31 days after infusion. There were side effects, marked by fever, nausea, hypoxia and low blood pressure, which doctors treated when needed. But over time, the modified T cell treatment eradicated large amounts of tumor in these patients, doctors say.
Tests of patients with complete responses also show that normal B cells have been eliminated along with their tumors. Since these cells are important for the body's immune system to fight infection, the patients now are receiving regular gamma globulin treatments as a preventive measure. No unusual infections have been observed.
What's next? The University of Pennsylvania has reached agreement with Novartis for the rights to the treatment. Penn and Novartis will collaborate in building a Center for Advanced Cellular Therapies (CACT) in Philadelphia that will be devoted to the new therapy.
---