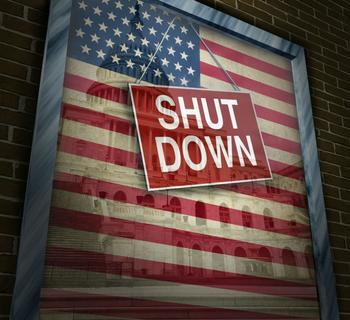 The U.S. government's shutdown has created havoc with travel and even raised concerns about IRS refund checks going out.
One of the biggest concerns was the livelihood of 800,000 U.S. federal workers caught in the middle. Luckily, those workers found a pair of angels on Wednesday. Representative Derek Kilmer (D-Washington) and Senator Brian Schatz (D-Hawaii) spearheaded a group of 22 Democratic lawmakers setting in motion the Federal Employee Civil Relief Act (S.72 and HR.67).
If passed, the act would guarantee federal workers and their families protection from the threat of foreclosures, evictions, and loan defaults during a government shutdown.
"While the President and Senate Republicans struggle to get their act together, real people are suffering," said Senator Schatz. "Right now, thousands of federal workers and their families are struggling to pay rent and make ends meet. It's absolutely unacceptable. Our bill will protect federal workers and make sure they aren't harmed because of a political stunt."
"Across 800,000 kitchen tables today, hard-working people are trying to figure out how to pay bills and provide for their families without an income," said Representative Kilmer. "Federal workers are public servants, they deserve better than being treated like pawns in a negotiation. This shutdown is wrong, and it's time to reopen the government – but until that happens, it's Congress's responsibility to help out the families most affected. This bill gives them some much needed relief."
The details
The essence of the bill is to block any threats of federal workers losing their residences, falling behind on loan payments, having their vehicles repossessed, or having their health insurance yanked away because they were furloughed due to a government shutdown or required to work without pay.
Schatz and Kilmer used a bill -- the Servicemembers Civil Relief Act -- that can be traced to more than 100 years ago as the template for the new legislation.
The root of the act came from circumstances surrounding the Civil War, when Congress froze civil actions brought against Union soldiers and sailors. During both World Wars, the bill was dusted off and used again to protect servicemembers and their families.
The new Schatz-Kilmer version keeps landlords and creditors from taking action against federal workers or contractors caught in the crossfire of the government shutdown and incapable of paying rent, mortgages, or loans.
The bill would also gives federal workers the right to file a lawsuit against any creditor that tries to skirt this protection. Specifically, the Federal Employee Civil Relief Act would give those workers safe harbor from the following:
Being evicted or foreclosed;

Having their car or other property repossessed;

Falling behind in student loan payments;

Falling behind in paying bills; or

Losing their insurance because of missed premiums.
The act also gives federal workers 30 days to get back on their feet and catch up on their bills.