---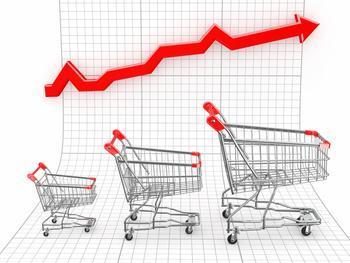 American consumers are more confident about the economy than they've been in more than five years.
The Conference Board says its Consumer Confidence Index rose in June for the second straight month. It now stands at 81.4 -- up 7.1 from May and the highest it's been since January 2008, when it clocked in at 87.3.
The Present Situation Index increased to 69.2 from 64.8. The Expectations Index improved to 89.5 from 80.6 last month.
Lynn Franco, the board's director of economic indicators says consumers are considerably more positive about current business and labor market conditions than they were at the beginning of the year. "Expectations," she adds, "have also improved considerably over the past several months, suggesting that the pace of growth is unlikely to slow in the short-term, and may even moderately pick up."
How they see it
Consumers' assessment of current conditions continued to improve in June. Those who said business conditions are "good" held steady at 19.1%, while those saying business conditions are "bad" decreased to 24.9% from 26.0%.
Consumers' appraisal of the job market was also more positive. Those claiming jobs are "plentiful" increased to 11.7% from 9.9%, while those claiming jobs are "hard to get" edged up to 36.9% from 36.4%.
Looking ahead
Consumers' expectations regarding the short-term outlook improved again in June. Those expecting business conditions to be better over the next six months increased to 20.3% from 18.7%, while those expecting business conditions to worsen decreased to 11.4% from 12.2%.
The outlook for the labor market was also more optimistic. Those anticipating more jobs in the months ahead improved to 19.6% from 16.3%, while those anticipating fewer jobs decreased to 16.1% from 20.0%. The proportion of consumers expecting to make more money dipped slightly to 15.2% from 15.6%, while those expecting a decrease declined to 14.4% from 15.3%.
The monthly survey is conducted for The Conference Board by Nielsen. The cutoff date for the preliminary results was June 13.
---