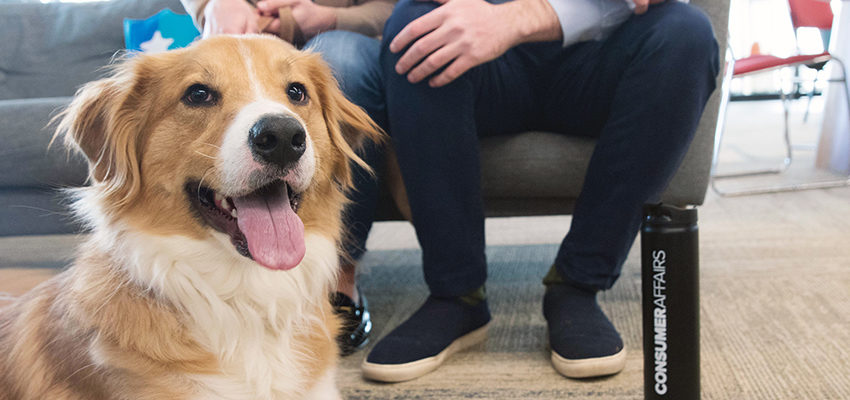 The following company participates in our Authorized Partner Program: BarkBox and Nom Nom
October is Adopt-a-Dog Month, and if you're eyeing a pup at the local shelter, now is a great time to act. An estimated 3 million to 4 million animals wait in shelters to be adopted each year, and we wish we could give them all the loving homes they deserve.
If you're lucky enough to be bringing home a new fluffy friend this month, there are a few things you'll need to have on hand before they arrive. We've compiled a list of the must-haves and a few of the nice-to-haves for you to welcome your dog to their new forever home.
1. Dog food
Be sure to have food ready for your new dog when they arrive. It sometimes takes trying out a few different brands and formulas before landing on the perfect dog food for your pup, but there is no shortage of options on the market. Keep in mind that you might need to purchase a specialty food if you're adopting a puppy, a senior dog or a dog with allergies.
2. Dog dishes for food and water
You'll need to keep your new dog well-fed and hydrated, meaning bowls or dishes for food and water are essential to have on hand. While you may be able to put a set of makeshift dishes together from Tupperware or other items you already have in your home, dog bowls generally aren't too expensive and can come in a variety of designs to match whatever your home's style may be.
3. A collar
You'll need a collar to take your dog on walks around the neighborhood or anywhere else public. A collar also lets people identify your dog if they ever run off.
4. An ID tag to keep them safe
Along with your new collar, you'll want to get an ID tag with their name and your contact information. If your pup runs off, this gives the person who finds them an easy way to get in touch with you so you and your dog can reunite quickly.
5. A leash for walks and trips
Most trails and public areas that allow dogs require them to be leashed, so having one on hand is important. We recommend grabbing a 6-foot leash, which is also the ideal length for training if you plan to take your new pal to puppy classes or train them on your own.
6. A quality crate, if you plan to crate train
Many dogs feel comforted by their crate — it's their home within your home that gives them a safe space to hide away when they want to. Crate training has also been shown to help with potty training because a dog is less likely to go to the bathroom in an area they consider their sleeping quarters. Having your dog crate-trained makes it easier for you to leave the house each morning, have guests over or command your dog into their crate if there's ever an emergency.
7. A comfortable bed to sleep in
If you don't plan on letting your dog in your bed or on your couch, investing in a quality bed that's just for them will help them stay comfortable — and close to you — without destroying your furniture.
8. Training pads to catch indoor accidents
Ah, the joys of housebreaking! If you're adopting a puppy or an older dog that hasn't been housetrained, grabbing a pack of training pads is something you won't regret. These pads give dogs a place to go inside your home that keeps your floors protected. They're especially good for young dogs who may be unable to hold their small bladders while you're away from home.
9. A toy (or two)
Every dog deserves a bone and a stuffed animal and a frisbee — and ok, the whole toy aisle! We recommend having at least a toy or two on hand for your new friend. BarkBox makes it easy on you by sending you two toys, two backs of treats and one chew each month, which gives your pet a variety of new toys to play with.
Final thoughts
As you welcome your new dog home, you'll have a few decisions to make — from simple ones like "what color collar should I get?" to more complex ones like "what veterinarian do I want to trust my dog's health and care to?"
While it's true that dogs aren't always cheap, we think they more than make up for it with the love they give in return. If you're looking to help offset the cost of owning a dog, pet insurance may be able to help you save on vet bills.