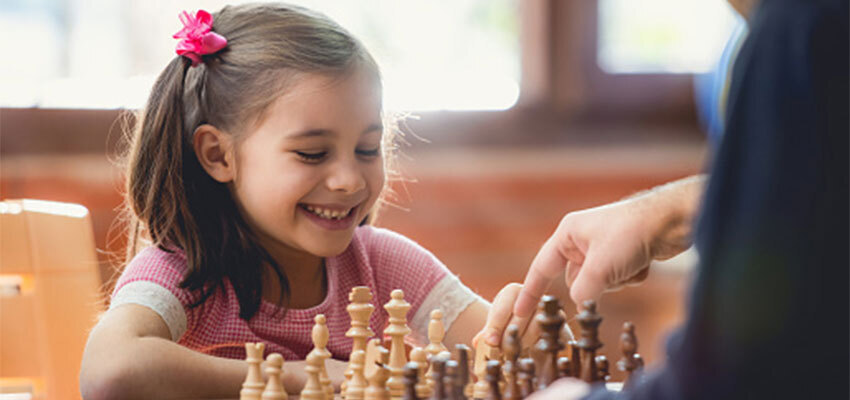 Even those of us who don't know a knight from a bishop can appreciate the beauty of a chess set. We selected eight of our favorite chess sets on Amazon and listed them from least to most expensive. Prices are subject to change — costs listed here are from May 2020.
Glass chess set
It's the cheapest chess set on our list, but also one of the most unique. Especially considering the price, this is truly a beautiful and eye-catching chess set. The board has alternating transparent and frosted squares so that you can see your playing surface.
Fun, simple chess set for learning
It's always nice to see a chess set aimed at beginners that still has a sense of style. This chess set has classic black and white squares and couldn't be easier for beginners, especially kids. The board is made of wood and lined with velvet. We highly recommend this one for teaching kids how to think critically and maybe even exercise some patience.
Wizard's Chess
Even people who haven't read Harry Potter will be intrigued by this whimsical chess set. The board recreates the magical game known as Wizard's Chess from the popular series. The pieces are plastic but have fantastic detail, so kids and adult fans alike are big fans of this one.
Star Wars chess set
Get ready for a galactic showdown! Embrace the light side or the dark side with this Star Wars-themed chess set. The chess set features Star Wars characters like Boba Fett, Darth Vader, R2 D2 and Han Solo. Even if you never play chess, this is a cool one to display in your home.
Batman chess set
It's rare to see a chess set this colorful. This chess board pits the friends of Gotham City — including Batman — against the baddies, led by Joker. This chess set makes a great gift, especially for kids, who will be eager to learn how each piece works.
Metal chess set
Most chess sets have wooden pieces or sometimes even plastic. To play with real gravitas, opt for metal pieces. The weight and clang make the chess battle seem even more serious. We like that this board has storage beneath it. It's practical but also elevates the rest of the chessboard, adding again to the coolness factor.
Greek and Roman chess set
Here it is, the first set on our list over $100. The gold and bronze squares are pleasant to look at but don't hinder the ease of play. The rooks — also known as castles — take on the forms of pillars in this chess set. Other pieces wear traditional Greek and Roman togas.
Egyptian chess set
This one's pricey, but it sure is incredible, especially for Egyptologists. Four sphinxes "hold up" the board from four corners, and the board itself is decorated with hieroglyphs and scarab beetles. A pharaoh commands each team, and the other pieces take influence from Egyptian mythology.
Isle of Lewis chess set
The one you've been waiting for — the priciest chess set on our list! This is one of the most expensive chess sets on Amazon, but also one of the most interesting. The Isle of Lewis chess board is based on a 12th-century chess set discovered in 1831 made from walrus ivory. This chess set was created using a laser recreation of the original Isle of Lewis chess game. With the set, you'll feel like you own a piece of history.