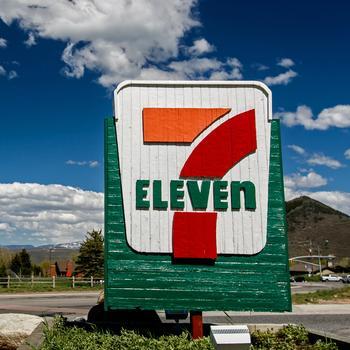 Convenience store chain 7-Eleven is testing a cashierless store, a concept pioneered by Amazon. But unlike Amazon, which must build each store it opens, 7-Eleven has a huge footprint of existing stores that could one day be converted to cashierless outlets.
So far, only one 7-Eleven has opened with no one behind the counter, and it's not open to the general public. It's a 700 square foot facility at the company's corporate headquarters in suburban Dallas. For the pilot, the store is only open to company employees.
"Retail technology is evolving at a rapid pace and customer expectations are driving the evolution," said 7-Eleven President and CEO Joe DePinto. "Our team is dedicated to continuing 7-Eleven's legacy of innovation with industry-leading digital solutions."
The company is mixing algorithms with predictive technology to track what customers are buying in the store. Smaller than a typical 7-Eleven, the pilot store's inventory is limited to the most popular products sold in the chain's stores, including beverages, snacks, food, groceries, over-the-counter drugs, and non-food items. As the project goes forward, 7-Eleven says the product mix will be refined.
Amazon blazed the trail
Amazon began the move to cashierless stores in 2016 when it announced the launch of Amazon Go, a convenience store where you walk in, pick up what you want, and walk out. An app on your smartphone records the purchase and charges it to your credit card.
Amazon says the technology that makes the checkout-free store possible is very similar to what is used in self-driving cars. It combines computer vision, sensor fusion, and deep learning.
Since 2016, Amazon has opened Amazon Go stores in Seattle, Chicago, and New York. But the concept has gotten serious pushback from some city policymakers who claim it discriminates against the poor. They point out that the stores would exclude consumers who don't have a smartphone or don't have a credit card.
Cities may erect barriers
San Francisco officials even went so far last year to consider a ban on cashierless stores in the city. Amazon quickly did an about-face, saying it would accept cash at its stores -- which sort of defeats the purpose of a cashless store.
The 7-Eleven cashierless store works on a model similar to Amazon Go. The company says employees who want to shop at the test store simply download the app, sign up, and check in at the store. After shopping, they leave and a detailed receipt appears in the app automatically after the customer exits.
Mani Suri, 7-Eleven senior vice president and chief information officer, says the ultimate goal is to create a seamless shopping experience. He says introducing the concept to company employees has so far proven to be a very productive way to test and learn before launching to a wider audience.