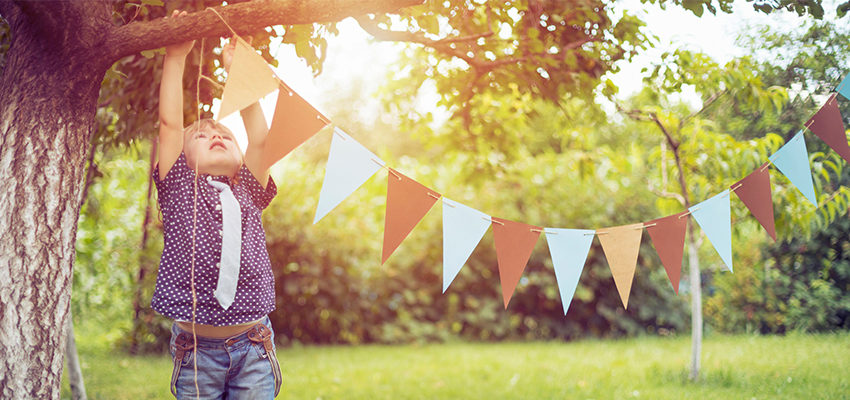 If you're scratching your head for ways to safely celebrate your next birthday, consider hosting an open-air event with a small group of close friends. 
The U.S. Centers for Disease Control considers small outdoor gatherings less risky than large indoor crowds. Be sure all your guests follow the coronavirus guidelines: Keep your guests at least six feet apart, wear cloth face coverings, avoid touching the same objects and don't blow out candles on a cake and then serve it to your friends. It's also best if you and your guests all live in the same town.
Even with the CDC's precautions, be aware that small, socially-distanced outdoor parties are still riskier than the virtual alternatives.
1. Parisian Getaway Party
You may not be able to go to Paris, but you can host a French-themed outdoor soiree. Ask your guests to wear their most chic outfits (berets are optional) and bring their favorite bottle of Bordeaux or Chardonnay. All you have to do is queue up a Bal-musette playlist and serve some macaroons.
Eiffel Tower Photography Background
2. Postmodern Garden Party
Host a classic garden party with a chaotic twist! Ask your guests to dress in vintage garb that pays homage to Victorian eleganza. You can drink from mix-matched retro teacups while you celebrate. To up the pastiche factor, decorate with fake rose vines, plastic hedge sculptures, pink flamingos and other ironic decor. Send your guests home with succulents as a party favor.
Miracliy fake rose vine flowers
Real Live Potted Succulents
3. Classic Country Hoedown
Crank up the Americana with a socially distanced line-dancing party. You can ask your guests to bring some essentials (beer, cowboy hats, maybe a banjo), space some hay bales out per social distancing guidelines and leave the rest open for creativity. After the dancing, cook up some barbecue and corn on the cob — the risk of spreading COVID-19 through food products is thought to be very low.
Aeromax Jr. Cowboy
4. Old Hollywood Movie Party
Most theaters are closed, but you can still screen your favorite classic flick with an at-home movie projector. Create a magical movie experience with a few strings of lights and red outdoor carpet. Your guests can eat popcorn, Milk Duds and Twizzlers while they lounge on blankets and pillows arranged around the projection.
Portable Mini Projector
5. Summer Stargazing Party
A low-key stargazing birthday party is a great way to celebrate anyone born from June through August. Check out the best night sky events in 2020 and schedule accordingly. Bring some blankets and celestial-themed snacks (Mooncakes?).
Night Sky Star Finder
Gskyer Telescope
Remember, birthdays are about celebrating people, not just hosting the best party on the block. But if you want your backyard looking its best for your party, check out our guide on lawn equipment and garden plants.