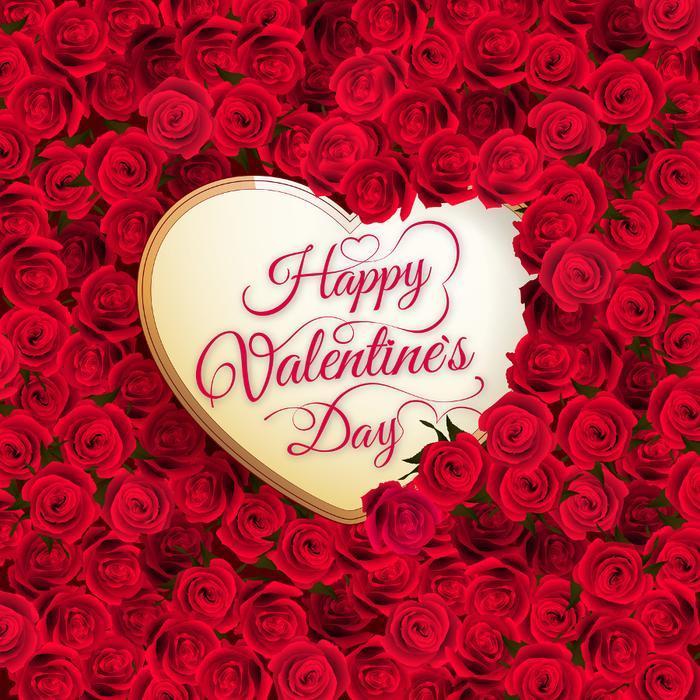 Just a heads up – Valentine's Day is closing in fast. If you haven't thought of something for your significant other, time is slipping away.
Like all the second-tier holidays, Valentine's Day is a much bigger deal than it was in the past. It simply can't be ignored. Or, you can ignore it at your peril.
Fortunately, there are plenty of businesses around to help you express your affection. You can send balloons, stuffed animals and even pajamas. But the time honored, old school method of saying "I love you" is by sending flowers.
When the recipient is out of town, it requires finding a local florist – not that hard to do in the age of Google and Yelp. But there are also a number of firmly established "middle men" who will take your order and then find a local florist to fill it.
Among the most popular of the online flower delivery companies are FTD.com, 1-800-Flowers, Proflowers,Just Flowers and TeleFlora. All five have rolled out Valentine's Day promotions.
FTD.com
Long before the Internet, and even before telephones were widespread, florists figured out a way to use the telegraph to place orders between flower shops. FTD gets its name from Floral Telegraph Delivery and today, the same principal more or less still applies.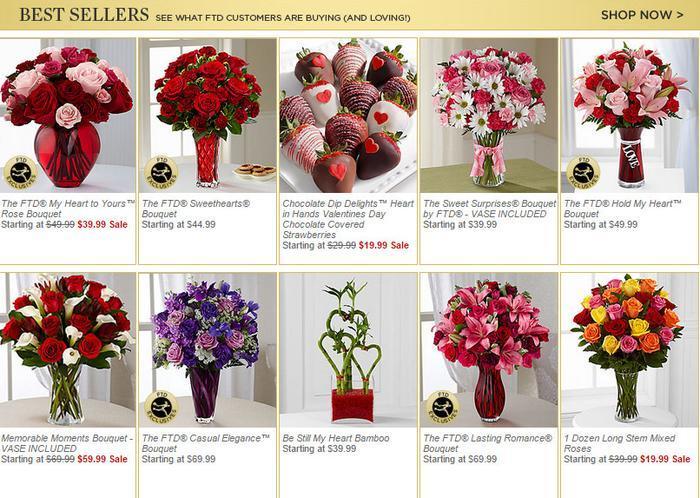 FTD.com connects member florists across the U.S. and in a number of other countries. Once at the site you can shop for an appropriate gift, pay for it and send it.
FTD.com's current Valentine specials include a Red Rose Bouquet of 18 red roses. Add a clear vase for $9 more.
To show your passion you can step up to purple. The Casual Elegance Bouquet is a collection of lavender roses, purple gilly flowers and purple double lisianthus. It starts at $59.99 and goes up to $94.99.
The Memorable Moments Rose & Calla Lily Bouquet is a classy contrast of red and white and includes a vase. It starts at $49.99 and goes up to $79.99.
Not sure what to send? The website will make suggestions, based on the things you have searched for. And to find a gift in your price range, you can also search for gift ideas by prices.
To read our readers' reviews of FTD.com. click here.
1-800-Flowers
The company that became 1-800-Flowers first had to acquire the phone number 1-800-356-9377. It did so, from a trucking company, in 1981 and changed its name. After struggling, it eventually was purchased by a floral company that engaged in unrelenting marketing, turning the company into one of the most recognized brands in the flower delivery business.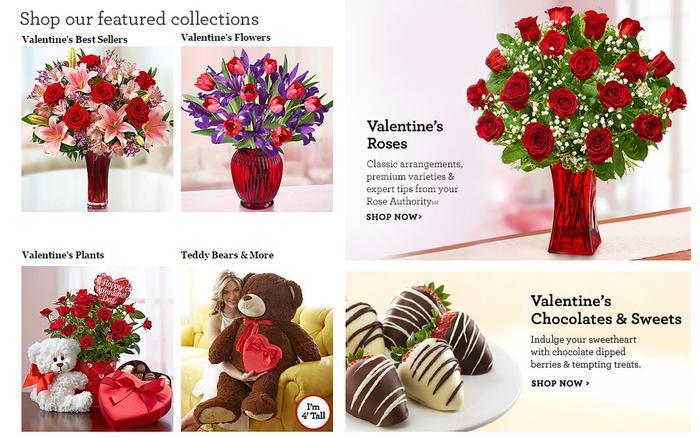 Like FTD, 1-800-Flowers doesn't actually deliver your flowers – it places the order with an affiliated florist in the town where the flowers are to be delivered. Its Valentine specials include a classic bouquet of red roses in a red vase and a box of chocolates for $71.99. The flowers-only go for $49.99.
Expressions of Pink includes roses, lilies, and carnations arranged inside a classic vase. This bouquet comes in 3 sizes, starting at $59.99 and going up to $79.99.
One dozen roses of varying hue also make a nice gift. 1-800-Flowers provides a number of different options – from flowers only at $39.99 to bundling the roses in a red vase, with a bear and box of chocolates for $56.99.
Prefer tulips to roses? That works, too. A bouquet of red and pink tulips starts at $34.99 and goes to $61.99 when you double the flowers and include a vase.
To read our readers' reviews of 1-800-Flowers, click here.
ProFlowers
If you're stumped about what to send, ProFlowers can make some helpful suggestions. Its website will show you what the best sellers have been so far.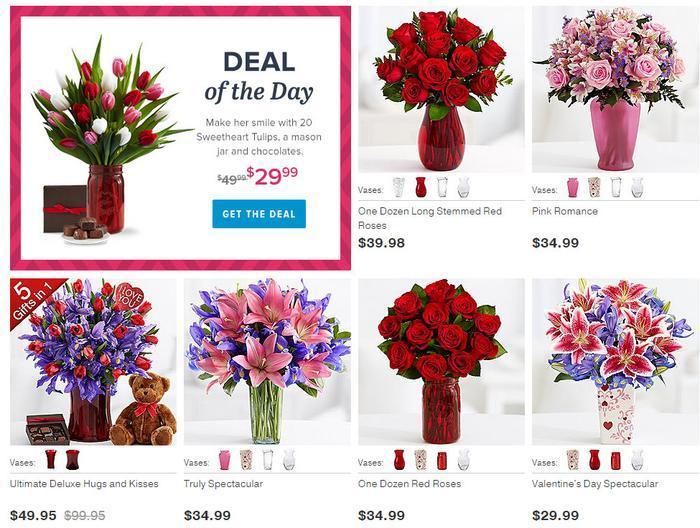 Its Hugs and Kisses bouquet contains 20 ruby red tulips and 20 deep blue iris. ProFlowers calls it one of the most popular bouquets because it captures the many moods of the heart, with the sensual blue of the iris balanced by the heat and passion of the red tulips. It starts at $29.99.
The Valentine's Day Spectacular is an eye-catching collection that starts at just $29.99. It's made up of a collection of Stargazer lilies and regal blue iris. It's bold in every sense of the word.
ProFlowers says all its flowers are shipped under a field-to-door system. That means the plants from directly from the grower to your door. They arrive ready to bloom and are guaranteed fresh for at least 7 days.
If you would like something a bit more lasting than a cut bouquet of flowers, you might consider a Hot Pink Romance. It's an arrangement of hot pink tulips and hyacinth in a chic hatbox container with a fashion-forward pink and gold Ikat-inspired design. The bulbs arrive potted, just peeking above the soil, and should bloom in 2-3 weeks, the company says.
To read our readers' review of ProFlowers, click here.
JustFlowers
Los Angeles-based JustFlowers has been around since the late 1990s, working with gift basket vendors around the country. It specializes in a full line of live plants it is making part of its Valentine's promotion. My Pretty Violet is a basket of violets that comes in 3 sizes. The arrangement starts at $49.99 and goes up to $69.99.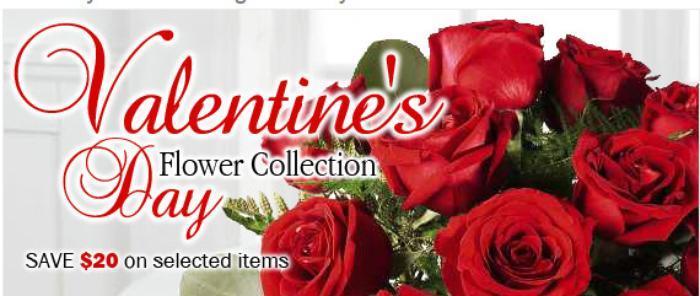 In The Palm of Your Hand is a potted palm plant. It too comes in 3 sizes – small, medium and large. The small starts at $59.99 and the large is $79.99. For all of its live plants, JustFlowers notes that the actual plant will be delivered by a local florist and may differ from the picture, so keep that in mind.
JustFlowers' also has a full complement of Valentines flower arrangements, including the classic Love Roses. It's a bouquet of a dozen red roses, starting at $74.99. Double the roses to make a bigger statement and pay $129.99.
Its Pink Mist floral bouquet is an arrangement of different types of flowers, but all with a pink theme. It comes in 3 sizes, starting at $44.99 and going up to $64.99.
To read our readers' reviews of JustFlowers, click here.
Teleflora
Teleflora is a service organization affiliated with more than 13,000 member florists throughout the U.S. and Canada, with an additional 20,000 affiliated florists outside North America. Its website offers up a variety of Valentine gifts available through those individual florists.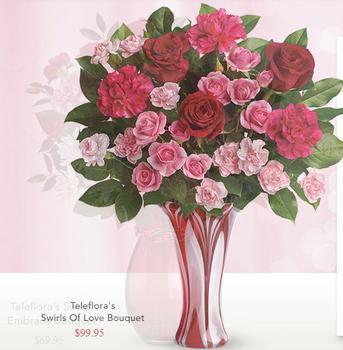 Judging from its website, tulips may be emerging as a strong competitor to roses this year as the classic floral gift. Simple yet beautiful. Teleflora's Radiantly Red Tulips Valentines bouquet comes in a clear vase with 30 long-stemmed flowers.
The longer the stems, the higher the price. The standard size is 14 inches and goes for $42.95. The premium bouquet contains tulips with 19 inches of stem. It sells for $102.95.
Teleflora's Swirls Of Love bouquet is made up of red and pink roses, along with hot pink carnations and accented with fresh lemon leaf. It's delivered in a stylish Swirls Of Love vase and starts at $99.95.
The Sweethearts Forever bouquet is a customizable gift, starting at $77.95 for six red roses in an attractive red glass vase. You can increase the number of roses and add balloons, a stuffed animal and chocolates, pushing the price well over $100.
Like most of the sites, Teleflora will make other gift suggestions, based on the items you have viewed. To see our reader's reviews of Teleflora, check here.
Analyzing reviews
When reading various online reviews of how these services perform, keep in mind that consumers are more likely to post when things go wrong than when they are satisfied, and no one gets it right every time. Still, reviewing a particular company's performance can help you spot potentially troubling trends.
Specifically, note the date when a negative review is posted. If it is around a holiday like Valentine's or Mothers Day – and if there happen to be a lot of complaints around that time – it could be a sign that the system has difficulty meeting heavy demand.
As noted earlier, consumers can use search engines to locate a florist in the town where the recipient lives. By calling a local florist, you can communicate with the florist who will fill the order directly, relay specific instructions and ask questions. Local florists will usually take a credit card over the phone.
Other options
Of course, no one says you have to send flowers on Valentine's Day. Sometimes homemade gifts are the most thoughtful and express the most emotion.
Here's a wall hanging that someone made for their sweety, forming a heart and the word "love" out of a piece of rope. To make it you use a thick, natural fiber rope and soak it in a mix of 1-1/2 cups warm water, 1 cup flour, 1 cup cornstarch, 1 cup crafts glue, and 1 teaspoon salt. Shape the rope into a word and a frame, laying the design on a piece of plastic wrap. Use light-gauge wire to add stability and to form tight letter shapes.
Also, Pinterest has no shortage of do-it-yourself Valentines gifts.
One final word of advice – don't procrastinate. Decide early, especially if you are sending flowers or other gifts out of town. Last minute orders just increase the risk that something could go wrong.
Whatever your Valentines plans, make them early, show some originality and make them express your true feelings and you'll come out smelling like a rose.