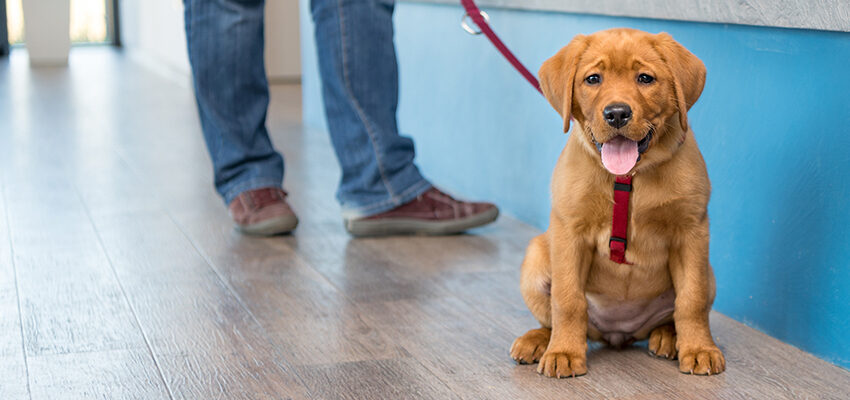 So you've joined the dog lovers' club and are thinking about adopting a puppy. Congratulations! It's no secret, though, that puppies come with tons of responsibilities, so it's important to really think about the specifics of raising one. Before welcoming the newest furry addition to your family, bear in mind these tips — and we've gathered info about a few products we recommend grabbing before the adoption is finalized.
1. Kong Teething Toys
It's likely you've already heard of these toys. Kong is a dog enrichment brand that's especially perfect for puppies. The durable rubber helps encourage appropriate chewing behavior and keeps your puppy occupied. There are multiple products from Kong to choose from, but a great starter toy for your new puppy is this natural teething toy that's perfect for both chewing and playing.
2. MidWest Homes for Pets Dog Crate
It's best to crate-train your puppy as soon as possible — this can prevent recklessness and separation anxiety in your new fur baby. MidWest dog crates, also known as iCrates, are relatively affordable and are constructed from heavy-gauge powder-coated steel wire. These are some of the hottest products for new dog owners.
3. Earth Rated Dog Poop Bags
Earth Rated makes lavender-scented poop bags for when you're out and about with your new pup. The last thing anyone wants is to step into a pile of dog poop — that's why it's best to keep waste bags on you at all times. These bags from Earth Rated make dog walks more odor-, risk- and stress-free. And there's an environmental perk: The packaging and roll centers are made from recycled materials.
4. Glad for Pets Jumbo-Size Charcoal Puppy Pads
These pads are perfect for potty-training your new pup. Some puppies pee practically anywhere, so it's crucial for them to learn early about places that are OK for them to do their business. Glad has long been a trusted brand for both humans and pets. With these puppy pads, you can protect your flooring and other furniture from pet stains. And they come in different sizes to suit your needs.
5. Voyager Step-in Air Dog Harness
Last but not least: Voyager harnesses. Voyager is well-loved by those with small- and medium-size dogs. When starting with a puppy, Voyager is ideal if you need a harness — the Step-In Air Dog Harness is versatile and flexible enough for your pup to move around when out on walks, and it comes in lots of color options.
Quick tips for taking care of new puppies
Now, some quick pieces of advice for living with a new puppy. Some of this might sound like common sense, but a reminder never hurts:
Visit the vet.
Take precautions: Make sure your puppy gets its vaccinations, and be mindful of boosters once they complete their initial series of shots. And get them fixed! Remember, it's spaying for females and neutering for males. Just in case, you know, you forgot which one was which.
Explore the backyard or city block.
It's a big world out there for a puppy. Dogs are naturally curious creatures, so let your puppy out to explore its surroundings (even if that means walking them around your apartment building). This way, they can get to know their environment and learn about their new home. Don't forget to stimulate your pup with enriching toys once they get to know the area, too.
Introduce your family.
One by one, have your puppy meet each member of the family for more human exposure and social interaction. This can determine how your puppy will react to other people outside your household and can also decrease the chances of separation anxiety for your puppy over time.
Create a safe space.
Always make space in your home before adopting a new animal. Since your puppy will be part of the family, you'll want to give them a safe and cozy environment — they deserve to feel comfortable in their new home. Pro tip: Use baby-proof gates or barriers, pillows, blankets or a dog bed to create a den-like area for them.