---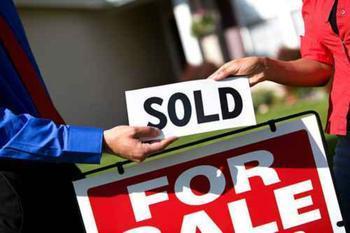 Home buyers face some pretty stiff headwinds this year. Yes, interest rates are low, but home prices have risen sharply since the housing crash. Tight inventories mean there are fewer available homes to buy.
In its latest analysis, real estate marketplace realtor.com finds homes are selling 7% faster than last year and home prices are breaking records.
In April, homes for sale spent a median 68 days between listing and contract, five days fewer than April 2015. That's also six days faster than March.
The sales pace is increasing, despite the fact that sellers are asking more for their homes. The median listing price in April was $245,000 – up 9% from last April and 2% higher than March. Inventory has slightly increased but is still down from a year ago.
Bodes well for sellers
Jonathan Smoke, chief economist at realtor.com, calls it a robust buying season that bodes well for sellers over the next few months.
"Pent-up demand, lower mortgage rates and strong employment continue to power the strongest and healthiest real estate market we have seen in a decade," Smoke said in a statement emailed to ConsumerAffairs.
"Close to 550,000 new listings came onto the market in April, which helped total inventory grow 2% over March. However, we know that sales are picking up faster than inventory since the median age of inventory fell again by 6 days after falling a whopping 22 days in March."
Smoke says that works out to 4% fewer homes available for sale compared to last year, helping to explain why they're selling at a faster clip.
Realtor.com says the hottest U.S. housing markets are getting two to three times the number of views on its site when compared to the national average. These markets are seeing homes sell 17 to 45 days faster than the rest of the country.
California markets are the hottest
San Francisco, the nation's most expensive housing market, also remains the hottest, according to realtor.com's April ranking. The median home there spends only 25 days on the market before selling.
California, in fact, tends to dominate the hot market list. It holds six of the top 10 spots.
California markets share the top 10 hot markets list with Denver at number three, Dallas-Fort Worth at number six, Ann Arbor, Mich., at number nine, and Columbus, Ohio at 10. Nineteen days separate number one and number 10 in terms of days on the market.
Moving into realtor.com's top 20 hot housing markets are two Indiana housing markets – Lafayette-West Lafayette and Fort Wayne. They're joined by metro Sioux City, S.D.
---