---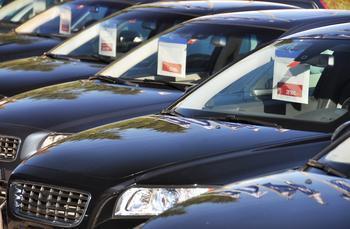 Used car dealers will often say the first quarter of the year is their busiest time. That's when consumers have received income tax refunds and, if they need to buy a car or truck, they have the money to do so.
If that's the case there is some good news for these car shoppers – they should find some pretty good deals on the used car lots. Editors at the NADA Used Car Guide say a rise in the number of late-model used cars and light trucks is expected to reverse a five-year run of price increases.
One reason is the growing popularity of auto leases. In the last few years leases have become a better deal, thanks in large part to the fact that new cars hold more of their value longer.
A glut of lease vehicles
This year the number of vehicle leases expiring is up 18%. In many cases those off-lease vehicles are sold at auction and end up on used car lots. So if you are looking for a three-year old vehicle you might find a pretty good deal.
Palmen Auto Stores, a chain of dealerships in Wisconsin, reports that strong December clearance sales has also resulted in a big jump in its inventory of used vehicles. The dealership says it has lowered prices on some to clear them out.
If you are looking for an older vehicle, deals might be harder to come by. NADA says the supply of units six to eight years in age should continue to fall as a byproduct of the new vehicle sales decline from 2006 to 2009, when the economy was sliding into recession.
"These diverging trends will result in late-model used vehicle prices dropping more substantially than their older counterparts," said Jonathan Banks, executive automotive analyst for the NADA Used Car Guide.
Better deals on newer vehicles
That means you might consider a newer model than you would otherwise. NADA predicts prices of used vehicles up to four years old will fall by an average of 2.5% on an annual basis in 2014. At the same time, prices of units from five to eight years in age will essentially remain flat.
On average NADA expects the average price of used vehicles up to eight model years in age will drop by 0.5% to 1% this year. That would be a reversal from 2013, when prices grew by a slight 0.4%. Used car prices have risen 18% since 2007.
"Although availability of off-lease units will be better this year, it's important to place volume levels into historical context," Banks said. "Despite the increase, lease volume will still be 11% below 2009 levels."
New car sales still strong
Meanwhile, plenty of consumers are choosing new cars over used ones. According to Kelly Blue Book (KBB) new vehicle sales for January should be 1.6% higher than January 2013, giving dealers their best January since 2007, at the start of the Great Recession.
"January is typically the weakest sales month of the year as many consumers take advantage of holiday deals in December, said Alec Gutierrez, senior analyst for Kelley Blue Book. However, winter storms also could impact new-vehicle sales this month, as much of the country deals with historically cold weather and snowstorms,". "Early estimates indicate fleet sales will be down as well."
January's leaders
What are consumers buying? KBB predicts Chrysler will post a respectable gain in January with strength from its Jeep and RAM brands. Following the recent launch of the Cherokee crossover, Jeep sales surged 34% in December, while the overall industry was flat. At the same time, RAM sales finished the year 22% higher than the previous year. Nissan is also coming on strong.
"We expect Nissan to record a solid sales month in January from its top products, the Altima and the all-new Rogue," said Gutierrez. "Both set record sales in 2013, and the Rogue has become an integral part of Nissan's portfolio with compact crossover sales booming among consumers."
Compact crossovers will also likely remain hot, reporting double-digit growth for the fifteenth month in a row. Look for entry-level luxury cars to also post positive numbers, thanks to the recently launched BMW 4 Series and all-new Mercedes-Benz CLA-Class.
What's not so hot? Gutierrez thinks that, after a huge 2013, full-size pickup trucks should see slower 2014 sales. Despite the slower sales, he does not expect to see carmakers pony up significant incentives.
---