---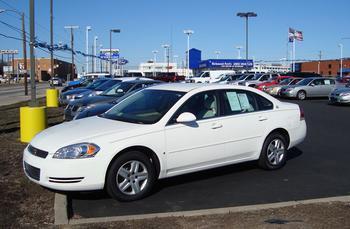 If you've been wondering how many more miles you have in the car you're driving, the time may be at hand to make a change. Chances are you can get a pretty good deal on either a new or late-model used car.
It turns out that as many as 500,000 more consumers are coming off car leases in 2013 than in 2012. That's good news for new car dealers, but growth in new car sales is still not expected to grow as fast next year as it did this year.
That means new car dealers will still be eager to deal and manufacturers may chip in more incentives when it comes to cash back and financing. At the same time, many of those three-year old vehicles coming off leases will end up in the used car market, increasing inventories and providing a bit more leverage for buyers.
Balanced market
It may be that 2013 shapes up as a year when the market is in balance. Sellers will still do well but consumers will find plenty of good value.
"What's especially encouraging is the current competitive strength among the automakers," said Edmunds.com Chief Economist Dr. Lacey Plache in a preview of 2013 auto sales trends. "Consumers will continue to benefit from exciting new models and technologies — and potentially lower prices — as automakers continue to battle for market share."
Edmunds predicts car sales will grow in 2013, but that growth will slow to a single-digit pace. The automotive site projects 15 million new car sales in 2013, a four percent increase over 2012.
Good deals on used cars
For consumers who prefer a late-model used car, off-lease vehicles and more trade-ins should flood the used car market and help to bring down prices. Edmunds.com expects the average used car price to fall $200-$300 per vehicle in 2013, which will continue the price drop seen this year after used car prices peaked in 2011.
Fears of used car shortages and higher prices, in the wake of the damage caused by Hurricane Sandy, are apparently unfounded.
A valid questions, however, is whether consumers will feel confident enough to purchase a new vehicle in 2013. If the government fails to reach an agreement to head off automatic end-of-the-year tax hikes and spending cuts, known as the fiscal cliff, many economists think the U.S. will experience a recession.
Just this week the Conference Board reported its Consumer Confidence Index fell in December to its lowest level since August.
"The sudden turnaround in expectations was most likely caused by uncertainty surrounding the oncoming fiscal cliff," said the Board's Lynn Franco.
But Plache remains bullish on the automotive market, pointing to other data showing that home prioces continue to rise, restoring some of the equity lost over the last four years.
"Rising home prices make consumers feel wealthier, which translates into greater consumer confidence to make large purchases such as a new car," Plache said.
---