---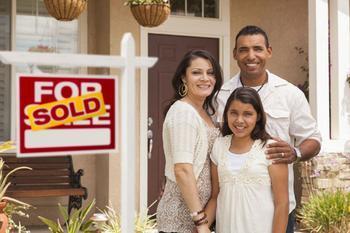 The looming fiscal cliff not withstanding, the outlook for the U.S. housing market in 2013 continues to look brighter. A flurry of data at the end of 2012 is adding to the optimism.
Pending home sales, a measure of contracts signed but not yet closed, rose for a third straight month in November, reaching the highest level in two-and-a-half years, according to the National Association of Realtors (NAR).
"Even with market frictions related to the mortgage process, home contract activity continues to improve," said Lawrence Yun, NAR's chief economist. "Home sales are recovering now based solely on fundamental demand and favorable affordability conditions."
Pending sales hit their highest level since April 2010, when buyers rushed to get their contracts in under the expiring homebuyer's tax credit. The last time pending sales were this strong without an outside incentive was February 2007, early in the recession.
New home sales rise
This month also brought news on an increase in new home sales, the slowest part of the housing market to recover. The U.S. Commerce Department reports new home sales increased 4.4 percent in November. While any gain is good news, economist Joel Naroff, of Naroff Economic Advisors, in Holland, Pa., says the market has a long way to go.
"We need to see something closer to one million units sold not the current pace of 377,000 so there is a long way to go before the market is considered to be strong," Naroff said.
There was also a lot of volatility in the numbers as demand jumped by double-digits in the Northeast, which was a surprise given Sandy, as well as South but was off double-digits in the Midwest and the West.
"The number of homes for sale is on the rise, an indication that builders' confidence is growing," Naroff said.
Gain in home prices
The S&P/Case-Shiller Home Price Indices, also released this week, showed a strong year-over-year increase in home prices in October. The monthly 10-city index showed the average home price was up 3.4 percent. For the 20-city index, prices were up 4.3 percent.
Las Vegas saw the strongest gain at 2.8 percent. On the downside, Chicago and Boston continue to show weakness.
"Looking over this report, and considering other data on housing starts and sales, it is clear that the housing recovery is gathering strength," said David M. Blitzer, Chairman of the Index Committee at S&P Dow Jones Indices. "Higher year-over-year price gains plus strong performances in the southwest and California, regions that suffered during the housing bust, confirm that housing is now contributing to the economy."
---