Due to travel restrictions and self-isolation, many consumers' cars are sitting idly in their driveways gathering dust. However, be aware that a dirty car is not only an eyesore but can also affect your ability to drive safely. A smudged windshield lowers visibility, loose trash could get stuck under your brake pedal and dust buildup may lead to poor air quality. Plus, the longer grime builds up, the harder it will be to clean, effectively hurting the value of your car.
However, this is an excellent time to give your vehicle a thorough cleaning. Check out these products to clean every inch of your car, inside and out.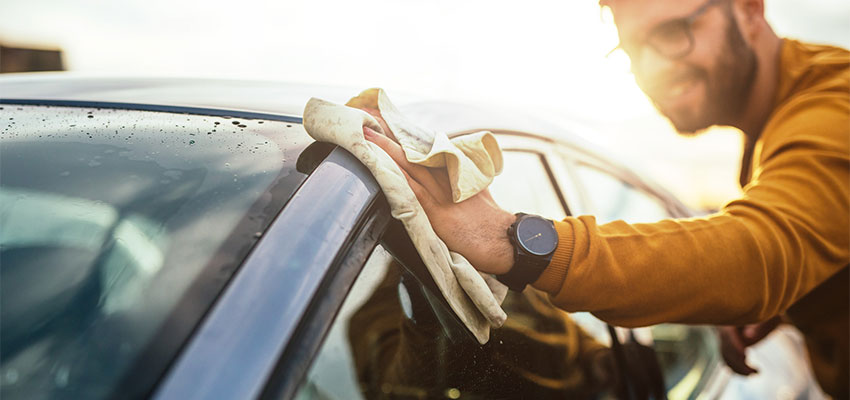 1. Detailing spray
A detailing spray is fantastic for lifting dust and bringing out the shine in your vehicle's interior. The process is as simple as spraying and wiping a leather, vinyl or plastic surface clean with a towel, rag or other detailing brush.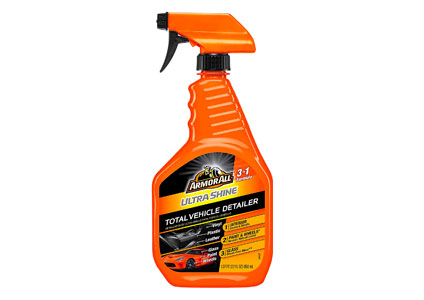 Cleans interior dust and lint
Removes exterior dirt and pollen
2. Microfiber cloths
While you could use just about any old rag to wipe down surfaces, nothing does the job quite like a brand new microfiber cloth. Highly absorbent, these cloths are gentle on auto surfaces, and they're always great to have around the house for other messes.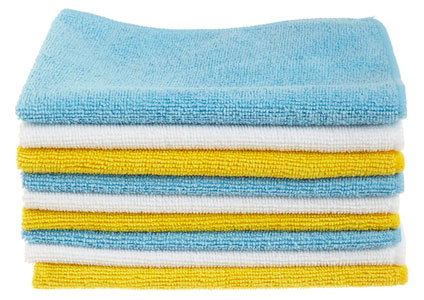 3. Car detailing brushes
Car detailing brushes are made to clean in the tight spots of your vehicle — from air vents to various buttons, levers and grooves. Look for brushes featuring sturdy bristles, an ergonomic design and include a satisfaction guarantee.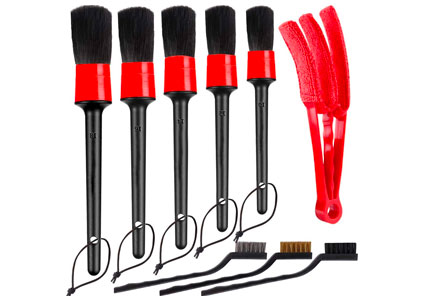 Resistant bristles
Ergonomic handle
4. Utility wet-dry vacuum
Wet-dry vacs are a great investment to use throughout your garage but are especially useful for your car. However, you don't have to spend hundreds of dollars on a cumbersome wet-dry vacuum that takes up more space than you can provide. Look for a lightweight, affordable wet-dry vac designed for use in cars. With various attachments, you can easily suck up dirt and small debris.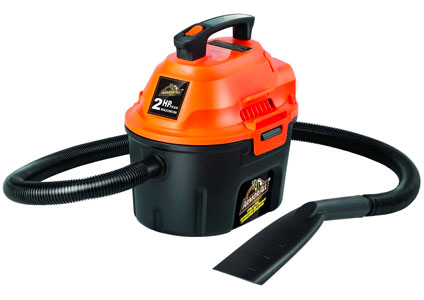 2.5-gallon tank
2 peak horsepower motor
5. Pet hair remover
If you own a dog or other animal that sheds its fur, you likely need to get all the hair out of your car's upholstery. Pet hair has a way of becoming embedded in fabrics and materials that makes it difficult to remove. A pet hair remover can bring back the cleanliness of your car for all your pet owners out there.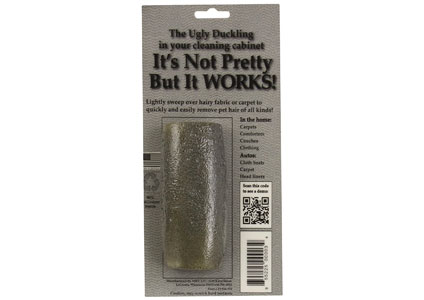 Product made in USA
Useful for cars, couches and carpet
Pet owners might also be interested in a pet insurance policy.
6. Car wash liquid
If you're up for hand-washing your car rather than taking it to the car wash, you'll need a good soap. When selecting your car wash soap, don't forget to check the posted reviews for product ratings as well as advice and tips on car washing techniques.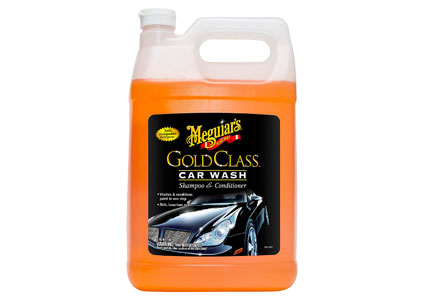 Cleaning and conditioning
Foams away dirt and grime
7. Scrub brush with handle
A standalone brush requires putting some muscle into washing your car, but you're likely to get the best results. While other brushes have hose attachments, many consumers prefer the standard approach of scrubbing grime away with a simple standalone brush.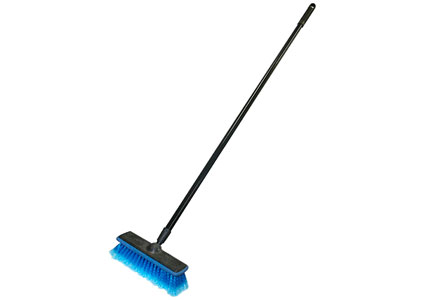 Heavy-duty metal handle
Hanger for storage
8. Water hose nozzles
When washing your car, you will need to make sure you can blast water from your hose. A nozzle with multiple settings for various tasks is likely a standard item that most homeowners already possess. If not, explore product options and look into nozzles designed for vehicle washing.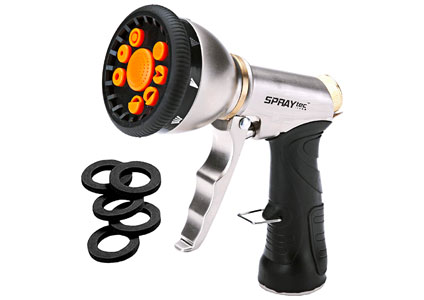 Anti-rust anodized finish
9 spray patterns
9. Soap hose attachment
An alternative to the hose and scrub brush is a soap hose attachment. The soap hose attachment is a nifty device that fits a standard garden water hose and makes washing your car a little easier.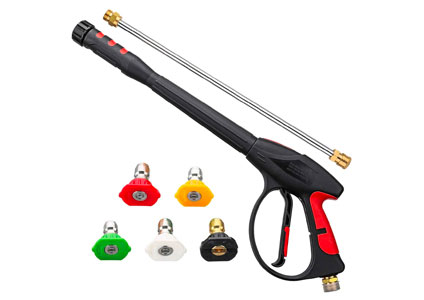 Reinforced metal parts
One-year warranty
10. Highly absorbent drying towel
Leave your freshly washed car streak-free by drying with an absorbent cloth. When exploring products, pay attention to the towel's ability to be streak-free, gentle on your vehicle's finish and fast drying. Also, make sure it's machine washable for easy cleaning.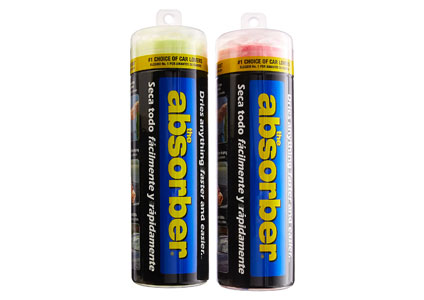 Safe on all finishes
Machine washable
11. Windshield water repellent
When keeping your windows clean, go one step further and use a windshield water repellent. After washing your car, spray the product on the outer glass surface and wipe away. When rain hits your windshield, it will bead up into tiny balls and roll off the glass rather than running, streaking and clouding your view.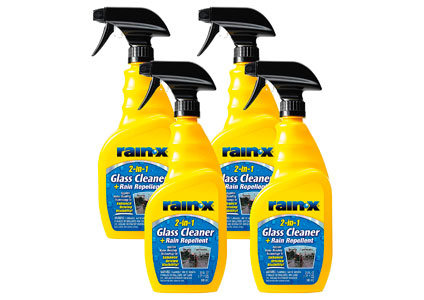 Spray on, wipe off
Streak-free
12. Tire cleaner
One of the tougher items to keep clean for any length of time is your car's tires. A tire foam will clean the tire and make it shine. Use it after a car wash or on its own to bring out that new tire look.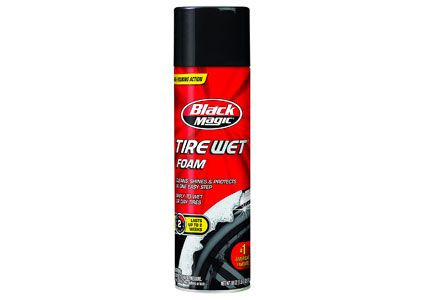 Cleans brake dust, road grime and mud
Cleans, shines and protects
13. Air freshener
The finishing touch on any car wash and detailing is to keep the car smelling fresh. Car air fresheners come in many forms, from sprays to gels to little cardboard trees. Remember to find an air freshener that doesn't obstruct your view and doesn't get stuck in tough-to-reach places.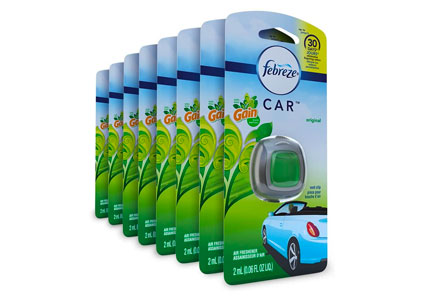 OdorClear technology
Works for up to 30 days
Additionally, for those whose manufacturer's warranties have expired, be sure to look into an extended auto warranty. A bumper-to-bumper warranty will cover items ranging from AC to audio components to fuel systems, and can save car owners thousands of dollars over the life of their vehicle. And make sure to perform some basic maintenance on your car to ensure it runs smoothly when you need to drive.