---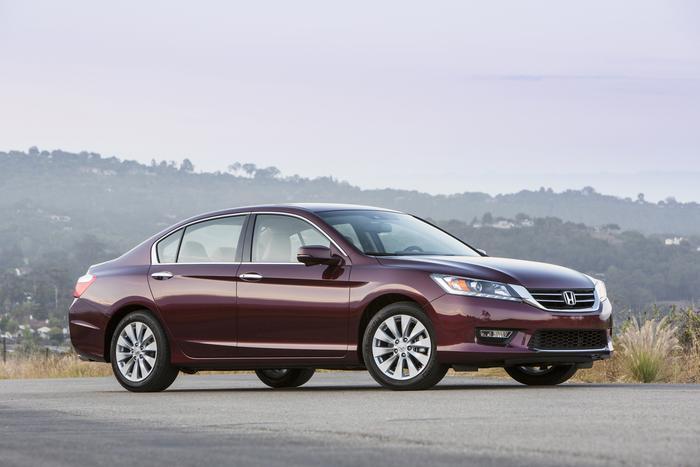 Buying a family car doesn't necessarily mean buying a minivan. Not in 2014, when there are varied options for an individual family's needs.
There are sedans, crossovers and SUVs to consider as well. Kelley Blue Book (KBB) recently consulted families themselves to help compile a list of the best family vehicles from among the 2014 models.
"More than just a list, Best Family Cars 2014 is an all-new section of KBB.com that outlines in detail how well America's top family vehicles withstand their daily routines," said Jack R. Nerad, executive editorial director and executive market analyst for Kelley Blue Book's website, KBB.com. "The vehicles making the cut are winners in the areas of safety, comfort, driving performance, room for child seats, cargo space, rear-seat entertainment, and other family-friendly features."
Honda placed four models in the top 12; Nissan had three, Chevrolet had two and Ford, Subaru and Toyota had one each.
Honda
The Honda Accord is a mid-sized sedan that might not be top-of-mind when you think of a family car. Yet the families in the KBB survey say it's a popular choice. It comes standard with a four-cylinder engine but a V-6 is available as an option. The car wins praise for its drivetrain and gas mileage, delivering an estimated 27/36 mpg city/highway.
The Honda CR-V is a compact SUV that wins praise for its roomy interior and its large number of standard features that are options on many other models – a back-up camera, for example. Honda says the CR-V is one of its more popular models and the car recently was named US News' Best Compact SUV for the Money. Reviewers praise its comfortable ride in both standard front-wheel drive and optional all-wheel-drive packages.
The Honda Odyssey appears to have been designed with families in mind. The minivan's top trim level features a built in vacuum, to clean up after the smaller passengers. Otherwise, the Odyssey has received only minor exterior and interior updates from the popular 2013 model. Though it tends to be one of the more pricey minivans on the market it offers impressive fuel economy.
The Honda Pilot is a family-friendly SUV, carrying up to eight people while offering wallet-pleasing fuel economy. KBB editors says the pilot is "a near-ideal choice for reliable and efficient transportation for families and their gear."
Nissan
The Nissan Altima is another sedan winning high praise as a family car. The 2014 model has been updated in ways that may appeal especially to younger families. A new Apps-based music and navigation system is the most tangible result of the redesign, along with premium materials used throughout the cabin. It's easy on the budget as well, with a lower entry point than most of its competitors.
The Nissan Pathfinder turned heads with its updated 2013 model. The 2014 model continues the appeal. As a softened crossover SUV, KBB finds the 7-passenger Pathfinder "one of the most competent models" in its highly competitive class.
If you like the Nissan Sentra but prefer it in a more family-friendly compact SUV package, the Nissan Rogue may deserve a look. The Rogue is powered by a fuel-stingy 4-cylinder engine, offers an available all-wheel-drive (AWD) system and starts under $24,000.
Chevrolet
The Chevrolet Impala has a long history as a family car, reaching back to a time when all sedans were "full-sized." The 2014 Impala gets back into the family car category, not just by offering a roomy interior but budget-friendly fuel economy as well, thanks to the mild-hybrid Eco model.
The Chevy Traverse belongs in the crossover sport-utility class that many families find appealing. Since its 2009 debut, the Traverse has provided an alternative to both traditional SUVs and the minivan. Reviewers give the Traverse high marks for its eight-passenger capacity and better fuel economy than a traditional SUV.
Ford
The exterior design of the Ford Flex recalls an earlier automotive era. It looks like a boxy stationwagon from the 1970s. But it's a stylish update, winning high marks for both form and function. It offers seating for six or seven, a range of trim levels and prices, available all-wheel drive, and a turbocharged V6 EcoBoost engine.
Subaru
The Subaru Forrester has been a popular vehicle with young families for over a decade. In 2014 it gets a major redesign. All models come with all-wheel-drive standard and greater passenger/cargo space.
Toyota
The Toyota Sienna is only the second minivan on the list of 12 family vehicles, suggesting it meets a pretty high standard. According to KBB editors, it "rises above the minivan mob" by offering a nearly unbeatable combination of models, options, strong resale value and styling. It's V-6 engine offers more power than its rivals but is still a fuel efficient ride.
While there were only two minivans making the list there are three sedans. Nerad says that was a surprise, but perhaps shouldn't have been.
"Once upon a time before minivans and SUVs, sedans were the primary family car of choice, and this year's list proves the modern sedan still makes a fine family car with the 2014 Honda Accord, Chevrolet Impala and Nissan Altima all landing a spot among the best," he said.
---