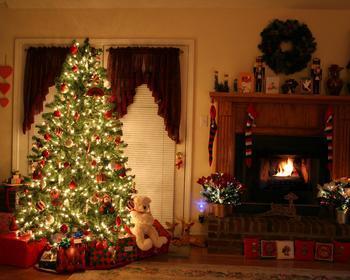 No doubt most consumers would be happy to get the gift of a lower electric bill this holiday season. Fortunately, it's a gift you can easily give yourself.
In most cases, it just requires a little thought and planning.
"Getting ready for the holidays can require a lot of energy, but most people probably aren't thinking about the energy costs when it comes to entertaining, gift buying and decorating," said Tim Fitzpatrick, vice president of Marketing & Communication for Florida Power & Light (FPL). "The holidays are all about traditions, so by adding these energy-efficient changes FPL customers can be energy fit for years to come."
Here are 10 steps to lower holiday electric bills:
1. Deck the halls with LEDs
When it comes to holiday lighting, LED lights are the bright choice to get you more for your money. The amount of power it takes to operate just one 7-watt incandescent holiday bulb could power two 24-foot LED strings - enough to light a six-foot tree. Additionally, LED light strings last about 10 times longer.
2. Make time work in your favor
Set timers for your holiday displays to turn off before bedtime so there is no need to burn the lights all night long.
3. Switch your non-holiday lights
Before overnight guests arrive, switch out guest room and common area lighting to compact fluorescent light (CFL) bulbs. Each CFL bulb you install will save you about $50 in energy costs over the life of the bulb.
4. Turn it off
Remind guests to turn off lights and fans when they leave the room. Stopping one ceiling fan from running all the time and turning at least one light off when you leave the room can save you more than $7 a month on your electric bill.
5. Stop peeking
Ovens lose a lot of heat when opened and require significant energy to heat back up to the appropriate temperature. Instead, when you have to sneak-a-peek, turn the oven light on and look through the interior window.
6.Choose glass or ceramic pans for the oven
These pans heat faster than metal ones and allow you to set the temperature 25 degrees lower than a recipe suggests for the same cooking time.
7. Don't forget your crock-pot
Use smaller appliances such as crock-pots, microwaves and toaster ovens when possible. These can be much more energy-efficient for side dishes or small meals.
8. Select energy-efficient electronics
When it comes to buying gifts for your loved ones, opt for a laptop computer over a desktop computer. Laptop computers require 50 to 80 percent less power than a desktop computer.
9. Let the star be your guide
Look for the ENERGY STAR logo when purchasing larger electronics or appliances. Newer ENERGY STAR models meet stricter requirements and can save up to 40 percent on energy over standard models.
10. Give the gift of light.
Use solar-powered pathway or security lights for your home or as a gift to the person who loves being outside in the evening.
Safety steps
And while you are making your energy use more efficient, don't forget to make it safe as well. An estimated 400 home fires involving Christmas trees or holiday lights occur each year in the U.S., resulting in 21 deaths and $25.2 million in direct property damage, according to the National Fire Protection Association and the U.S. Fire Administration.
LED lights are not only cheaper to operate, they're also safer. They produce almost no heat, making them safe to touch and greatly reducing the risk of fire.
Before stringing lights on outdoor trees, make sure tree limbs haven't grown into or near power lines. Branches, entire trees and even the ground adjacent to a tree can become energized when trees contact power lines.
Make sure lights outside the house are approved for outdoor use. Never use indoor lights outdoors. Follow the manufacturer's limits for the number of light strings that can be connected together safely.
Always turn off decorative lights -- indoors and outdoors -- when leaving the house and before going to bed.
Do not place your tree near a heat source such as a fireplace or heat vent. The heat will dry out the tree, making it more susceptible to fires caused by heat, flame or sparks.