Affordable Movers
At Affordable Mover, we know how stressful it can be to relocate. That's why we make moving, whether local or long distance, the easiest it can be! All aspects of your move are handled by us - from packaging, storage and insurance - we've got you covered. We also specialize in corporate relocations and have years of experience helping business find the right location. Call us today to get more information, and sleep a little easier knowing you're working with the best of the best.
Consumer Reviews and Complaints

Every post on here is a replica of our exact experience. Affordable Movers came across professional on the phone and quoted us our lowest quote. We hired them for our cross country move and from there everything went south. Once they showed up they doubled our quote. With our house packed and about to hit the road, plus the down payment you have already paid, they know you have no choice. It took us a MONTH to get our stuff and they promised one week. Once they delivered, they would not take anything upstairs, our boxes were smashed and some stuff never made it. We ended up with other people's belongings and several boxes (one being almost all of my shoes) never made it. Furniture was broken, and there was clearly no regard for our life's possessions. I would not use them for any reason. There is a reason they are not BBB certified.

EVERYTHING was a lie!! Bait and Switch classic! I am a seasoned mover, i.e. military. I have had 15 professional moves. I knew the quote was too good to be true, but money was not the issue. I don't mind paying a fair price. A fair price would have been about 5K. They quoted $2900.00... I told him Michael the smooth salesperson... that I need door to door... that was my main concern. Did not want my stuff put in storage and no semi trucks, etc. He told whatever it is he thought I need to hear.
They showed up in the biggest truck I have ever seen. Before I let them load I called and said my stuff will be in CA next week... "Yes ma'am. Should be no problem". Packer/driver would not commit. Quote end up to 5800! I did not have any appliances, or garage tools, etc. Just boxes and light furniture. I told him there were stairs, he said he would have that waived. Anyway they did a good job nicely packing my stuff...that is all I can say positive.
So I rush To CA. I have only 10 days off before I go to work to get settled, etc. I am going to be traveling job after that. Long story short... they put my stuff in PCola storage down the street. I sat in empty house 3 weeks, no work clothes, etc. At one time they actually lied to me and told me it was on its way and then driver called and told me he didn't have my stuff. I had told them I would fly back and rent a haul and get my stuff myself... I talked to everyone possible... Isaac bold faced lied to me. Michael the sales person who said he'd be there till end disappeared. So stuff finally arrives after I am sure they found the cheapest person to contract it out too... It looked like stuff had been just thrown on truck! Broken legs, missing chair and missing at least 2 boxes of handmade Italian dishes that can't be replaced and still not sure what else is missing!
I had to travel after stuff arrived and am still unpacking. Ruined my 4th of July. Stuff should have arrived 2 weeks prior to holiday as promised and planned. Yes the contract made no promises. But I trust people's word... Their M.O. is get your money and then do what they want. It did not have to go down like this. If I had only paid 2800.00 as quoted I would have been much more patient with my delay... but for what I was put through. I could have had a full pack and move. I packed myself and was quite organized.
All the negative reviews here are spot on and same story! I have barely touched on it. They need to be put out of business...THEY DONT CARE!!! It is pre calculated, their norm... I think they quote everyone around 3k... then it doubles! There is no reason to do business this way. I plan to post until I am reimbursed at least $1000.00 for move and my claim is paid! DO not use them!!! I did not have the time nor energy to do this but I am. No one should have to go through with this. I do not know how any of them sleep at night.

Hired Affordable Movers out of Edmond, OK. Saw all the great reviews and decided to use them. BIG MISTAKE! They were two days late. (It was one excuse after another, all lies.) When movers did finally show up, they tried to extort us! Told us that the contract we had signed was not good, and the deposit that had been paid didn't matter, that if we didn't pay the entire amount of the move to them they wouldn't load furniture.
We contacted the "Customer Service" several times. Had to use different phones because if they saw our number they wouldn't answer. Talked to Meagan the supposedly supervisor and she was a joke. We could hear the "Customer Service lady" talking beside her. We finally told movers to leave and they told us that they had our deposit. We have contacted the Georgia Department of Public Safety. What they did is against the law in Georgia. These people do business in several states so be careful. Too many good companies out there to do business with this one.

If you are looking for a moving company who will NOT return phone calls, respond to emails, misquote your move costs, and sell you a different bill of goods then stop reading and use Affordable-Movers.net. They are happy to take your money, belongings, and not deliver. To say working with this company has been terrible is an understatement.
My family and I relocated from Atlanta, Georgia to Denver, Colorado. I spoke with Michael (no last name) who presented himself as a senior sales representative. He was professional and assured me my requested date of delivery would not be a problem. I expressed how important his honesty was as my husband and I were starting our new jobs within a few days of the delivery. Michael reassured me this was not a problem and continued to explain how professional Affordable Movers are, this is a full service move, and no need to worry about anything. Affordable Movers would take care of it. I agreed to the terms, paid the $895 deposit, and agreed to 06/28/2017 pick up. At this point, Micheal has been very responsive and I feel confident in my decision to use affordable Movers. However, this confidence will be soon shattered and the reason I find myself writing this review.
June 26, 2017 - I received a phone call from Affordable Movers stating they were coming to pick up my belongings the following day - A FULL DAY EARLIER THAN CONTRACTED! I tried to tell myself this would be to our benefit and picking things up a day early would ensure the timely delivery in Denver. I would like to add the cost of our move doubled when they came to load the truck. I provided a very detailed inventory and was quoted 600 cubic ft. The movers changed this to 1000 cubic ft. We are backed into a corner and have limited options so we paid the new rate. My mother watched as one of the movers dropped a box clearly labeled "fragile" and did not seem to care when she confronted him about it.
June 30, 2017 - My family and I drive across the country with the bare necessities and arrive in Denver July 3, 2017. July 3 is the scheduled delivery date and I have yet to hear anything from Affordable Movers. July 3 is when the nightmare begins! My husband and I have called/emailed Affordable Movers and Michael no less than FIFTY TIMES (no exaggeration - I have the phone and email records)!!! How many responses did we receive? ZERO! NOT ONE PHONE CALL RETURNED OR A RESPONSE TO A SINGLE EMAIL!!!! My attorney has stepped in as my mouthpiece and has not had much luck with correspondence. The most recent update was my goods were out for delivery and the operations department would be calling to schedule delivery. This was supposed to happen by 12 noon eastern time Friday, July 14, 2017 and it did not.
I am writing this review twenty days after Affordable Movers robbed me of everything I know. I do not have any idea when or if my belongings are going to be delivered. I cannot get anyone to answer the phone or return a phone call to give me a status report. This company has given me no choice but to reach out to every media outlet available. This company has stolen my belongings and I will be damned if this happens to someone else. These people are thieves and do not care about the customer. This is the most unprofessional company I have ever done business with. I am begging ALL consumers to avoid Affordable-Movers.net at all costs! Buyer beware!

They showed up and immediately increased the quoted price by $1k. We were told they would disassemble furniture and reassemble at the final location... this was not true. After you pay, this company becomes impossible to contact. Also difficult to setup a drop off time... we were told Thursday night that it would be Friday night. Got a call Saturday that it would be Saturday night or Sunday morning. Got a text Saturday night saying 7 am Sunday. They finally showed up at 8 am Sunday morning. Oh, and they destroyed my entertainment center. Bookcase was badly damaged (it's fairly sturdy... not even sure how they manage to hurt it so badly).
Most of my furniture is badly scuffed or dented. The boxes... it looks like they rolled them down a hill or something. Seriously like out of the realm of what I thought was possible for how a moving company could damage boxes. And of course at least one lost box. And of course I'm trying to file a claim with them, but they are impossible to get on the phone, so no luck yet. Feel taken advantage of. I can't upload all images... but added a few. Every box was damaged - these were boxes that I bought new. So keep that in mind when looking at the images.
How do I know I can trust these reviews about Affordable Movers?
849,102 reviews on ConsumerAffairs are verified.
We require contact information to ensure our reviewers are real.
We use intelligent software that helps us maintain the integrity of reviews.
Our moderators read all reviews to verify quality and helpfulness.
For more information about reviews on ConsumerAffairs.com please visit our FAQ.

Affordable Movers did a fantastic job on my moving day. They showed up right on time and quickly got to work. Every step of the way, they treated my belongings with care. Everything was intact when we arrived at my new home and they promptly unloaded and put everything up right away. Not to mention, the quote they gave me was spot on and well within my budget.

Do not use these scam artists. I made a reservation a month before my move from Memphis to Atlanta. I drove 6 hours from Atlanta to meet the drivers. The day before, I contacted the salesperson, Nick, to ask what time to expect the movers. No response. I called the day of my move, at about 11:00 am, and was told that my move was scheduled for the next day. I told the rep that I had a contract with a move date for that day, obviously someone had gone into the system and changed the date. I told them that they were wrong and that I had to be moved that day because I had to get back to Atlanta for work. I was told someone would be there and call me by 4:00 pm. 4:00 rolls around and still no call. I call back and I got a message that they were closed.
I had been given the driver's number so I called him. He said to was told not to worry about the pick up because it had been reassigned to someone else. I finally find another number and get with dispatch who told me that they would be there the next day. I had to pay someone to meet them since I had to get back for work. Again, at 5:00 pm I receive a call saying they weren't showing up. I asked AGAIN for a refund and I was told that it would be done no later than 7/1. Guess what?? Still no refund. I have called several times. No answer. Left voicemails. No response. Sent emails to my sales rep. No response.
Now I'm on their online chat with someone who is telling me that a check was mailed to me. But he can't tell me when or where (again I've moved). And when I asked, "If there aren't any notes then how do you know for sure that the check was mailed?" He then tells me that I'm being confrontational and he's just trying to "help". I'm confrontational because I'm asking you about my money?? These people are laughable and I will be reposting them to my bank and the BBB for fraud. This is shady at best and criminal at worst.

This was a great experience from beginning to end. I always dread moving, just because you just never can be too sure as to the quality of the movers. Affordable movers eased my worry and did a job well done on my very large move to the big time. I pay the cost to be the boss. The movers were punctual, professional, and above all, effective. The movers were clearly experienced and handled all of my valuables flawlessly. A great crew all around. I had an awesome experience with this guys. Def recommend.

Okay, where to begin. There is no way that these guys have all these positive reviews, do not believe it. Okay, let us start with the nice salesperson (Alex), you see they seem so professional in the office but their movers are a completely different story. Alex failed to mention that customers pay by cubic sq. footage. I told this man that I had a 10X15 storage unit and we discussed in detail everything I had to move, I believe he actually did not include some things on purpose. So how in the world did he expect all my stuff to fit in such a small space? He quoted me 3,450.00 something like that. Mind you, this move took place May 20. However, I made it a point not to forget about my experience and to remember to write this review, because they were the worst movers I had ever used in my life, and the move was very stressful.
To make a long story short, they show up with a truck that is measured for me, to only use a specific amount of space. Nowhere near what I needed and the other space was taped off. Therefore, Jordan, explains to me that I need to come up with 800 more dollars after he has moved most of my stuff into the truck. I tell him "No, just leave it here then" and he says no he can't do that and that he will have to take it and leave it somewhere on their side, so as the customer have no choice but to pay this man. To top it all off, he turns it around and makes it seem like he is doing me a favor, but you can tell this is what they do all the time and it has worked for them.
When I brought it up to his manager/owner (Isaac) or whomever he is, said he does not want to work with customers who do not give him a good review. I said well I told him to unload my stuff but he said he could not and that he would have to take it with them. Therefore, I had no choice but to pay $800.00 more dollars. I will never ever use them again!

STAY AWAY!!!! Worst company ever!!!! We were quoted 2500$ (600 ft) for our move from NC to FL. The moving company called us one day before our move and said that they will be there the next day between 10 and 12 o'clock. They arrived at 4:30 PM. I have made a cake and had plenty of sodas and water set up for them. Before he even said "hello" or "how are you" he got out his measuring tape and his piece of paper and his pen. He went inside the house and started looking at all the stuff that needed to be moved. While he was looking around my husband noticed that the moving truck wasn't from Affordable Movers. Instead it said Transworld.
After he looked at everything he said it will be more than 2500. I told him to call his manager or I will call to see what's going on and why it would be more. When I looked over the inventory list we even had less of inventory than planned so I wondered how could it be more if we have less inventory. When I had the manager on the phone he was very rude and did not let me finish one sentence and told me that it would be $6000 and 1400 ft.³ instead of 600 ft.³ I have already made a deposit of $800 at that time. So my husband and I decided to let them drive back wherever they came from. So we went to U-Haul and rented a 550 ft.³ truck and loaded our household and the only thing we left behind was a small loveseat. I then called him and said that I want my $800 back. He basically laughed at me and told me, "That's not how it works because I sent my truck out to you". So I will go and get a lawyer to get this handled.
So Affordable Movers make themselves sound so great on the phone. Awesome estimates and prices and then when they get there they tell you a totally different price and of lot of people would probably let them do the move because there's no other choice. I am warning you people to stay away from these liars and save your money. Do not make the same mistake we did.

They were clean and professional. They were very efficient and they gave a good representation of the company. They had good quality people. I was very pleased with how everything went from start to finish, they were extremely wonderful. The experience was outstanding. Would definitely use them again. Highly recommended.

Absolutely EXCELLENT! What a great crew... These guys were professional, polite, and hardworking. It was a GREAT experience. The movers were fantastic and very efficient. I will definitely recommend to my family and friends. I was highly impressed with the experience I had with your company.

In today's time, online shopping is the most used thing these days. But my first experience while shopping from online I was so nervous at the time of payment. But at this time I had a great experience on online shopping. There are lots of famous online shopping websites & but my opinion "AMAZON" one of the most recommended site to buy the online product. They have made my shopping very easier as compared to other online shopping platforms. Amazon is very cheap, and excellent quality products are delivered. It actually feels very secure to buy a product on this online shopping website.
I buy from Amazon Wireless WiFi NVR Network Video Recorder. Its works great & being wireless makes it so handy to install. Now I can cover all of my property with just four camera. Its delivery is very fast always being on time & total trusted site for online shopping. On time delivery. Really impressed. Its customer service is very friendly regarding in any type of issue. It's a highly recommended online shopping site by me. Thank you so much for your time and consideration. Have a great day.

He is very punctual and helpful. Also a very hardworking and professional. My Bf like his work very much. Best wishes for him. Thank you!!! My Bf and my Parents like your product very much. I highly recommended to your Store. I would also recommended to all of my friends. Thank you very much. Best wishes.

First, the estimate I received was completely off. Even after providing a very accurate updated inventory not long before the move, they were 256 cubic feet off... At $5 per cubic feet, you can do the math! So whatever estimate you're given, plan on considerably more. Due to parking constraints in my apartment complex, I needed to know what type of truck would be coming to pick up my things. I asked the guy who was giving me the estimate (John) if the truck is a semi-truck or just a typical moving truck? He assured me it would be a moving truck. It was an 18-wheeler, and because it was a semi, they couldn't park in my apartment lot so they charged me extra money for a long carry. If it had been a moving truck, they'd have been just fine. John told me Affordable Movers is not a broker and that they own all their own trucks, etc. The 18-wheeler that picked up my stuff said 'Florida Van Lines' and not 'Affordable Movers.'
If you contract with this company, they're also going to tell you you'll have your stuff usually between 7 and 14 days. What they won't tell you is that whatever day you give them as the first day you're available to receive your possessions is the first day they might look at whether or not they can find a truck to bring your possessions to you. It might take them 4 to 7 BUSINESS DAYS to figure that out, and another 14 BUSINESS DAYS to actually get it to you... It only took me 20 driving hours for me to get here. Why would it take 14 business days (19-20 actual days) to drive it here in a truck?
My things were loaded up in Iowa on May 28th. On June 6th I called to get a progress report and was informed that my stuff was still sitting in storage in Iowa. They indicated that it was slated to be loaded on a truck with the belongings of two other families and shipped toward Massachusetts in TWO DAYS (June 8th). I called again today, June 12th, to confirm that my belongings are en route only to find that they are STILL SITTING IN STORAGE in Iowa... This is 15 days after pick up. It has gotten no closer to me, and according to dispatch they are still looking for a way to get it here. Really? Just FYI, the two gentlemen who loaded me up were great! Very thorough, if a bit slow. The poor gal who answers my calls to Dispatch doesn't have any information and gets the brunt end of my frustration unfortunately. I have spent a LOT of time on hold. My advice: hire Two Men and a Truck to move you.

The movers are very professional, personable and provided excellent service. I highly recommend this moving company. I appreciate having no cost surprises at the end. Excellent job. They wrapped everything to transport to our next home so it will all arrive safely.

I scheduled a move nearly a month ahead of time. I was promised a date for the move which was critical since I was moving my son from college and he needed to focus on finals. Two days before the move I was called and informed that they were changing the date of the move despite a signed contract. I called and their system listed the altered date and I had to call them on it. They didn't budge on the date. This was a great inconvenience to my son and to me since I wanted to be present for the move. It makes me wonder what is the value of a signed contract with Affordable Movers if they can alter without my consent.

On time, polite and nothing was damaged or scratched and very professional. Would recommend to friends and family. Called to find out when the truck would arrive and got a quick reply and answer over the phone. Movers were quick with unloading.
Thank you for taking the time to share your experience with us and others. We value your thoughts. If you have any further questions please feel free to contact us. Thank you

I was referred to Affordable Movers. Now I would recommend affordable movers because they have great customer service and the staff were very great my questions and with handling my stuff during pick up and delivery. I will be using affordable movers for my next move.

They want over 70% of the money up front. The sales person is very pushy and they will be a cheaper price than most moving companies out there. We set a pickup date of Wednesday or Thursday. I received a call on Tuesday stating they would be there Wednesday, then I received another call from dispatch stating they would be there between 9am and noon on Thursday. I received another call stating that the guys would not be arriving in town until 5:00pm Thursday so they would be there to move me on Friday morning first thing. This was a business move and I had to fly in and out for our company. Ultimately they did not show up to start moving until Friday at 2:00pm and I was supposed to be on a plane at 4:00pm.
Beware of the first quote from the sales person. It will not be accurate and once the movers got to our office I received a new quote that was over $3k more for the move. We opted to not take everything instead of paying the higher price. We just received a call saying they were holding our business goods hostage until they received our final check. These movers want all of the money but they will not arrive and drop off at the time that they have contracted to be there. This company is a scam artist. Do not use them because they expect you to hold to the letter of the contract but they do not.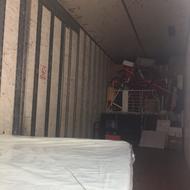 Absolute worst Movers and liars I have dealt with. The quote was reasonable but then doubled once the movers arrived. Then it took the movers four times to move my things not to mention all the hidden fees. As in $225 to move from my unit to the elevator $125 to use the elevator. They moved my stuff from the unit to the elevator then from the elevator to the 1st floor then from the first floor to the truck and then finally loaded the truck. It was not far at all from my unit to the truck. They didn't wrap anything with blankets and there was no wall between my things and the other people's things in the truck as they state will happen. The movers took a smoke break every 30 min and smoked in the trailer of the truck where all of my things were being packed. Then the driver was yelling at someone on the phone while trying to pack my things and then when I was filling out the paperwork he was on the phone again yelling at someone again.
When I asked what I was signing he just said, "Sign it!!!" Worst experience until they delivered my things. Everything was smashed on the truck. All boxes were completely smashed in and my furniture had scrapes all over it and my dining buffet has a huge hole in it. They didn't put the beds together and did very little except throw all the boxes in the dining room. I have tried to contact the company but of course I am not getting any response. Please do NOT use this company. They are the worst ever. Horrible customer service and the movers such scammers. Buyer BEWARE is all I can say.
Good Afternoon
I truly apologize that your experience was thus far not what you expected it to be unfortunately our customer service department was not made aware nor our claims department was not made aware that there were any issues regarding the finalization of your move with your move you are entitled to additional insurance that is part of your agreement which we pay a good amount of money to this department to handle everything our customers need we are willing to work with you please contact us and let us know how we can make you satisfied or a little at ease with our company we truly never want our customers to feel this way and would love the opportunity to be able to assist you. please contact out office at 800-208-5573 thank you.

Affordable Movers is a quality moving company that I would highly recommend. From start to finish the personnel from office staff to the actual moving people treated my family and belongings like we were family. From pick to delivery, awesome!

First I want to say that our moving team was excellent, timely, and careful. This was an out of state move and we had a very specific time frame which was met. So Affordable Movers gets an A+ for the move itself. The 'Binding Estimate', very significantly missed the mark however, and was apparently not binding. Our move cost about $1000 over the estimate, roughly a 25% increase from what we were told. We added 1 bicycle, 1 two-drawer filing cabinet, 3 small folding end tables and two folding chairs; we eliminated 6 medium sized boxes (original inventory included 20 boxes, we moved 14). I'm sure our few added items did not increase the cost by $1000, which is why I believe that our original estimate was off.
I understand that until the load is on the truck that the actual square footage is unknown, and the load was billed by square footage. I get that. However since I was lead to believe the estimate to be "binding", I planned and budgeted accordingly and had to scramble for cash at the last minute to meet the actual cost of the move. Still, I would recommend Affordable Movers for doing an excellent job -- Just don't believe the 'binding' estimate.

During the research and selection process of which company to use to help with my family's move, Affordable Movers was one of them. They provided an estimate and I gave them my cc information to put a deposit ($2,100) for the desired date. This was mainly to ensure that if I didn't find anything better I'd be all set. When I decided to go with another company I cancelled via email so there would be no confusion and to have written proof that I cancelled well within the time period allowed for cancellation. I explained the situation and received an email that same day that it would take 7-10 days to hit my account. Well, 20 days after that email, still no refund to my account. So I called the company asking about the refund. They told me that the request was never sent to the people that handle that and that they would do it now and in 3-5 days the money would hit my account.
Eight days go by, nothing. I call again, I'm told that I will receive an email with a receipt that day. 24 hours later, nothing. I call back, I'm put on hold; I'm taken off hold and can hear a conversation that I'm not sure I should be a part of and she starts speaking to someone else saying that she had talked to me the day before and that I wasn't going to believe her if she told me that I would get the email confirmation so she asked someone else to talk to me. Then I'm put back on hold.
Then I'm taken off of hold a man is speaking and asks me my information. I tell him that he should already know my information, but I give it to him anyway. He asks my name, I say he should know my name, but tell him anyway. Then he asks why I have this attitude. I tell him that it's because I've been waiting almost a month for my refund. He tells me that he's the guy that's trying to help me. He tells me that we could do this the easy way or the hard way. Every time I try to provide feedback and justification this guy just cuts me off and talks about the easy way or the hard way.
I ask to speak to his manager because he's just not listening to me. He tells me he's the owner. I'm raising my voice now but he's still not listening to me and keeps talking about easy way/hard way, that I should expect an email and that it will take 3-5 days. I tell him that I will be calling every hour to ensure that nobody has forgotten about my request. He tells me there's no need as the email will arrive in 5 minutes. Within 5 minutes I have my email. Within 2 days I finally have my money refunded.

I would highly recommend this company. One, because the staff and the office was great. As well as a driver at the beginning of my move. As well as a driver at the end of my move. They were courteous and knowledgeable. Then I had a few antique pieces that needed special care. All of my items arrived on time and anytime I need an update I was given one.

The movers were punctual and thorough in handling the furniture. I was impressed with the time they put in to covering all items and gently handling the fragile items. They took the necessary time to complete the task without being in a rush. The truck also arrived much sooner than I anticipated. I would recommend Affordable Movers and use them again.

Horrible, horrible, horrible. Hired them for a move from New York to Florida. When they showed up to load they told me I was way way over my space allotment. Then one of the movers, Hercules, pulled me aside and said that if I "made it worth his while" he would pack very carefully and make sure everything fit within my allotment. Like a fool, I gave him $200. Then the other guy, Eddy, asked me for another $200 to look the other way if there were any overages. Since I could not afford the extra $1,000 they told me I would owe, I foolishly gave him another $200. Then he wanted to know when I wanted delivery, and told me that if I wasn't sure to just pick a day and call them 3 days ahead of time if I needed to change it.
After asking me to go buy them some dinner, they told me they couldn't possibly fit anymore and left me with a lot of things still there. Shortly thereafter my daughter discovered that her $2,000 laptop was missing. Thinking it must have accidentally gotten packed, I did nothing. Well, 3 days before the date I had given them for delivery, I called to say I wouldn't be ready for delivery and they told me it was too late because they'd already loaded the truck. Now they wanted another $500 to deliver and told me the next day they could deliver was Feb. 25. So I DELAYED my arrival another few days so we wouldn't be hanging around in an empty house for 8 days. Then they called a few days later and said they'd be delivering on the 16th! But I hadn't left for Florida yet because they'd told me the 25th.
Now they wanted another $500 because once again they'd packed the truck and had to unload it. Well, I finally made it to Florida, borrowed money from my family to pay the extra money (without which they refused to deliver my furniture), and got my delivery. Multiple items are missing, I have a few things belonging to someone else, and the laptop is gone. Many things are broken, even Corelle plates which can withstand a lot without breaking. I seriously doubt I will ever see any recompense for any of this. I made VERY bad decisions: hiring them, paying their extortion, and believing them about the moving dates. Save yourself money and extreme frustration by steering clear of Affordable Movers!

Now that my furniture has finally arrived, I just have to make sure I warn everyone out there. Please spread the word... DON'T USE a company named Affordable Movers (affordable-mover.com). The entire experience was a disaster! Issues with contracts, sales rep said he was the owner of the company. They showed up 3 days late to pick up the furniture, didn't deliver it for 10 days even though we were told 4-6 for the direct ship they committed. Furniture ended up in storage in Virginia. Driver had an accident on the way down, cost $1500 more than the estimate. They left boxes clearly labelled for each room stacked in the garage. And to top it off, the guys they had unload the truck... they hired them off Craig's list for this job! Stay away from Affordable Movers!

Where to begin? From often being impossible to get a hold of, movers literally leaving items on the wall behind, the most irresponsible pick jobs I have ever seen that LITERALLY had the most fragile items packed in the bottom of the boxes crammed with other heavy items on top, the broken TV, the broken sewing machine, being strung along by dispatch for WEEKS as to when our shipment might arrive, no return calls, only about 5/80 boxes labeled AT ALL.... this was the worst service I have ever received. I thought I was paying higher cost to receive better service. I have no idea how this company has a favorable rating on this site. My grandma and I feel SCAMMED.

Nice as pie until delivery, when a dishonest, taciturn driver showed up with two local laborers. He stiffed the laborers on their tips. Kept me from truck. Destroyed some very sentimental and/or valuable pieces, altered the contract WITHOUT MY KNOWLEDGE AFTER IT HAD BEEN SIGNED AND FILED. My household goods arrived smelling of musty, dusty warehouse, some w/ watermarks, much damage, much missing. They even stripped pieces off my bike! They charged me twice for something we had already paid, then held my goods hostage until I agreed to pay half of their bogus fee (which was added AFTER contract was signed and filed). I have receipts, all paperwork, but no working scanner.
Affordable Movers Company Profile
Company Name:

Affordable Movers

Address:

706 LIPPERT RD NE

City:

Canton

State/Province:

OH

Postal Code:

44704

Country:

United States

Website:

http://affordable-mover.com/