Consumer Complaints and Reviews

I saw an ad for a companion plant book. I was looking for such a book for vegetable gardening so I started to fill out the form when I realized that the ad did not specify if it was for flowers or veggies. I stopped filling out the form and instead emailed my question to the about the veggies. A few days later the book arrived in my mailbox. I had never actually completed the form and I also did not hit the send button. I am therefore not quite sure how this happened. Anyway I tried to log in at the address to make a payment for this book and it told me that no such number existed, although I tried it in excess amounts of times using the numbers on the invoice. So now I have received an invoice for an additional $5.00 for a book I did not order! I am wondering if this falls under some postal law which will be my next query.

I ordered a 14-week half marathon training program for $9.99. I downloaded via email shortly after receiving it. It was a TOTAL joke: no speedwork, no specific training, just run 5 miles or 6 miles, 8 miles of LSD. I panicked, "What, I'm such a sucker, what is this garbage?" So I tried to contact customer service, because, as stated on the Rodale website: "We want you to be 100% satisfied!". After finally reaching their customer service, I told the agent my dilemma, that I would promise to delete the "training program" but it would have to be on the honor system. I just wanted my $9.99 back for this worthless garbage I paid for. The poor agent sounded restless and hopeless herself. Said she couldn't do anything about it. The order number contained in my confirmation email didn't even match her order number format. She didn't offer to help. She gave me some fake 888 number then went nowhere. Guess I lost $9.99 and all I got was feeling like a total idiot.

This company is not very upstanding. When I went online to get the free trial of the book, I was not able to download the book. The next thing I know, they send me a book that I never order. They kept trying sending me invoices for the payment of the book. I ignore these invoices and sent them an email that I never order the book and they still sent me the invoices. Even if you want to send the book back to them by courier, the fact that they had a P.O. Box address made it very difficult to do so. Now they have sent my account to collection, and I have not choice but to pay this to protect my credit rating. This company should not continue to do what they are doing.

I clicked on a link I got in the email and was looking at the product and almost ordered it but then decided against it. Later I got an email saying that I had ordered an item, I ignored it since I knew that wasn't possible. Now I got a package that says I ordered it but I didn't and now I have a bill? I don't want this product and I didn't order it, I am sure of it. I think their website if it has enough information just goes ahead and says you ordered it, I see several other people experience the same thing.

I initially signed up for the book, realized it was a scam so I canceled it as my next step. The postal worker came by and I refused to accept the book and sent it back. So far, they've ignored my cancelation, Repeated emails, and sent me a bill again this morning. Which I AM NOT GOING TO PAY. Please avoid signing up for anything with this company. It's just another alleged credit card scam. I've gone through a lot losing both my parents within 3 weeks of each other and I don't have the patience for this. I can back this up with emails if necessary. They hit me up for $70.93! Item Ordered: EASY WEEKEND DETOX OPB HC.
How do I know I can trust these reviews about Rodale Books?
694,519 reviews on ConsumerAffairs are verified.
We require contact information to ensure our reviewers are real.
We use intelligent software that helps us maintain the integrity of reviews.
Our moderators read all reviews to verify quality and helpfulness.
For more information about reviews on ConsumerAffairs.com please visit our FAQ.

As the same with all the other reviews I got a link and was curious as to what this book was actually about. But they made me put in my address & email information. For a "FREE" book. Once I decided it wasn't what I expected or wanted I clicked out of it. Next thing I know a couple days later the book is at my door, that I NEVER ordered. This company & book is a joke. I get a letter in the mail from a debt collections agency saying I owed $51. I intend to call for a refund.

I am a student and almost about to hurt my credits because of Rodale. I would have appreciated reading your books if I was not pushed for purchase. If someone has not provided the payment details on the online form, it means that for some reason the person is not interested. In this case, instead of being confident on your books, you should call to confirm the reason. You should not deliver books just like that at the address. And if you have delivered the books, you should take responsibility of collecting it. Everyone is not available for entertaining your services. My apology but this is true. Every day after traveling for hours, no one wants uninvited problems at home which were your books for last few months for me! I am just so disappointed with you, Rodale.

I ordered a subscription to Prevention magazine and received a book with an invoice for $39.94 that I did not want nor did I order. Forget calling their customer service. They give bad advice and have been receiving bills adding $4.00 per month for the unwanted book then threatening to send to a collection agency. I paid for the book to cut any contact with this company. 1286 - How does this company get away with this fraud? Run away from anything to do with this company!!!

WHAT A JOKE... I received an email from Rodale and wanted to see what the product was all about. It didn't show a price so I entered my info to see the cost and then decided to not buy it so I closed the window and then received an email saying I had purchased it and it said "pay later"... What? I NEVER purchased it. So I sent an email telling them to cancel the order and magically a few days later said they could not cancel as the order had been sent. THIS COMPANY IS A JOKE. Now they think I will get it and open it and pay for it? NOT EVEN... DON'T TRUST THEM FOR ANYTHING.

I got an email from this company advising me they were sending out a book for my review. Up to this point I had only been receiving emails. I never received any book but I started getting emails that I owed $32.98 for this book. I quickly responded via email and called to advise that I never received or ordered any book and they responded by saying it should arrive any day and just refuse it. The book never came and I was harassed by email until I finally paid it as I am trying to get a mortgage and wouldn't put it past this slimy publisher to report to the bureau.

SCAM: We did not order this book. We are being invoiced. Now we have to waste our time returning or dealing with this scam.

I received an email for a free Hormone report. To see the info I had to put in my address and name. A few days later sent a bill for 39$. I write, tell them I did not order. They tell me to refuse it. I do and mail back. Got invoice for 39$ again today.

Rodale Press offers books at inflated prices to senior citizens through direct mail while online they offer discounted versions of the same exact book. Seniors on limited incomes without internet access should be offered the same price for books they sell online cheaper.

I was looking at a book online and I clicked the link to see more information about purchasing. The link then told me I had purchased the book. I immediately (within an hour) called customer service to stop shipment and was told it was too late. I was told just to return unopened, which I did. They are still sending me bills for 75$ and I cannot get through to anyone in returns. I have emailed their customer service and have only received an automated response. I do not know what to do, this was an obvious scam.

Somehow, I regrettably came upon a book Rodale was offering that, at the time, I didn't actually know was a book. I thought I was signing up for a free email. I put in my email and my (now old) address but when the next screen asked for my credit card, I no-way'ed right off of their website and thought nothing more of it. I didn't think I had completed any sort of agreement by closing the entire tab.
A few days later, I get an email informing me that they're sending some BS book about hormones. I email back to say stop the order, I don't want it, but they say it's too late, it's already on its way, I'll just have to send it back unopened. I did this (at my own expense, $5 to ship) close to three weeks ago and yet 9 days ago, they emailed me to say I owe them almost $40 for a scam book I don't even have anymore. I immediately submitted a ticket saying the charge needs to be removed and they've ignored the ticket. The charge is still there and no one has contacted me. As soon as they open on Monday I'm calling but this has been a nightmare. Save yourself the hassle, do not do any sort of business with these people. They're shady as **.

They are sending me a book I never ordered. I have never heard of them and all of the sudden I have an invoice? For a book I never ordered! They are being reported!

I was online reading one evening and was redirected to this book. I, at first, thought sounded interesting. Body Fat Breakthrough. The website made it seem as though you could read the main ideas of the book online, but they immediately asked for your personal information. I thought, "How can this hurt? As long as I'm not giving them my credit card info, there's no way I can get scammed." I didn't know how much the book would cost until I hit "proceed" and saw the steep $32 price tag, at which point I simply clicked off the website. That's a ridiculous price for a book with no reviews that I could find.
Within the next couple of days I received an email thanking me for my order! I immediately called their "customer service", and it was obvious that they get a lot of calls like mine. The woman told me to write "return to sender" on the package and the mail carrier would take it. When that didn't work, I took it into the post office where I was told that because my husband had opened this unexpected package, I would have to repackage it and contact Rodale to ask for a return label.
I emailed them with this request and got nothing in return. I emailed AGAIN. Nothing. So I called today, pretty upset with this whole scam, and the "customer service" girl was not only rude and sarcastic, but informed me that I would have to pay for return shipping!! I feel violated by this company and don't want anyone else to get scammed by their perfectly practiced way to try to get people's money by making them jump through hoops simply to return a book they never even ordered.

This crap company is darn awful. I "tried out" their "free book" and found that it was useless. This is a scam company preying on victims. On top of that, this company has the ** nerve to say that my payment of $63.45 is due, when I paid for it 3 months ago. Like really? Don't ever purchase things from this scam of a company because they'll never leave you alone!

This past November, for Christmas I ordered one calendar and one year subscription for me and one for my daughter in Canada. They proceed mine but kept saying that my credit card was rejected for hers. I have verified with my bank if any transaction had been rejected. They said none. FIVE times I called to their clientele services to resolve the issue. Every time I told them that I thought the problem was that my credit card billing address is in US and the subscriber address, in this case my daughter, was in Canada.
Even one time the rep had me wait on the phone to make sure the "card" passed. He said it did. But every time I have received an email to tell me that the transaction couldn't be proceed. I have bought stuff in Canada with my American credit card and never had problem. None of their rep has tried to resolve the issue with other solution. Except one who said "try with a Canadian credit card." That wasn't smart. I've lost so much time with them. They could have given the calendar and the one-year subscription for compensating for all the time lost plus the Christmas gift gone. After all that time lost, Christmas was at the door! It is unfortunate because their products are interesting but their clientele services has made it that I am thinking of not subscribing anymore to their magazines.

Received an email about a new book available on Speed Cleaning. $31.95 with free shipping if paid when ordered. I paid the full amount to get the free shipping. This book is from 2005 and available for $7.99 used on Amazon. The book is pretty much useless since it uses toxic cleaning ingredients that are harmful! I figured Rodale for an Earth-friendly company so I assumed that it would have 'green cleaning' tips. I am very disappointed and intend to share with as many people as possible what a rip-off this company is. This will cost to send back so I'll probably keep it as a warning to myself to beware in the future.

They send you a book for free to try. The book is written so badly you will end up returning it and they will not send you a label with paid postage and you will end up paying for shipping a bulky book that will cost the same amount if you would have purchased it. This tactic is to force you to purchase the book.

I recently bought a Yoga DVD for the benefits of a stronger body. My DVD will not come off the introduction and play the next stage of the DVD. It must be a very cheaply made product. I am very disappointed in the product I received. Once bitten twice shy!

I received an advertisement for Prevention Magazine in the U.S. Mail back in April 2014. This advertisement offered a free book of my choice with a subscription to Prevention Magazine, so I selected a free book from their list and subscribed to a year of Prevention Magazine. In May 2014, I received my first issue of Prevention along with the "free" book I had selected. In July 2014, I received a bill for the "free" book for the amount of $43.94, and this same "free" book can be purchased from Amazon.com for less than $5. I will write them a check for $43.94 in the hopes it will get Rodale out of my life, but I doubt if it will. Once you let criminals such as Rodale into your life, they don't want to let go. And to think, I once lived in a country where such use of the U.S. Mail was a Federal crime.

I ordered a free trial of a book on Sugar. I did not like the book so returned it in pristine condition. The deal offered was, no charge if you didn't like the book and returned it. I did exactly that. I got emails claiming I owed just under $50. I wrote back, explaining the book had been returned. Then I started getting calls from a collection agency. They have not stopped. Not sure what to do next other than never order anything from Rodale again. So much for their claim of 100% customer satisfaction.

I was contacted today by an official-sounding collection agent who claimed to be calling about a book I supposedly ordered 3 years ago from Rodale and never paid for. (I never placed the order nor received the book!). The agent was very pushy and insistent that I pay her the $40+ cost of the book on the spot. I told her I'd contact Rodale directly to dispute this, and she said that they were through dealing with me and I had to deal directly with her. She then insisted on payment but I refused. My mother later suggested that I may have been contacted by a scammer posing as a collection agent to get money from me... I'm going to order a copy of my credit reports to see if any collection activity is on them.

MEN'S HEALTH - Magazine we didn't order!! We thought it was strange to get this magazine. We wouldn't order this magazine with my husband's health. So we logged into their website and registered. When I did that with the order number above our name and address on the front of the magazine... Up came my husband's name and his name was tied to an old email account I use when I don't want a business to bother me. I use an alias name as. It's an account I used before we were even married. So how they link it to him is odd. I have no idea. Are they into defrauding people for money or what? I cancelled the magazine ASAP! This magazine was for $49.00 a year. The subscription was set to run until 2016!!! SHAME ON THIS COMPANY!!! Defrauding people this way is WRONG!! I have since closed that old email account. I am also tired of the phone solicitation "HAVE YOU BEEN RECEIVING YOUR MAGAZINES?" Is this the same company?? Why are they allowed to do this??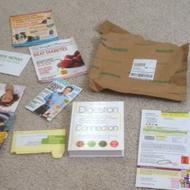 I see others have logged complaints about Rodale Books business practices, i.e. sending orders to people who didn't order anything from them. Here's our story as of March 2014:
My wife received an order from Rodale books last week that contained a book, "Digestion Connection", a lot of other marketing collateral, and an invoice for $43.24. I immediately noticed that my wife's name was changed by 1 letter (her name is Cheri and the name on the invoice was "Cheni"), and that our street name was off by 2 letters (it ends in "or" and they put "in"). Everything else looked legit.
I smelled a scam so I called up Rodale's 800# on the invoice, hit "0" to bypass all the recorded options, and after waiting on hold for 5 minutes requested a pre-paid, self-addressed (empty) package with which to send the material back to them. The rep, "Kim" told me they could send me a pre-paid return form but not a box (box is on my dime). I then told the rep I was on to their scheme and started asking her questions and she hung up on me. I called back again, same wait, but got "Amber" this time. Amber seemed to be a 'tier 2' person, savvy in the ways of dealing with 'I smell a scam complaints'. She arranged for the return slip to be sent to me but did her best to deflect my scam inquiries by saying (paraphrasing): "the errors in the name, address on the invoice are not a scam, someone had to fill-out an insert (I assume magazine insert) for you to get the order and the handwriting was likely difficult to read'. Well, my wife would NEVER have ordered "Digestion Connection" in a million years and here handwriting is perfect.
The really underhanded thing is, Rodale, in my educated opinion, created a bogus order and account for my wife, put it in their system, and invoiced her for something she would not have ordered in a million years. Additionally, nobody my wife knows would have sent her "Digestive Connection" because it is of no interest to her, and she does not and has not read anything but fiction for ~20 years I have known her.
I'm upset that we had to deal with this "Junk Bomb" Rodale sent us, that I had to wait on hold twice to get a form to return it, that I have to find my own box to return it, and that Rodale is, at a minimum, wasting a TON of people's time with this sort of bogus business practice, if not getting completely duped by Rodale and paying for this stuff.
I can't stand scammers. I'm seasoned at dealing with them but I'm CERTAIN Rodale is getting away with this year after year, taking advantage of people who aren't. I implore Consumer Affairs to contact me and I will personally help you in any way I can to assure Rodale never takes advantage of anyone again with these kinds of bogus business practices. If there's any way to do a class action against Rodale, please have an attorney contact me.

I sent away for a book which was in a card in OPRAH's Magazine and DR. OZ was on the cover of the book. The book was entitled YOU BEING BEAUTIFUL. The book was illustrated with stupid sketches and I threw it in the back of my closet. I sent a check for $39.94 to Rodale and they debited the amount from my checking account on 07/11/13. Yesterday on 07/20/13 I received another bill from them for $43.94 which included late charges. I googled "Rodale a scam" and found many websites devoted to their devious and deceptive practices. My concern is that they have my banking information and could debit the amount again.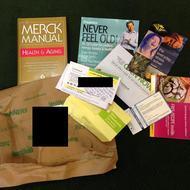 I received a gift subscription to Runner's World for Christmas. This morning, I checked my mail to find a heavy package labeled with the Runner's World logo. Excited that it might be a great book on my new sport, I ripped it open. Unfortunately, it wasn't a free gift. Instead, I got a copy of The Merck Manual of Health & Aging (I'm 29). Included with this ridiculous book was an invoice for $37.94 to cover the book and shipping. I called the number on the invoice (800.848.4735) and pressed "0" to get an operator clearly located in another country.
I let them know that I did not order the book and would not be paying for it or the shipping to and back from me. I intended to tape the package back up and label it "Return To Sender." The operator insisted that I ordered the book through one of their telemarketers. He even told me the date I had "ordered" it. I then questioned him. If they have the date I ordered it through their telemarketer, then what phone number did they call me on? He cited a number in my area code that does not belong to me or anyone I know. I told him I knew they were lying and asked if that was how Rodale does business. He said they send promotional books to people unless you request to be removed from their list. I asked that they remove me and also my sister since she received a gift subscription, too. He told me they'd send me a prepaid shipping label to return the book and that it should arrive in 5-10 business days. I let him know that I planned to trash the book if I didn't receive it by then, and that I will never subscribe to or purchase a Rodale product in my life. I'm incensed and disgusted by the hassle they've caused me.

This is the biggest scam ever. I subscribed to the prevention website. There is a link to "become a member for free," but guess what? You'll get a copy of their book prevention for $46 and some change. I got the book and opened the package because I do order frequently from the internet, and thought it was something I had ordered. I intermediately connected the freaking book to my subscription to the website and put it aside. I tried to mail back and thought the label I printed from their website will do. But no, it would cost me $6 and change. I thought, why do I have to even pay to send it back? No way to contact them by email or by phone.
I just got another bill where they threaten me to send me to a collection agency and report me to the consumer reporting agency Alliant. Why do I have to go to this ordeal for something I did not order? Now I'll send the freaking book and pay the postage, but I am not definitely paying for the book. Screw them. I'll post something on Facebook and Twitter to ruin their reputation and hope everybody who has gone through something like this do the same.
Rodale Books Company Profile
Company Name:

Rodale Books

Website:

http://www.rodaleinc.com/