Consumer Complaints and Reviews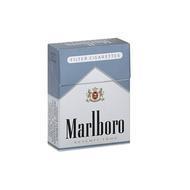 I have been smoking the Marlboro Ultra Light 72's for about 5 yrs. now (or Silver 72's/the short smokes in the silver box)... They have always started with the letter "V" at the bottom of the box followed by numbers, etc. I know how to read these codes, and how to determine how old the cigarettes are. YOUR NEWEST BATCH OF THEM FOR THE END OF 2016 now starts with the letter "R"... and the difference is so noticeable that I honestly feel like throwing up. They all start with R, I can't find any with a V, and if I do, they're about 6 months old.
These new ones with the R at the bottom taste HORRIBLE. I don't know if they're from Rhode Island or if the R means they came from somewhere else besides Virginia, but the taste is nothing like my original 72's that I'm so used to. I don't taste tobacco at all. I taste chemicals. Sweet, disgusting, chemicals. They leave this sweet, yet rotten taste in your mouth that you can't get rid of. And each cigarettes makes you feel sick to your stomach and even causes hot flashes.
They also seem extra-moist or something, and very soft. They barely burn, almost as if they've come from a cold freezer and all the tobacco froze and the only thing left to smoke is the chemicals. Like smoking Elmer's glue. So disgusting. I don't know what these "R" cigarettes are all about, but I can tell you that you have destroyed my favorite cigarette. Please start selling the boxes with a "V" on the bottom again and make them the way you used to, and never, ever, ever, bring back the ones that begin with the letter R at the beginning of the code. I can't stand it anymore. And I love this brand of cigs, too bad it had to get so ruined. They were perfectly fine the way they were before. And I speak for others as well. Thank you.

The recently imposed Sin Tax Law has somewhat prevented smokers from buying cigarettes because they became a lot more expensive. Despite that, I've recently got back to smoking Marlboro Reds and I could definitely say I don't regret it. It's really the hands down best out there - the king among pawns, that is. It has that original, woody and smooth taste that I want which I cannot find in others. A stick lasts longer than Lights or any other variant. There's nothing like sitting back and just relaxing on good smokes (with a cold beer or a good coffee brew). I missed Marlboro Reds a lot. I'll still smoke it even if it kills me.

I smoke Marlboro special blend lights and they burn my lips and tongue. Does this happen to anyone else?? I've always smoked Marlboro S light but switched due to it being cheaper so if anyone having this problem let me know!

I purchased a carton of Marlboro Reds from a tobacco shop. Opened them and the packs were crushed and some had cuts in the packages. I took them back but the store would not take them back so I am now out 56.00. So very unhappy.

I switched to Marlboro special blend two years ago. Finally gave up smoking once again except with this blend. Chemicals are strong in this cigarette. I've been cigarette free for 10 days and I'm over the nicotine withdraws. I'm still going through chemical withdraws from this cigarette - Burning chest, shortness of breath, headaches, dizzy. Still really bad. Never had any of these problems when I smoked. Stay away from this cigarette. Bad bad chemicals.
How do I know I can trust these reviews about Philip Morris USA?
697,568 reviews on ConsumerAffairs are verified.
We require contact information to ensure our reviewers are real.
We use intelligent software that helps us maintain the integrity of reviews.
Our moderators read all reviews to verify quality and helpfulness.
For more information about reviews on ConsumerAffairs.com please visit our FAQ.

I'd like to know why the flavor of the cigarettes got stronger/harsher when the names changed from reds/mediums/lights to special blend. I want my normal ciggs back. This special blend stuff isn't all that special! It's worse than ever!

I've been smoking Marlboro Lights 100's for many years. I never had a problem with the brand. But at first I started to feel a very harsh taste, smell, and the cigarettes goes into 3/4 drags, or goes OFF. Then I noticed that my skin between my fingers is turning orange/brownish color. Also it doesn't taste like it used to anymore. So is anyone out there having this type of problem? Because I'm about to change the brand. I know smoking it's not good but it's my choice to do so, and at the same time I have the right to express my opinion.

Continually stale cigarettes - marlboro gold 100's menthol: I buy these at different locations, usually outside of Cook County, Illinois. The local tax is humongous. Far too often (and way too late) I realize they're not up to snuff, i.e. the freshness / quality ranges from not-quite-fresh to downright poor.
The alleged manufacture date on the carton and the vendors' assurances as to product quality not withstanding, it rather seems like some distributors and vendors don't know how to store & transport these too well. S'disgusting and causes me grief with my pain-smoking partner as well. You'd think quality'd be important... well, it's not, and that's because (pardon me) most smokers really don't care how old their cigarettes are and cannot tell a too-stale-to-smoke cigarette from a wonderfully fresh, fragrant, enjoyable cigarette.
The retail chains (Walgreens in particular) and cigarettes-for-cheaper vendors don't care and aren't trained to check their stock upon receipt. Distributors (can I name names here?), I feel, just send whatever they've got (read: DUMP whatever they've got) on the retailers and take no responsibility for product quality.
So, NO brownie points for Philip Morris for not having a complaint email address specifically for cigarettes and also for not having weekend coverage in their customer-service department.
And it's always fun trying to educate retailers on how-to check freshness... many of them don't smoke! Looks like I need to call Philip Morris next week and send a scathing letter to the manager at that discount store I shopped at yesterday in Wood Dale, IL. Perhaps it's time for all of us to switch to cigars and pipes?

Approx 1 week ago (Dec 1, 2014) Marlboro gold started to make my husband and I ill. He got a headache and the spins and I vomited. Thought it was a bad pack so we threw them in the garbage and bought from a different city. Same thing happened again, he got dizzy and a headache and I was nauseous. We all know smoking is bad for you but this is ridiculous.

I don't know if this happened from the new fire safe full flavor 100's. About the seventh cigarette out of the pack i had lit it, took about three drags off it and the next drag my lip started to burn and i pulled the cig away and my skin was melted to the butt. I didn't know what the hell happened. It happened in front of my friend and they looked at the cig and noticed that there was a hole in the butt from the tobacco side to where the burn occurred. Somehow the heat from the lit end went through the cig to the butt and burned my lip. I do not know who to contact about this or what i should do. What happened was not right and I just want to make sure it does not happen to somebody else and end up being a lot worse of a burn case.

Why does the lighted end of the cigarette keep falling off? I have burned many things because of this. You need to fix this problem. I am very tired of this happening. This is a product failure and this is very dangerous!

Not enough tobacco in the cigarettes. I have been smoking Marlboro all my life. I am 75 years old. This never happened to me before, but every time I light up a cigarette and has consumed two third, the front of the lit cigarette fell off. I already burned 2 pajamas, and a leather seat. Don't tell me that can't be, because if it never happened to me before in more than 50 years...why now!?

Today, I went to my grocery store to purchase a package of my favorite cigarettes (Marlboro Special blend). The clerk told me that they had changed the packaging. I said okay and purchased two packs. Later this evening, I opened a pack and to my dismay, you changed the filter. Nasty amber one and the taste was stronger than what I am used to, not sure if it's the tobacco blend or the new filter. In any case, I will not be buying them again. Nasty!

I opened a new carton of cigarettes, and the first pack was ripped like it was dragged across a blade on the bottom of the pack. It was still smokeable but stale.

I was given an under the counter CD player/radio for Christmas in 2009. The radio was used a couple of times a month and the CD player maybe 6 times total. In July 2011, I pushed the power button only to discover it gave an ''error" message. I looked online and found multiple reports of the same error on this model unit. I followed the troubleshooting suggestion (unplug and wait 20 minutes) and the error changed to 'no CD' and 'read' messages. The technical "support" chat line had me do the same thing again. And I was informed that if it had still been within the 1-year warranty period, the unit would have been replaced. I asked for a customer service number and was given a P.O. box.

After participating in the Outwit the West contest for multiple weeks and spending my valuable time doing the questions, I won a camera as a prize. This contest was open to all US Residents and military members stationed overseas as we are. I never received my prize. After calling them, they said they can't ship to me, so I just don't get the gift. There's no substitute, and it's just too bad, so sad and sorry. It's not good enough, Phillip Morris!
My time was absolutely wasted on this brand, this company, and this contest for nothing at all evidently. They did not stand behind there promise.

Since the government mandated the FSC in the cigarettes, I have had problems breathing, feeling ill all the time, and lit ashes falling off and burning blankets, clothes and carpets. Is anything going to be done? Or are we smokers so discriminated against that no one cares? It is legal to smoke, so why are we forced to take in even more chemicals that they don't even know the consequences from? We did not ask to be protected from ourselves. Just as people have the right to take or not take medications, shouldn't we have the right to refuse these untested chemicals? Who is going to pay for the things destroyed by burning ashes that should not be falling off? I have never burned anything with a cigarette until this new chemical became mandatory in them. What can consumers do to get this law changed? Is there a class action about this anywhere? I would like to put my name in there too.

I have been smoking for 26 years, with no problems. About six months ago, we moved to Nashville. When I bought my first pack of cigarettes here, I noticed they tasted bad. I thought they may be stale. But that didn't really describe the taste, or the taste they left in my mouth. Lately, I have been getting very nauseous immediately after smoking. My throat burns in a way hard to express, like I've inhaled melting plastic. I have also had headaches (I never have had many headaches in my life till now) and just a "sick" feeling in general. I have also been more fatigued as well. Obviously, it is the FSC's. I just bought a new couch, which now has a burn in the arm from falling hot ash! Their cigarettes are more dangerous now than ever!

I bought 2 packs of Marlboro red 100's in a box and the filters were messed up. The inside kept falling out. Also, one pack almost all of the cigarettes were broken. I would like to be compensated for the money I wasted. I would accept coupons for free packs or a free carton of Marlboro red 100's in a box.

This is in reference to your article on menthol cigarettes being more addictive than regular ones. I have smoked a long time but I never smoked menthol. I hated them. Mayor Bloomberg raised the taxes so high on cigarettes in NYC that a pack could cost anywhere between 7 and 9 dollars. This was supposed to magically make people stop. I guess many did but I couldn't. I found deals. Marlboro came out with Marlboro Menthol. These are always on sale, $3 off a pack bringing the price back down to $4.50 in some places and if you have coupons, you are good though coupons are usually for menthol. Camel did the same thing. It allowed me to keep smoking. Well, whenever I thought it was too expensive, the menthol was on sale. It's amazing how you can get used to something. And now, it's all I smoke and yes, I don't want to smoke regular cigarettes.

I just want to complain that I have smoked Marlboro for 14 years and I have yet to ever receive coupons or offers from Marlboro.I have filled out fro things,but never got.

This new lighter you sent me **** dog ****. The ZIPPO BLU skips alot and wont stay lit. Other than that, everything has been cool. I'm sure i'll die one day, but until then it's all good. Please don't send another butane lighter.
Yours Truly
Billy ****

Just letting someone from Marlboro know my husband and I received 4 rolling duffles on the last campaign, we took 2 of them on a trip recently and they both split in two different places and had to be thrown away, there was no way to repair them.

I was mailed a Contest Booklet for a trip to Marlboro Country (cd Included)on 5/25/2006 for a contest that ended 5/15/2006. This is very annoying. Why would you do this? I've been a customer for approx. 35 years and you think I would get these things on time.

I buy for a pack of 20 and only got 16 in that pack. What the the hell is going on with that?? I think I should get what I paid for, thanks very much.

During my research on tobacco, I have found tobacco stems in my cigarette which causes the cigarette to burn unevenly. Sometimes the tobacco is not packed properly due to the nature and length of the tobacco. There have even been many cigarettes with stems inside, the same for the whole range of Marlboro Reds and Lights package. When I smoke, I find it unsatisfying and this is a real disappointment as I have been smoking this brand for many years. It is indeed sad that I have had to watch the standards drop and it looks like I have to change...

Unfortunately women smoke too and we save the miles but yet year after year you offer us ****...Please think about us when you do your catalog, I may as well smoke something else I always end up giving my miles to guys.

I rec'd an ad on Dec. 23, 2003, stating you would get a free pair of roadhouse rambler boots (2,500 were to be given away) if you called an 800# on Dec. 13, 2003 12 noon to 3p.m. ET. The ad also states you could rec. the names of the winners if you send in a self-addressed envelope that is to be received by Dec. 19. I believe Marlboro intentionally sent notices after the fact and had no intention of giving anything away.

My last packet of Marlboro Red 25s cigarettes contained a faulty, it had a slash down one side and was unsmokable.

i purchased a twin pack of cigarette (marlboro light menthol) in january 2000. inside of the package, there is a marketing survey inquired by philip morris. as per the fine print of the package, i will be received a lighter and incentive items in the mail if the survey is returned before 3/31/00 along with a picture id. i followed their instruction and returned it to the preprinted address in the survey. however, i haven't received any items since 01/15/2000, the date that i mailed out the survey. on 08/29/2000, i wrote a letter to the customer service of philip morris usa for getting explanation of their promise and offers. but as of today, i still haven't got back any responses from them.
i believe that philip morris is doing a marketing fraud for getting consumer information. as i stop by grocery stores, i easily can find marketing surveys regarding tobacco that are inquired by philip morris company. they also offer incentive items when the surveys are returned with a valid id. thank you very much for your attention to this matter. sincerely, dante ****
Philip Morris USA Company Profile
Company Name:

Philip Morris USA

Website:

http://www.altria.com/our-companies/philipmorrisusa/Pages/default.aspx