Consumer Complaints and Reviews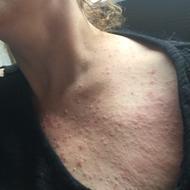 I have been using all free and clear for as long as I can remember probably over 10 years. In March I slowly developed an intense rash on my legs, back, stomach and chest. I saw an allergist, dermatologist, naturopath. The only thing that helped was **. The last thing I thought it would be was my detergent. This rash was so intense with itching the allergist actually treated me for scabies! I was treated for Folliculitis with a secondary infection with antibiotics. This did not help.
I went through food sensitivity testing, allergy patch testing, allergy environmental testing, you name it I did it. All with little to no answers. I finally switched to Arm and Hammer in May. Slowly, my clothes cycled through the new detergent and my rash is finally gone. I am also having light box therapy sessions. I went to my sisters for a weekend and began itching at night in bed. I went to her laundry room to just check to see what she was using. Sure enough all free and clear!!! I don't know if they changed the ingredients or what but it did not affect anyone else in my family and I have never had skin sensitivities so I'm not sure what triggered such a horrendous rash. Dermatologist thought I may have developed Guttate Psoriasis but the biopsy came back negative. See photos. I now have scarring on my legs. Thank you all free and clear!

Love the smell... hate that I have to re-do laundry after EVERY load no matter how small or large. At first I thought my son had gotten superglue on his clothes. Then we found that every load of clothes has at least one item that is "super glued" by the laundry pod. It never completely dissolves. I have a front load high efficiency machine. I have tried all different temps of water and different amounts of clothes.

After reading recently about the harm of dyes and fragrances in laundry detergents, I decided to purchase All Free and Clear. It has received high review ratings on several websites. We started out using the pods about two months ago and switched to the liquid about three weeks ago. Ever since we have used it my teenage Son has been complaining about itching. I just thought it was the stuff he deals with while making models and most recently he's been doing woodwork. But it progressively became worse. Last night he was itching all over and had hives on his arms along with small bumps everywhere so we gave him ** but that only helped a little.
Since this detergent was the only change I did an internet search on reactions to All Free and Clear and found this thread. What an incredible relief it was that others were having similar issues. So I quickly went to the store and purchased Arm and Hammer for Sensitive Skin and came back home and washed his clothes and bedding. As soon as he changed into older clothes that had been washed a long time ago in Persil (which receives an F rating on the ewg.org site) he had almost immediate relief. Who would have thought that an allergic reaction would occur just because of trying to remove exposure to harmful dyes from my family. Just glad we finally figured it out before he became worse.

Let me start by saying that I have never had to go to the ER for any reason. On a Monday I began getting really itchy all over my body and scalp. It wasn't until Wednesday when I finally started seeing welts on my arms and face. I went to urgent care and was prescribed steroids and ** for 5 days. Throughout the day it seemed to get better, but at night I would awaken with immense itching. On Friday I went to my personal doctor because I feared I had developed some sort of disease. I was questioned on any new products and at this point I couldn't put A and B together considering we had that detergent for 2 weeks now.
By Sunday the hives were intense, my body and face were covered. My lip and eye began to swell... I went to urgent care for a second time and was told whatever was causing this I must still be in contact with since my symptoms were not getting any better. By the afternoon, the hives had now went from itchy to swollen and burning. I felt my blood was gonna burst out of my arms, it was painful. I rushed to the ER where they gave me a shot and medicine.
Finally a week later and a day after the emergency room, it seemed it had all disappeared. I switched out the detergent even though I still didn't think that was the cause considering it said allergist and derm recommended. But at this point I switched everything out to eliminate the cause. Well, last night I decided to use All Detergent to clean up a stain from our carpet since I didn't want to use my blue tide detergent. Sure enough I began to get itchy again about an hour later and started noticing small hives trying to re-emerge on my face! I quickly took ** and decided not to sleep on the bed again since we haven't had the chance to rewash them with Tide. Finally after a week of horror I figured it out, now I just have to wait for the expensive bills awaiting from the ER. This company should be sued.

I just recently have been having a problem with hives or what you would call an allergic reaction. I was stumped as to what it could be. Now I'm thinking back on when I first started breaking out and I believe after reading some of the other reviews that All could be the culprit. So in the meantime, I'm going back to my regular detergent. We will see what happens. I'm betting it will clear up completely when I stop using this harsh detergent. So much for Hypoallergenic/Sensitive Skin Laundry Soap!!! Just had to vent after reading others complaints on this not so sensitive soap!!!
How do I know I can trust these reviews about All Detergent?
855,731 reviews on ConsumerAffairs are verified.
We require contact information to ensure our reviewers are real.
We use intelligent software that helps us maintain the integrity of reviews.
Our moderators read all reviews to verify quality and helpfulness.
For more information about reviews on ConsumerAffairs.com please visit our FAQ.

Check out the Environment Working Group's ratings of laundry detergents. You will be appalled at the toxic chemicals... including toxic fragrances that we use on our families! Time for the manufacturers to BAN "fragrance" and chemicals for our family's sake! All Free and Clear earned an F!!! I can't get the ALL fragrance out of my clothes... It seizes my lungs! Help!

I have been using this for years. Broke out with rash that traveled all over my body. I had second degree burns. Saw a regular doctor who prescribed ointment. That didn't work. Went to dermatologist, took multiple medications and used various ointments for several weeks and just starting to clear up a month later and several hundred dollars spent on new sheets, clothes, medications, ointments etc... I have never had an allergic reaction to anything. I have pictures that are pretty bad. I had a couple bottles and returned one to Sam's club and the other to Costco.

My family and I have used All Free and Clear for several years. Starting last Tuesday I woke up itching every night. I did 2 rinses on my bedding and put the sheets and blankets back on my bed hoping the rinse would help. Nope, the itching happened again Wednesday, Thursday, Friday, and Saturday. I ended up having to take multiple Benadryls. I decided to get some Tide Free And Gentle on Sunday and it worked. Trying to figure out what was going on I found the ingredients and it has something called Coconut fatty acid salt. The problem is that I am allergic to Coconut. I recently opened a new bottle of All which I used on my bedding. At some point they changed their ingredients and I know that because I have now always itched.

I have used Tide Free & Gentle for my son for about 7 years now. He is 8 years old. He has reactions to detergents with scent and certain chemicals. He has never had a reaction with Tide F&G until recently. His whole body is covered in itchy rash. Poor guy carries Benadryl cream around with him. It hurts so bad. There has been no change in our routine so I figured Tide changed the formula. I changed to another gentle detergent and his rashes are clearing up. Really disappointed in Tide. Why fix something that isn't broken. Must be a cost thing.

All Free and Clear fades clothes. It does not dissolve in cold water and does not rinse out of clothes. I seem to have this problem with other laundry detergents too so I can't say it is just this brand. It does bleach your clothes if it sits on it directly for at least 30 minutes. If it does that then I'm sure it is likely fading clothes. I have to put some hot in with the cold water to get the detergent rinsed out otherwise they stink worse like detergent, faded, and full of static. I have tried barely using any detergent at all and I have tried using more and it doesn't work in cold water. The detergent won't come out. I do have hard water and have been using vinegar instead of fabric softener. I have a large top loader and put small amount of clothes in.

I have used All Free & Clear and, in general, I like the product. It performs as expected and seems to be a good value. The packaging, however, is awful. I buy the 1.75 gal size and place it on the shelf, on its side as directed. The problem is that the bottle leaks at the spigot and drips out. Because of the leak, my shelf is sticky with detergent plus detergent puddles on the dryer below the shelf. I put the plastic measuring cup over the spigot and the detergent still leaks out onto the shelf. The edge of the plastic cup does not cover the spot where the detergent leaks. Something to consider during your next purchase.

I have only been able to use ALL Free and Clear out of all detergents due to burning skin reactions. I used the product now for many years and noticed something irritating late 2015. I rinsed 3x after washes and my skin just got worse as I used the product. I suspect the formula has changed somehow. I noticed that ALL has an Oxy Clean agent added to it recently but this is not the product that I am mentioning. It is the original white bottle. Not the orange cap with oxy. I am very disappointed. I have tried the other brands that are free and clear and can not use them. Not sure what I am going to be able to use now and very disappointed that I can not use this brand anymore.

I had been using All Free and Clear for a number of years. I had switched to it because I had allergies to other detergents. I bought several bottles on sale a couple of months ago, started using them now, and started breaking out in really bad rashes. It took me awhile to figure out what was going on. At first I thought it was underarm deodorant, but it was not. Finally I switched detergents and it stopped immediately. The formula must have changed or something. I had bought All Free and Clear because it was always reasonably priced, cleaned well, and I had no allergies from it. But now that has all changed. As soon as I put on T shirts washed in All Free and Clear I start breaking out in rashes.
I switched to another hypoallergenic detergent and all of my rashes stopped immediately. I don't know if I can mention it here, but I switched to Arm & Hammer, the one that says Dermatologist Tested. Maybe the All Free and Clear I got on sale had something wrong with it, I just don't know. But I did isolate the my allergy problem.

This is the worst product. I have hives everywhere. I have never had an issue with any detergent ever!!! I will never buy any product from them ever again. I always buy Tide and I'll never not buy Tide again.

I rarely write reviews for anything but I do read them most of the time. I purchased these washer pacs thinking it would be less messy than the liquid poured in the washer/container. Unfortunately, some of the pacs leaked in the container they are packaged in and many were stuck together so that even with perforations it made for a mess on the hands. Also, they did not entirely dissolve and the fill container on the washer became sticky and "glumed" up. I will not buy these again and have dumped the remaining (13) in the trash.

When Tide discontinued its Dye and Perfume Free Product, I tried the highly recommended All Detergent product. It took me a while to figure out why I suddenly had the most incredible vulvar itch and pain. Benadryl and the saving grace of a few Tide washed panties in a suitcase have saved the day. I have tried washing the All washed panties multiple times and I can't get the perfume smell out. What a waste, 7 panties in the trash and back to the store for more. Tide has a new product called Free and Gentle. I hope it works, otherwise I will have to live with water and light Clorox only for rinsing of my panties - gross. In all fairness, my husband has no skin irritation, he just dislikes the All smell.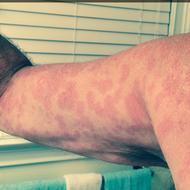 Bought All Clear & Free after my granddaughter started to experience hives. In an attempt to find out what was causing the hives, I decided to buy All Clear & Free to wash all her clothes, sheets and blankets. She was also using a new asthma maintenance inhaler at the time. Even though the hives started shortly after she started using the new inhaler, I changed detergent. After taking her off the inhaler, her hives have subsided. However, three weeks later, my poor husband is covered from head to toe in an itchy, burning rash. Had him to doctor yesterday for steroid shot and prescription for more. He is absolutely miserable. It appears that from reading these complaints, this is a fairly common occurrence with this product! It has taken me two days to wash and double rinse all his clothes, sheets and towels. Will NEVER buy this product again.

I usually use Tide Free & Clear but the All Free & Clear was on sale so decided to purchase it. Within one week of using it, I broke out in a rash in my midsection, front and back, concentrated primarily under my arms. Since that was the only thing I had changed, I immediately re-washed all the clothes I thought I had washed in it. After a week of using spray Calamine lotion and Benadryl, my symptoms seemed to be improving. Then I wore a shirt that I obviously had not re-washed and I broke out again, this time even worse.
Again, back to the spray calamine lotion and Benadryl. My symptoms now seem to be improving but I have huge dry patches where the rash was that even coconut oil is having trouble getting through. Slowly making progress, hopefully without having to go to the doctor. I have never been one to break out from anything. I don't know what's in this stuff but it's not good. It's going in the garbage and I will advise all I know to not buy it.

I moved back home with my parents a little over a month ago. I have very sensitive skin as well as chronic/severe eczema and have been very particular about any products I've used over the last ten years. I had been using Arm and Hammer sensitive skin liquid detergent (free of perfume and dyes) for years but my mom suggested I use a laundry detergent pod rather than a liquid as it's less messy and no measuring required. I could not find any pods by Arm and Hammer so I decided to buy All free and clear pods as I've used their liquid free and clear detergent before with no issue. Within a few days my eczema flared severely and over the next few weeks I broke out in an intensely itchy rash from my face down to my ankles. I've been to the doctor twice in the last month-they are dumbfounded and didn't know what was causing it, have tried two different steroid creams, antibiotics and oral steroids... No results.
I've missed several days of work as I'm a massage therapist and have broken skin all over my hands and arms from the scratching and am unable to perform my job. It occurred to me today that this is the only thing I've changed that could cause such a widespread rash over the last month. I am currently rewashing all my clothes and sheets in Arm and Hammer liquid detergent and am going to soak in an oatmeal bath before dousing my body in Calamine lotion. I am very disappointed it took me a whole month to find the culprit but better late than never as I wasn't sure what to do as no one had answers for me. I will not be supporting this "sensitive skin" product anymore. I'm sorry Arm and Hammer for ever switching just because you didn't make pods!

In the past, I have used All Free and Clear liquid laundry detergent. I switched several months ago to using All Free and Clear Pods and have been breaking out in hives and rashes all over my body, but mostly concentrated on my back. I have been to the doctor's for creams and I take Zyrtec for skin allergies. However, recently my washing machine has been putting off this strange chemical smell on my clothes that I cannot determine, and today when I opened the washer a white vapor and a strong chemical scent was coming out of the washer. The scent smells like a burned smell mixed with a chemical scent. I have no idea what could be causing this chemical reaction, but I am never using these pods again. I intend to switch to another product immediately.

We have been using All Free and Clear for seven or eight years with no complaints. The company must have changed the formula because my family and I have recently encountered red itchy rashes over our arms, legs, faces, and waists. My husband's reaction was so severe (welts), he had to go to the emergency room to get a steroid shot. He and I are currently taking oral steroids and Benadryl. Every physician asked us if we had changed detergents, and we kept telling them we hadn't. The company should inform customers any time they make a change to their formula. We spent a lot of time and money determining the cause of these rashes--cleaning services, exterminators, etc. If the product said "new formula" or something, we would have figured it out sooner.

My face swelled and I had patches of hot itchy spots on my hips. I ended up having extreme stomach problems and my blood pressure was so high I was put on blood pressure meds along. My stomach problems led to chest pain and breathing problems and I was admitted into the hospital. This has literally disabled me for a month now. Because it affected me so badly my doctors have me on zantac and blood pressure meds. The itching caused panic attacks that led to stomach problems that led to chest pain. After washing one load of clothes in another detergent I had one free of itching on my legs and I'm still washing clothes and sheets today but already have relief.

I have been reading the reviews on All Laundry detergent. Just to let you know that I have started using Tide Pods just this year. I was very happy to find the nice clean smell, but my husband has started to break out in welts & hives. He has been to the Dr. Many times for the itching, cracking, bleeding. He has had many steroid shots, Benadryl. The Dermatologist had him on a toxic medication which made him sick. I have finally found that he is allergic to Tide Pods. This has cost him so much pain & Dr. Visits. We now have a small fortune in a bad product. I have read comments on the All detergent. Has anyone else had this happen with the Tide Pods ? Please let me know.

Have used All pods since they appeared in the store. Never had a problem with them. All of a sudden I started breaking out in little bumps that itched like crazy. Couldn't figure out what was happening until I realized that All had changed their ingredients and the pods had a yellow color. They were supposed to be more concentrated. My daughter broke out with little bumps also so we finally realized it was the detergent. Last time I will buy them.

Too many people have been complaining about skin rashes/hives. Over the weekend, I visited my parents and slept in their guest room. Overnight, I began to itch and the next morning I was covered in flesh-covered hives. I thought cortisone would help stop the itchiness but NOPE. The hives got worse throughout the day to the point where I had them ALL over (including face) and they began to turn red. My hands became inflamed and swollen. I was in a lot of pain and had to be taken to an Urgent Care facility. They gave me a steroid shot and prescribed oral steroids to take over the next few days.
Doctor asked about any changes to detergents, so I asked my parents and they said that they had washed the bed sheets in ALL instead of their typical detergent, GAIN. Because of this, I could not fully enjoy my Father's Day weekend. I'm still itchy as I'm writing this review! Even if you don't have sensitive skin, it's not worth it to buy this product and have to suffer through days of itchy skin and hives.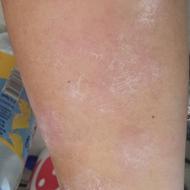 I have had terrible breakouts of rashes and hives after my wife switched from Tide to All Free Clear Powder Laundry Detergent. It was supposed to be something that is designed for SENSITIVE SKIN but what it actually does is destroying your body skin with rashes and hives. I now have to rewash all my clothes and bedsheets again and again to get rid of it. I have never any problems with any dyes, perfumes, preservatives or other brands of laundry detergents. I feel very irritated about what has happened to me. I would like to warn you all: stay away from ALL.

Love the product, hate the packaging. I purchased two 24 ct packages of Mighty Pacs Free/Clear the pods stick together and leak. The first package had two that stuck together and one that just leaked almost completely into the package. The second package had one that leaked and three that stuck together. It is as though they start dissolving in the package or are punctured somehow and leak. Frustrating to reach in and get it all over your fingers and more so lose the product to the bottom of the bag or resort to using two pods instead of one. Great product perhaps something could be done to resolve the sticking and leaking in the packaging?! Barcode # 7261345844 purchased at City Market in Breckenridge, Colorado 80424.

We have used the All Free and Clear product for a long time, but something has changed in the formula that is now causing my 8 year old to react with hives. She was on prednisone for 8 days, and has been taking Zyrtec twice a day for the last 28 days to control the hives and itching. She wakes up with them and then they clear during the day. After 28 days of eliminating food, and trying all kinds of things, I FINALLY thought that perhaps it was the detergent.
2 weeks ago I had rewashed ALL her bedding and clothing thinking that perhaps her blanket had been accidentally washed in Gain (which has oxi-boost in it which she is EXTREMELY allergic too). Everything of hers was rewashed in the ALL Free and Clear product, again thinking that perhaps something of hers got washed in the Gain. Well, her hives and reaction got worse. Finally this past weekend I thought maybe it was the ALL, which baffled me because we never had issues before. Did a skin test with fabric washed in ALL and fabric washed with vinegar/hot water. The leg with the ALL Free and Clear fabric was covered in hives within 15 minutes of contact and the other leg was clear.
I don't know WHAT they changed in the product, but I'm posting here, because after getting on the ALL website, apparently we are not alone! There are many other people posting about hive breakouts. I NEVER would have thought it was a detergent we had been using. I think if a manufacture of a "sensitive skin" product changes their formula they should disclose that ON THE PACKAGE, so that in situations like this, a consumer can pinpoint what is causing a reaction.
My poor kid! She missed multiple days of end of year school activities, has been covered in itchy hives for 28 days; has been subjected to blood draws, and has been on a severely restricted diet trying to figure out what might be causing this reaction. Not to mention, I have been missing work for her doctor's appointments, staying home with her because she couldn't go to school like this!!!
Then can we talk about the laundry? I have to rewash all her clothing, her bedding, in my house.. and my ex has to rewash everything in his house!!! I'm really not happy about it. I called consumer service at All and provide information and was instructed to not discard the product and it was indicated someone would be contacting me. I just hope this post might help someone else from going through what we have the last month!

It all started when I decided to try a new detergent and went with ALL small and mighty free and clear packs. It looked like a good choice since I had sensitive skin so surely it would be ok. Was I ever wrong. After tackling loads upon loads of laundry with it, I began to break out in severe hives all over my body. Huge welts that even Benadryl and steroids prescribed by my allergist couldn't kick. I figured out that even my sheets and pillow case were washed in it and so I washed everything I thought had been washed in ALL again 3-4 times with Tide because is what I usual use and never had an issue with it but I was STILL breaking out.
My face and neck began to swell up and I ended up in the ER. Now 2 EpiPens later and miserable I decided to throw away my sheets and towels that I had washed in ALL and just buy new ones. It was better than ending up in the ER again. I figured out that it was the detergent because even my husband started breaking out in hives - who is not allergic to anything and has never broken out in hives - right after he did laundry with the ALL free and clear detergent. I don't know what the heck is in this detergent but it is not Free and Clear. DO NOT USE.

I have a new Whirlpool washer and dryer. I bought 5 bottles of the new concentrated All HE, using not even l/2 tsp detergent which I don't think is enough and I cannot wash a load of dark clothes without soap scum all over. Takes 2 or 3 more washings to get it out. On a well so this detergent is absolutely awful. Have used regular All for years, no problems.
All Detergent Company Profile
Company Name:

All Detergent

Website:

https://www.all-laundry.com/