Royal Creations Fine Jewelers
St. Kitts and Nevis
Out of Business
Consumer Complaints and Reviews

Upon entering the store they promise a free gift for 'just looking'. The pushy salespeople talked me into a ring with only a few to spare before I had to board our cruise ship I decided to buy the ring. Once back on board fellow travelers had bought the same ring from this place for $50 less. These people took advantage of me and I'm sure they do this all day every day. DO NOT give these people your money, they are crooked.

Original Review
We bought 3 rings while on vacation and all three are missing gems. The first one has been returned 4 times and the last time I received it back it lost 2 gems within 2 week of receiving it. The second one has a huge chip missing and they said that was normal wear and tear for gems. The third one has been sent back twice for gems falling out.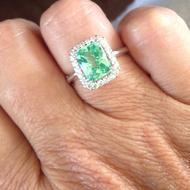 I purchased a large emerald cut Gem of Ocean surrounded by "diamonds" ring set in SS on St Kitt. Price went from over $500 to my paying $99. At point of final sale the person told me diamonds around the Gem of Ocean stone were not real. Not hard to figure out when the price was dropped so low. I got a nice sterling ring for $99. Only an idiot would pay more for any stone set in sterling silver.

It is now more than two years since I first gave a review concerning our purchase of a set of jewelry from Royal Creations of St. Kitts. The jewels, sold as genuine Tanzanite Topaz with white sapphires set in silver bonded with white gold turned out to be cubic zirconia set in silver. In the last two years there have been several e-mails between the shop, the Ministry of Consumer Affairs and us. The shop have continued with false promises and now ignore us completely. The Ministry seem unable to help or even to advise us of a department that could.
We are absolutely disgusted by the way we have been treated. From the start we were cheated and treated with contempt by the shop and the staff seem to have no sense of honour at all. There does not appear to be any law that could help us either. We are not used to this lack of trading regulations here in the UK, but some shop staff on St. Kitts can say whatever they like to make a sale. Once the sale has been completed they continue to lie and eventually ignore you. We will NEVER go into a jewelry shop in the Caribbean again and although it is too late for us to have a satisfactory outcome perhaps our sorry tale will prevent future customers from such an outcome.

I saw the most fantastic stone set in gold and silver. I asked what it was and was told it was 'natural green spinel' from a new mine. Royal Gems was one of only 7 stores world wide carrying it at this point and the mine was determining selling price by monitoring what the store sold. Both pieces were large and a dark green blue. I paid the gold and diamond premium over the silver and topaz price because the pieces were so beautiful I wanted them set in gold.
Needless to say I got home and had the pieces appraised by a GIA appraiser. There is nothing natural about the stones. They are lab created 'simulated' spinel. In addition they have been coated to get that colour and in places the coating is already scratching (not that I could see with the naked eye but the appraiser could see) and where it is scratching the colour is coming off.
I am very very unimpressed. I paid $1250 US for the 2 pieces I bought. The gold and diamonds are real but under no circumstances would I have purchased the pieces if I had been told the central stone was synthetic. Avoid these guys. They either lie or they have no idea what they are selling and are making stuff up as they go along.
How do I know I can trust these reviews about Royal Creations Fine Jewelers?
609,317 reviews on ConsumerAffairs are verified.
We require contact information to ensure our reviewers are real.
We use intelligent software that helps us maintain the integrity of reviews.
Our moderators read all reviews to verify quality and helpfulness.
For more information about reviews on ConsumerAffairs.com please visit our FAQ.

Much as a previous complaint that I read on this site, Royal Gems (Division of Royal Creations) in St. Kitts sold us a bracelet this past April. They told us the stones were white sapphires but they actually are cubic zirconia (we had a local Jeweler write an appraisal). I have been trying since we returned to the States to work this out with them, however no success. I would recommend that you stay far away from this store, or if you do purchase something from them, make SURE the full description is written on the receipt. They were careful in not noting that the stones were sapphires as they have done this practice in the past, I am sure.

We purchased a set of jewelry from Royal Creations on St. Kitts over Christmas 2012. We were assured the gems were Tanzanite topaz and white sapphires set in silver that had been bonded with white gold. The gems are cubic Zirconia and the silver has not been bonded with any gold. We have contacted the shop but have met with excuses and I have been told to wear the jewelry and enjoy it. We trusted these guys and expected them to behave in an honorable manner but clearly, that was not to be. The receipt does not mention the type of gems but of course, one only sees that after paying for the items. We know what we were told in the shop, so it is our word against theirs, but we would not have bought fake gems at any price had we known.

I was on the Princess Cruise last February and I wanted to purchase a 2ct diamond. I knew that you always get a good deal on the islands and if you want, you can even bring them down to a price you want to pay. I went to a lot of stores namely Richies which is right in the front once you come off the ship. I knew that nowadays, stores sell diamonds that are fracture filled and have been enhanced so I asked the gentleman who was showing me the diamond if it was an enhanced diamond and he said no. I knew at that moment that he was lying. I went to two more stores and they gave me the same story. I was not really going to enter any more stores because I knew all of them were not speaking the truth.
I was sitting in the bench and my daughter came to me and showed me a ring she just purchased for 2,500 pounds. It was beautiful and we discussed how I was being misled and how she, on the other hand, found the most honest people who told her the diamond was an Si and a G color. Until now, none of the jewelers had admitted and told me the truth about the diamond. I decided to give this one a chance. I entered the store and was greeted by everyone, basic manners which none of the previous stores had ever shown me. I was offered a seat and they asked me more about myself then what I was looking for. This made me relax a bit and I was then shown two diamonds, one was an F color Si and the other was g-h but VS2. Both prices sounded more like diamond prices and they presented me with the certification of the diamonds while the others told me that it would be mailed to me.
They were honest in their words and I asked him the golden questions: Are these stones enhanced and pat cam - the reply that these stones were natural and that if I wanted to see enhanced, he could give me directions to the store where they sell the enhanced stones. I purchased the diamond, got my certificates and went back thinking that maybe I was too hasty in assuming honest people don't exist. I would like to thank the staff and the owners for the wonderful service that was extended to me when I was at their store. I sure will put this store on my list of future stops. One of the few honest people that I have come across.

I was in St. Kitts looking for a diamond ring for my wife. I was going to surprise her as it was our 40th anniversary and I wanted to give my wife all the love and care that I could and I wanted to give it to her in the form of a 3 and 1/2 carat princess cut solitaire ring. I went to a lot of the big stores and checked on the rings and prices were very steep. I know I was not looking for something inexpensive. All I wanted was something that would speak to me and more importantly, speak of all the years my wife has been with me. I wanted my wife's smile to reflect back on the ring.
I was walking on the port and soon saw my wife in one of the stores. I entered the store and saw my wife with this huge stone on her finger and a smile that I saw when she was walking down the aisle 40 years back. I knew this was it and hence began the negotiations. The price was right and after a tug of war at the store, we got what we wanted. We got the ring and we even got my lovely wife to smile. When I got back home, we got the ring appraised and were happy to hear compliments from jewelers. I just loved the way the ring looked and am happy that I did not overpay. I am going to be there next year as my wife is looking for a bracelet. Thank you to everyone at Royal Creations.

I purchased a pearl ring at ** store located in St. Thomas in March 2009. A couple of weeks later, I noticed the pearl was peeling. I contacted them about the problem and how I could get it repaired, replaced or a refund. They indicated they would supply me with information with regards to how to send the ring back for repair. I emailed them some pictures to show the damage; however, they were not the best quality. A few days later, I contacted them again and they asked to give more time in their research on how to handle "my dilemma".
After waiting 2 weeks for information in regards to my situation, and several phone calls, they got hostile and indicated they do not need my business and they would send me an email to where I could forward the ring back for a refund and they didn't want my business. I didn't think I should have to wait 2 weeks for information regarding an address for them honor their product warranty. This was not an issue of "buyer's remorse." I sent the ring back as stated in their email. Again, I waited 2 weeks for a response and after I inquired, they indicated that I must have damaged the ring as a result of something like gym equipment or a cabinet dropping on it. They would be returning the ring without repair and without a refund as indicated in their email since now they felt it was not a product defect but damage I've done.
Over the years, I've have spent a lot of time in the Caribbean and purchased a lot of jewelry at many different stores and have never had any problems with getting repairs to items that may have had some issues later on. I purchased a gemstone bracelet at Royal Creations Jewelry in St.Thomas several years ago and a stone fell out about a year later. We were traveling to St.Kitts later that year and I took the bracelet with me and asked Royal Creations in St.Kitts if they could repair it. They happily accommodated my request and told me they would forward me the cost of the repair. However, they repaired it and sent it back to me in the US. When I inquired about the cost, they indicated there wasn't any. I thanked them and because of this, I would happily shop there again.
Because of my problem with **, I would never shop there again and would not recommend them due to their poor customer service, their failure to honor their warranty on the back of their receipt. I think they've gotten a little to big for their own good.

I was on a cruise in the Caribbean and St.Kitts was our last port. I went over many jewelry stores and my daughter and I were looking for something that would jump out at us. I was as we had come to the end of our cruise and could not find what we were looking for. We went to all the stores, big and small, but something told me that I should go to this one particular store. We went and they were very busy. People were enjoying their time shopping. Some were even sipping on rum and coke. I was surprised to see people drinking and purchasing jewelry from the store, a rare sight in Canada.
We were attended after about 10 minutes. The wait did not feel very long. A young lady then managed to realize that we both were mother and daughter even though we were in different parts of the store in spite of the crowd. She patiently asked me what we were looking for and we told her that we were looking at rings for each of us and something that would jump out at us.The girl then said, "let's get your mom her ring first," and then we could show my daughter the next. She even mentioned that we would do a package deal for both.
I picked out my ring. It was a 1.06 carat diamond solitaire set in 14kt white gold. I loved the ring a lot and then when it came to pricing, the young lady said, "I am going to get my boss to get you the best price." I was ready to listen to a 6-digit figure. I was surprised when he gave me a 4-digit number. I grabbed the ring from his hands and handed over my credit card. Everyone got excited and I was the most excited as it was a conquest, a dream come true for me. He then turned his attention to my daughter and said, "Now it's your turn and you have do like your mother did."
My daughter is a tough shopper and we were there for more than 45 minutes in the store. My daughter finally picked out a 3-stone ring which she was also looking at back home and finally gave in to the temptation here in St.Kitts. We were happy and finally felt that our cruise bore fruits of our labor. When we came back home, we realized we did a good job on the price and thank the gentleman (his name is Vinnie) for the wonderful experience we had. We saved a lot of money buying from Vinnie and we did not compromise at all on the quality .

We were on Azura in February 2012 when we spent the day in St. Kitts. It was my wife's 50th birthday and our intention to purchase a ring to mark the occasion. Vinnie at Royal Creations sold us a multistoned diamond ring with which we have no complaints. However, whilst we were waiting for the ring to be sized, Vinnie showed us several other rings in an attempt to persuade us to buy. My wife eyed a particularly nice looking eternity ring but the cost was beyond our budget, especially in light of the fact that we had already purchased a ring that day. However, Vinnie discussed exchanging my wife's existing eternity ring in order to be able to upgrade to a higher value ring.
On trying the ring in Royal Creations, my wife immediately dismissed it as it was made of 18k white gold and all her other rings are yellow gold. Vinnie said that his other shop may have the same ring in yellow gold and proceeded to go next door to check. He duly came back with the ring in yellow gold and we were persuaded to part exchange and buy. We gave my wife's existing ring (valued in the UK in 2008 at 1,495 pounds) and paid an additional $900+ to purchase the new ring. We have now been back in the UK for six weeks and the ring in question has lost the majority of its gold coloring. It has clearly been dipped in yellow gold, is white in color and is a mess! Where the ring rises to a shank the 'rubbing' is not so great and so it retains traces of yellow gold coloring on a majority of what is a now white gold band.
My wife is devastated. Not only were we persuaded to give up her original eternity ring in part exchange, we have ended up with a ring that is exactly what we did not want, made clear we didn't want and were tricked into buying. Vinnie has asked for pictures of the ring and we have sent these off and would willingly provide them to any readers on this site who would like to view them. However to date, Vinnie has not responded to the pictures we have sent. We have asked for my wife's original ring back plus a refund of the additional amount paid and we will return this eternity ring but have not had a response.

I was on a cruise with my sister on the Grand Princess. I was walking past the stores and one particular store caught my eye. They had pictures of Caribbean topaz earrings on special for just $15. I was happy to see the earrings and came in just for the earrings. I looked at the earrings and purchased them. They were just 15 dollars and would make good presents for my nieces. I was then asked to look around by the sales staff. I saw the most beautiful tanzanite bracelet. It was in white gold and was 10 carats of tanzanite. I fell in love with it, but the price was out of budget at least for that cruise. Vinnie told me the importance of investing in the stone and also how rare a piece it was. I was just looking at the bracelet and knew that if there was anything in the world that actually was me, it was this very bracelet right in front of my eyes.
Vinnie knew it was the money part that was troubling me and he immediately devised a plan for me where I could pay part of the amount now and then make monthly payments. What I was very happy with was that he let me take the bracelet with me even though I made a part payment. I was a complete stranger to this man. I purchased just $15 earrings from him and here he was ready to give me a 10 carat tanzanite bracelet with just part of the payment made. I have never met such a wonderful jeweler who understood his clients' financial circumstances and allowed them to pay slowly over a course of time but also keep the piece. He was just wonderful. I have shopped at a lot of stores with big names like Bobby's in St. Thomas, but never felt so overwhelmed and fully understood. I love the whole concept of buy now wear now, but pay later. Thank you, Vinnie.

Vinnie, I am happy I purchased the ring from you. My jewelers back home told me it's much more worth than what I spent and has appraised it at a much higher price. I love the way the diamonds are set on the side and also thank you for not sizing it .You were right: it fit me the moment I went back home. I love my ring and am very happy and will come back to shop with you at Royal Creations.

We would like to thank you for the job done on my diamond bracelet. It looks very nice and thank you for sending it in time for my daughter's wedding. All other jewelers on the port discouraged me from buying from you but I went with my instinct and am very happy and content with the purchases made from you. Why are the other jewelers on the port jealous of you? I went to a few at the end of the gangway and when they saw their card, they told me that they would give me a better price without knowing what I even wanted. Some of them showed me things I did not even want or ask for. I was completely frustrated with their staff who were calling me form inside the store and asking me to purchase things and telling me about their specials.
Whichever store I went to told me only one thing, that they are going to give me a better price. One of them with a brown canopy even told me that you were not ship recommended and that we should not buy from you. Even the port lecturer was in the store told me not to buy from you. All I can say is that I am very happy that I purchased my jewelry from you and that we will buy only from you and not form other store recommended by the ship. I also like your reaction when I told you about. You told me, "Let them say whatever they have to. I have my customers who will do the talking for me," and yes, we will do that. Thank you and take care until we come to St. Kitts or see your dad in St. Thomas.

I just received my wife's diamond earrings. I saw them and they look better than before. They did a great job as they promised they would. This is the website I was talking about where people have really put up some nasty comments about this company. I think they should not even bother about such comments. These are just a bunch of jealous people who want more and more from them. I am sure that even after they have returned these people's rings, they are still going to want more and more from them. I am very upset at the comments that some people have put up and I think the other customer who have received good service from them have felt the same way that I have and written good comments about them. In spite of all these faulty bad comments, we will still continue shopping with them.
We love and respect them. My daughter could not believe when she read some of these bad comments. We have been doing business with them for the past 6 years, from the time they started their first store and we will definitely continue to do so.

Thank you so much for a wonderful experience at the store. I received my diamond ring yesterday and looks absolutely splendid. Even my wife's ring is so beautiful. My wife was a little emotional about getting a new diamond and upgrading it with the one you had. I got it appraised and I am very very pleased and you guys really did a very, very good job. You told me that the value of the stone will be at least 2 times but you will be surprised that I am getting more than that.
My wife is thrilled and so am I. The reason I am writing here is because your neighbor Bobby's discouraged me from buying in your store and showed me articles about people who were not happy with your store purchases and even about after sales service. I knew exactly what she was trying to do. I think a person's freewill of shopping where they want to should be respected and I am even going to write to the tourism office in St. Thomas as to how the store Bobby's is misleading people.
I think people should be allowed to shop where they want to and should not be forced to buy something they do not want to. I will never go back to them. I am so happy that Seta and you even allowed us to appraise it back here before clearing the rest of the payment. I am coming to St. Thomas in February with our daughter. Hope that you will not be traveling then. Thank you and God bless. Hope you read it and start a site where we can put our comments there and not in some complaint section.

Well Vinnie and Seta, what more can I say than thank you very much! You and your entire sales team made my daughter's wedding ring search come to an end. No jewelers on any island could have done the delicate and marvelous design that you presented on paper and then in gold and diamonds to me. My daughter was thrilled and the ring was even delivered a week in advance as you promised. I got the ring appraised by my local jeweler and was amazed that I just paid a fraction of the amount. I have seen some comments here and I think some people have just done it to purposely malign the good name you have. I don't care about them but you handled me and my entire family very well. You should build up a site where people can put their good comments. I am coming back to see you in February 2012.

Thank you Vinnie, for my yellow diamond ring, it looks absolutely beautiful. Thank you for replacing the white diamonds for free. I really appreciate what you have done. I will definitely recommend the store to my friends. My sister loves her ring too and we hope to see you very soon. My husband is really surprised at the speedy repair and delivery. Within a wink of an eye, I got my ring back .Thank you again, Vinny .

This experience has not been an enjoyable one. I went on a cruise in December of 2010 to ST. Kitts. While there, I went into Royal Creations Jewelers, and I purchased a diamond ring. I saw a pair of diamond earrings that I liked, so Seta told me that I could lay them away, I put a deposit down on them, and was making monthly payments on them, until March of 2011, when I became ill and could no longer work. I started calling Royal Creations in May, when I was feeling better to inform them that I could no longer send payments, because of my illness, and not being able to work. I was told that Seta and Vinnie were in Alaska, so I asked for an email address. I started emailing them but never got a response until August, from Vinnie, asking me what item and the cost. I emailed back and never heard another word from him. I started calling again, about once a week ,and was told they would be back the end of October or first of November.
After many calls, Vinnie told me that I never made 3 payments, only 2. I now have to fax them a copy of my bank statement, showing the payments. He said he would call me after he looked over the statement. I never heard from him. I called again and Vinnie tells me that he will charge me a 50% restocking fee. Now that's half of the money I sent. He then became very rude, and told me that I could go to Wal-Mart, and purchase jewelry, and I told him that at least Wal-Mart would either give me my money back, minus a small fee, not 50%, or let me find something else. Let this be a lesson to me and everyone who visits St. Kitts. Do not shop at Royal Creations Jewelers. They do not operate with integrity, trust, or respect for their customers.

I purchased a diamond that was to be set on a ring at St Kitts during our cruise in March 2011. Upon our return to Australia, we realized that the stone was damaged. I contacted the merchant via email and on their advice, the ring was returned for the stone to be replaced. To date and after numerous assurances and promises, we have not received the replacement nor a refund (of $4,500).

I was charged an incorrect amount for a sale item. The salesperson quoted one price, but I was charged another. I was told I could return the bracelet and then I would get a refund! What was my guarantee after already being misled by this company? The emails implied that I was a liar! After several emails, Vinnie informed me that American Express would be contacted and that the people where I live would know I was very rude. What business owner says things like that. I've kept all the emails and I am very upset over this situation. I would never buy from this company again and would suggest they change the way they conduct their business!

I would like to share my experience here, too, about these wonderful sales people. These guys are trustworthy and know what after sales service is really about. On a cruise in November last year, I purchased two rings: one for my mother who was with me and one for myself. My mother's ring had to be sized to a 9.It was a beautiful blue diamond ring with a band that could be interchanged. We paid a good price for the two and went to other stores to check if we got a good deal and we sure did. My mother's ring was unique and she was advised to take care of it by Vinnie. I remember what he said: "When you buy a Mercedes you don't drive it in the Amazon forest."
My mother till date has not lost or damaged any jewelry; she has always taken good care of her jewelry. When we went back home my mom received a lot of compliments for her ring and was happy about it. After about 4 months she realized that two of her diamonds are missing. I immediately called the cruise line and they said that since it's beyond the warranty period and the store would do little to solve the problem. I wasn't happy at all. I was angry and called up the store to vent my anger out.
I asked them what could be done and they simply asked me to send it back to them for repairs. I was shocked. That's when I decided to do a little research on them and saw these testimonials where the ladies did not get their rings back. I called him back and told Vinnie about what I read; he said he does want to talk about it and that if I do trust him, then send the ring. I told my mother about it and she boldly decided to send it for repairs to Vinnie. I did not like the idea. However, within 2 weeks I received my mother's ring repaired free of cost even though it was beyond the warranty period. I love the way the ring looks and so does my mother. Thank you Vinnie and I will see you the next time when I am in St. Kitts.

This is not a complaint but I chose this site to share my experience with these guys. Well, before sending my ring to the same jeweler for a repair, I did do a little research on them and found these two instances. I immediately told my husband about it and he asked me to call the jeweler. He calmly told me, "If you have faith in us, then send us the ring." (I had a similar issue. My diamonds fell off after I sized it back home).
I love the ring a lot and paid over $2,000 US for the ring. It was my anniversary gift. My husband called them up the next day and spoke to Vinnie and explained what we had read about them. He again told us that if we trust them, we should send the ring. I did not have a choice as no jeweler back home and was even willing to touch it because it was an invisible setting.
I remember that I couldn't sleep that night, and with a mind full of doubts, I sent the ring to be repaired. The repair was free of course because I reminded him of the lifetime guarantee and free repair service he offered me at the time of purchase. I was told that it would take 2-3 weeks repair time. The reason I sized it back home was that on the trip, I was all swollen and could not make up my mind on the size I wanted. The jeweler told me to take it to his sister's store in St. Thomas and she would size it there. Unfortunately, I could not do it there as my husband had other things lined up for the day.
Well to my surprise, within 2 weeks, I received my ring back repaired and all shined up from Vinnie and even with a thank you note from him! All I can say is that I was one happy customer who got her ring back in time. So, I decided to write here as this is where I got carried away and did not want to trust these guys after reading the experiences of the two ladies. I will be definitely visiting them when I take a cruise to the Caribbean.

We purchased two rings from this jeweler on our cruise in December 2010 and paid the total amount of 1436 USD. After boarding the ship, a stone came away from the band on my 'wedding ring' and was lost. Upon arriving home in England, we contacted the jeweler who advised us to return it for repair, also to get a tracking number. It would be replaced or repaired at their expense. We did this the very same day and the ring was duly delivered to their repair jewelers in St Thomas.
We have made numerous attempts to have the ring located, sent emails, made numerous phone calls all with the same effect, a promise that somebody would contact us that day. Nobody ever has! The ring is still with them and has not been sent to us. Our wedding is in March 2011 for which the ring set was purchased.
This feels like a nightmare and I really feel we have been scammed by all the staff who all seem to contradict each other. We have no other way of chasing this item for return and hope you can assist. I see on their web page there is an identical complaint from a lady in the USA (Wanda, of Yorktown, Virginia) who is having the same problems.
I either want the ring returned in time for my wedding or a full refund as it is a stressful time organizing a wedding and it should be a happy moment not filled with dread wondering if we will ever see this again.

This is in regard to the complaint made to you by Wanda **. It is not true and you are slandering our good name by keeping this posted. We have sent her the repaired ring back. I request you to kindly remove that comment about us from your website.

Hopefully, you will not receive this form twice. But I am a novice on the computer and I'm not sure my first attempt to submit it was successful. My husband and I were on a cruise and in St. Kitts we went into Royal Creations. We purchased 3 pieces of jewelry from there, one piece being a ring. It was a gold band with small diamonds across the top. It was an anniversary gift. By the time I arrived back in the states, I realized the band on the bottom felt rough. I thought maybe when it was sized it just left a rough spot. When I examined it further, I realized the band was broken. I took it to my jeweler and was told the whole shank was broken and it was recommended that I send it back to Royal Creations. I called Vinnie (who sold the ring to me) and I later was told he was the owner. He told me to send the ring back priority mail and he would have it fixed or send me a new ring.
I didn't hear from him or see my ring for a month. I called him back and he told me he got my ring I sent him and he would be sending me a new ring in a week. I never saw my ring. When I called back I found out he was in Alaska for 6 months. I called later in the week to talk to his dad (I was told he would be there at the end of the week.) He asked if he could call me back; he wasn't too anxious to talk to me. In a few minutes his daughter called me and told me she was taking the "lead" on this. She got the description of the ring, that it was yellow gold and the size (I told her I didn't want it sized). She told me she would send me my ring. It would be here in a week.
I still did not get my ring! I've made several phone calls, sent a letter and an e-mail. Still, no ring! It has now been 3 months and I still have no ring. I have spent almost an extra $100.00 on phone calls, etc. for something that is rightfully mine. It is so unfair that they have my ring and the money! I'm so tired of being lied to and getting the run-a-round! I feel like I'm never going to get my ring, so I am writing to you.
Royal Creations Fine Jewelers Company Profile
Company Name:

Royal Creations Fine Jewelers

Website:

www.royalcreationsjewelers.com