Consumer Reviews and Complaints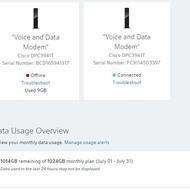 I signed up for the X1 Triple Play bundle. The sales guy at Comcast told me it included the Internet HSD Blast Pro plan which has 200 Mbps download speeds. When the service was activated, I was not getting 200 Mbps download speeds, only 100 Mbps, so I called Comcast to send out a technician. The technician told me I was not enrolled in the faster Blast Pro plan, but the slower Performance Pro plan. When he called customer service to get the code to activate the 200 Mbps speed, we were told I would have to pay an additional $30 a month to get the 200 Mbps speeds, even though that's what I was promised when I signed up for the bundle. Comcast lies about the plans when you bundle - BEWARE!!!

I've only lived in my new location since April 2017. So far, Xfinity has been the biggest headache of my relocation. The service is down quite often. The company sends these $5.99 coupons to apologize or they take $1.50 off your bill each time (if you call). But, what you really want is to enjoy your home television viewing experience and be able to count on having Internet service when you turn on your computer. I often work from home and this poor unreliable service has been costly for me. Today, the service has been out all day. It's 9:30 pm now and we can only watch 1 channel. When we call the recorded message on the service line says they expect the service to be operable at 1:15 am. Another lost day! And night. This happens too often. I sometimes wish Amazon would move into the internet/cable business. It seems anything THEY do, it's with excellence including super customer service.

I was very happy in getting our internet at first. The service was great. However, I stay up very late. However, the internet stops working after 11:00 PCT. It also doesn't start back up before 8:00 PCT. No parental controls were made. They even charged me extra for the local TV. I didn't want it. I had a NVidia Shield TV. I asked them why they charged me this extra 60 bucks. They said you need to have it in this area. It is the law. I was like WHAT? Just think. If this happened to me, then it would happen to others too. They can make thousands of dollars from scamming people. So please make sure you trust your installer or just don't use this provider. ** you Comcast.

About a month ago, we started to have problems with our service (intermittent drops and extremely slow speeds). Changed out an end-of-life (EOL) modem rented from Comcast and got a new gateway that replaced both the Ubee modem and our Cisco e2500 router. Had that for over a week and still had problems with drops and negligible speed. Reset the gateway countless times and the problem was never resolved. Bought a Zoom 5345 modem and installed. Called Comcast to update the root with the Mac address and they said the mac address was already existing. Got a new Zoom 5345 from the manufacturer. That one updated fine. Continued to have problems with drops and slow speeds.
Bought a Tenda AC1200 router and set up. The problems still persist. 2 technicians have been to the home and although we are not sure, "software upgrades" was a term that was used. We wonder if the software upgrades are throttling service to force upgrades in service. We have had Magic Jack (since 2008) for years without crackling with our Comcast internet service that is not as long and suddenly every device in our house is getting drops. We've actually had more devices connected to our wifi last year than we do today without any issues and today we have dual band adapters to take advantage of the 5 GHz band. Something is up with Comcast.
Our third technician visit is scheduled for Monday and we are not holding our breath. Public wifi, overloaded nodes are the issue. It's infrastructure and it's not keeping up, in fact we believe that the public wifi is the major cause of the problem. Who wants to connect to a public wifi when they are at home? This is a major throttling effort. Be warned. Comcast, should be the steadiest service out there. It's worse than satellite and on par with smoke signals.

We use our account for everything. The other night - I noticed all of my emails from July 17 back were gone. Just disappeared. I thought maybe it was having trouble loading, and waited till morning to check. Even logged on elsewhere. Gone. So I called. Was told to download their email app. That produced the same results - my email was gone. I was told it would take some more time. Never got a call back. Two day later I called. Problem on their end - they couldn't get into any accounts. Called the next day (today). Was told there is no way they can restore the emails. They are asking me to remember the emails that are gone. Really - can you remember all of the emails you get in a inbox? Thank God we don't do online billing. I'm not sure what I can do or if there is a better email provider. But I will look.
How do I know I can trust these reviews about XFINITY Home Phone Service?
880,156 reviews on ConsumerAffairs are verified.
We require contact information to ensure our reviewers are real.
We use intelligent software that helps us maintain the integrity of reviews.
Our moderators read all reviews to verify quality and helpfulness.
For more information about reviews on ConsumerAffairs.com please visit our FAQ.

I purchased a new home where Comcast Xfinity is the only provider of Internet services. I've had the service for a month and a half and of that time I've actively had internet for 7 days. Every day begins the same. No services or spotty at best. Forget calling customer service as they only want to send a signal to restart your modem. One day they actually restarted my modem 56 times. My modem and equipment is fine, it's the service that is the problem. I took my equipment to my other home where a different provider supplies services and everything worked great. Comcast sent out a technician who pulled into my driveway and pinged my modem then knocked on my door stating "Your internet is fixed." He didn't check the exterior lines. He told me there was no need to as I currently was showing signal. Wouldn't you know it? The second he left my internet was again out.
I call and complain daily only to be met with the same tired old story of "Have you restarted your modem?" Then followed up with "Let's do that now." Following the script they're provided they then say "I'll need to schedule a technician to come to your home; there will be a service fee for the call". Those service calls are always set off at least 3-4 days because they've got so many other calls on their schedule already. I believe that Comcast makes as much money from service calls as it does providing bogus internet services. You'd be better off burning your money in a fireplace to cook with than purchasing internet services from them as both are useless.

Recently moved from Missouri. I have ordered my internet service for installation on the 8th. I wanted to have my service as soon I move in since I work in IT area and my toddler watches cartoons online. Installer did not show up that day. I had to beg for getting service - Call center located overseas. They did not help. Installer came 5 days later. I have ordered internet which cost $39.99 + Tax + Equipment rental $10.00 per month. After receiving my bill, I had to pay over $100.00 for installation charge and OTHER FEES.
They don't tell you what other FEES are! 2nd billing cycle, I have noticed they are charging me $49.99 per month. I asked WHY? They said sorry and "adjusting the bill and we will give you a better package where you will pay $29.99". Even cheaper! I was happy. Good customer service. Actually it was SCAM and sales technique just like WELLS FARGO did! I don't need and asked for TV service. Never asked for it. I called Xfinity/COMCAST on 07/12/2017. The guy was telling me that I have TV so they are charging now $60 plus others... I said TV streaming supposed to be free service and I never asked for additional service. There is a $7.00 charge for TV. WHY? The guy said it is for local TV provider. They charge Comcast and Comcast charge customers!! SCAM!! I don't need it, I don't watch local TV.
COMCAST forcing customer to pay for local TV but WHY? Why do I have to pay? Comcast need to fix this issue. I just need $39.99 Internet service. That's ALL. DOLLAR AMOUNT ADDS UP. Imagine they are doing this to 100s of customer!! Charging extra money and many of us don't even understand the bill. Customer service are not clear about the charges. Who is doing this? Upper management? Solve this else I will take you to court and I am serious about it.

A replacement supervisor or maybe Second in command, with an Napoleon attitude named Robert, Need to learn what is customer service. I went to the store today to add a name on the acc. He sent me back home to get POA (Power of attorney) of my wife. When I came back with it, he asked me to bring all Cable boxes and the Internet box, then he'll be able to do the change. I told him "that's not what you said in the first place"? This is another continuation to the poor services we all experienced with Comcast or their fancy name's XFINITY. This is why we need competitions in our neighborhoods.

USE ANOTHER COMPANY! COMCAST CANNOT HANDLE ITS NEW TECHNOLOGY! BILLING AND RECORDS SYSTEMS ARE AWFUL! I want the $60 service charges removed from my bills! (Received notice of credit, but was not reflected on bill balance). I want to be able to see my bills or get one mailed to the correct address! I want my billing address corrected! I want the service I ordered installed completed! I want my bill to reflect my actual disconnect and installation days! I want my bills to reflect the actual equipment at each location!
Since 1992 I have had service in one my current homes provided by same company, with many different names which have morphed into the name of COMCAST. Soon it seems to become XFINITY. Through the years, one thing has been apparent, there is very little concern to provide contact with "customer service" that is anything remotely a pleasant experience for the "paying customer". Must be in quiet area or voice recognition will send you into "NEVER, NEVER LAND". It takes me almost three minutes to get a service person on the line, they apologize, assure me that they are different & my issues are still unresolved. When I call again, I have to start all over again because the notes from the previous call are not there or are not complete and they act as if it were my fault.
I have a long list of ideas for improvement but it seems that the only thing COMCAST will eventually understand is the MASS exodus of THEIR customers which, based on ALL of my recent contacts, will happen soon. Some form of this entity has been bankrupted before and larger companies have failed! My internet service is critical. I am disabled supplementing my income with occasional jobs from home. I have been without this income for over a month! For the last two months, because of service issues CAUSED BY OTHER UTILITIES, my internet service has been basically non-existent. Over eleven (11) hours, yes hours I have spent on the phone with your "customer service". There are at least 3-4 more hours not listed! Many of my issues are still unresolved.
I have a life and spending this much time with COMCAST is unacceptable especially since I do not see an end in sight! I have another account for my parents which was to be moved and that service is STILL incomplete! Billing information is incorrect and I was assured this was corrected! I cannot see the bill because of this issue also!!! I have requested a paper bill to no avail!

We were given a promotional offer for internet service, but were never told the period through which the promo/discounted internet rates would last. One day, without our consent they removed the offer and we were being charged without any discount, and the monthly rates shot up. This is a big scam company, making people join their internet services, but duping them with fraudulent charges without their consent. I called them to have this issue addressed. But, I was informed that the charges cannot be reverted and to have reduced monthly rates, I will have to cancel some services and internet speed will be reduced from 200 Mbps to 55 Mbps.
They make us have their services at discounted rates and all of a sudden charge you with amounts that were never revealed when signing the contract. When mentioned that I can sue the company for fraudulent charges, they said that I can do whatever I like and they don't care about this and that they are aware of this issue which has been reported by many other customers. They are shameless people who have one of the worst customer satisfaction, and don't care until they keep on fooling their customers off their pockets.

Today is July 8th. I have been contacting Comcast Xfinity since June 28th concerning my home Wi-Fi going out. I have called 8 times total spending an hour or more on service call with no resolution and 1 in home service call where technician just stated, he "COULDN'T FIX IT" with no alternative action for me to follow up. Absolutely UNBELIEVABLE! At this very moment my phone is on speaker and I was put on hold 15 minutes ago for a supervisor and no one has come back! I would NEVER RECOMMEND COMCAST FOR ANY SERVICE. The staff is INCOMPETENT and very HARD to communicate with.

I am giving 0 stars. If you have any other choice... go with that. Do not go with Xfinity/Comcast! I have been a Comcast customer for over 10 years... not by choice. I recently bought a new home... but it took 4 months for me to live in it. I work at home and highspeed internet is a Must! When I started to disconnect from rental to new home, Comcast rep told me I would have service by end of March 2017. End of March came and went. I started calling every service that was available in this area... which was only satellite... not good. I was desperate, so I tried Hughesnet... That was a disaster. Slow even for minimal use.
I called Comcast at end of March and was told 2 more weeks for service... By this time I had moved in with my parents in a city 3 hours away... to be able to work (renting office space would have been very costly). The time would come... and go... and another 2 weeks...
I ended up talking to about 6 Comcast reps to no avail. They stopped answering my calls. Finally I googled Comcast complaints and saw a number to contact corporate... which I did. I was assigned a corporate customer service rep... he was getting info from the useless reps that stopped answering my calls... This issue was supposedly at the "escalation " level... Righhht... I was then told 2 more weeks... which came and... went... then was told "no idea when" and was explained to me how the "process of getting new service works and the problems with it." Ok. This just pissed me off more.. because... number 1... not my problem!
My husband was very proactive at this point as we were closing in on 4 months of living separate and being inconvenienced. He talked to a tech who worked for a company that comcast contracted this particular part of job too... This tech explained what Needed to be done and Why there was a hold up... Not only were we a new subdivision BUT, we were being upgraded to the newest, latest and greatest... only one other city in the state had been upgraded... AND that they had Spare parts!!! The very part that had been ordered for our area and was used for a different area... Due to them having " more clout" So, with that information in hand I tell my corporate rep... which he just ignored...
So I then email Ceo of comcast after filing complaint with FCC, telling him about my issue and the FCC complaint and the extra part. I received email back from executive office of national customer services... Shortly after that.... Gee... I never saw so many So determined to get the job done. 4 months after I initiated this I had service... and for my inconvenience, stress and money spent... what did comcast Do for me??? Oh... we will waive the installation fee.... Wow!!! I proceeded to tell the corporate rep that was ridiculous!! This is all my trouble was worth!!! That a company of this size couldn't do better! That had the FIRST Comcast rep or even the 2nd, 3rd rep would have Told my What was Really going on and that it would take 4 mos... all my stress and near heart attack moments from said stress Could Have been avoided....
Corporate rep says he's going to talk to his supervisor (Right... most likely just taking a drink and pretending to talk to someone) comes back to phone to say that they would waive the installation fee and first month bill. And the asks if this ok... ummm... not much choice as my stress level already through the roof from all this. Comcast says they "Strive to Excel " in customer service... HA!!! They Failed on all Levels!!! So if you have other choices for internet... take it!!! ALSO, BEWARE, they plan to UPGRADE every COMCAST customer... if it took 4 mos of lies for me... who knows how long it will take for you!

The quality of the internet service is satisfactory, though the speeds they advertise are extremely misleading. My plan is advertised at 75 Mbps bandwidth, but in real world use such as downloading large files I average about 8 Mbps and have never seen it exceed 12 Mbps. Pray you never need to contact their customer service, it is the worst of any company I have ever experienced. Their customer service representatives are very slow and incompetent in nearly all aspects of their job. When you move your service to a new address, Comcast makes you a new account and closes your old one. Of course they don't tell you this.
Normally this wouldn't be much of an issue except when I moved instead of creating one new account they duplicated my account, creating two new accounts. But they only sent me billing statements for one of the accounts. It wasn't until months later when I got a call from a Collections Agency for the bill of the second account they created in error, that I learned of its existence. I promptly called Comcast. The first rep, whom you could tell English was his second language, had no idea what I was talking about when I informed him about this additional Comcast account that they had created in my name when I moved.
After about half an hour he transferred me to another rep in the "movers" department who at first thought I was mistaken in claiming there was a billing error. After I repeatedly explained the situation to him and he finally realized that the Comcast rep who moved my service messed up and made a duplicate of my account when I moved. He assured me that I was not responsible for the bill the collections agency had called me about that and that the error was on their end. He told that I would be credited by his supervisor for the balanced on the second account and that it would be closed, further assuring me he would completely resolved the issue.
Well he was wrong. About a month later I get another bill charging me for unreturned equipment on that second account they created in error in addition to a previous balance. The equipment they were charging me for was still in use on my actual account. As Comcast mistakenly duplicated my one account when I moved to a new apartment, they also duplicated the equipment on my original account. So not only were they charging me twice for the same service, they now were charging me for equipment they never gave me. Upon calling the rep and explaining the situation several times to them, they eventually understood the mistake they had made and once again assured me that it was an error on their part and that I was not responsible for any of the charges. That was yesterday, so I have yet to see if what the rep told me will hold true.
Comcast is lucky they are the only high speed internet provider available at my current address otherwise I would have left them for one of their competitors because of this experience. Unless they demonstrate significant improvement in their customer service I will change to one of their competitors as soon as their service is available at my location. Additionally after I moved to my new apartment I called in to have my service activated at the new address, the first rep could not figure out why they couldn't activate my service frustrated after being on the phone with them for over an hour I asked to speak their supervisor who was finally able to determine that my apartment wasn't patched into Comcast's network.
Over a two week period they sent two different technicians to my apartment, neither of whom could get my internet working. So I took matters into my own hands, after talking to my apartment managers I was able to gain access to the communications closet at my apartment and patched my room into Comcast's network myself and activated my service over the internet. Accomplishing by myself in 20 minutes what hours of waiting around on two Comcast technicians couldn't. Granted I have an IT background so I was somewhat familiar with comms closets. Maybe I've just had bad luck, but all of the Comcast customer service agents and service technicians I've had contact with have demonstrated moderate to severe incompetence. And for this reason I would purchasing their service if possible.

This company is the only company we can use in Blacksburg, Virginia. To reach support one simply has the following options: Call: spend years going through an automated system that has no concept of anything other than referring to the website. Chat: a poor person sitting on the other side trying to explain a service that acts like a yo-yo on a good day. The service is totally unreliable. The best use for its highest speed is to be able to check your emails on February 29, every 4 years.
I called them and asked if I can charge them the same fee they charge me for late payment. It would be fair if they give us credit or a penalty is imposed on them for taking our money and providing no service. Given the net neutrality & its repeal, Comcast is nothing but a pure extortion syndicate where they charge whatever they want, log all your traffic, sell your information, and when they don't want to service you simply drop the connection. Given they are the only game in town, the consumer has no protection or alternative. A complete monopoly with its traditional definition.

Comcast is the worst experience that I ever had with a company. The agents are liars and the supervisor takes up for them. I requested that my account be placed on hold for 3 weeks because I was moving to a new address. The agent didn't explain to me that the minimum time to put my account on hold was for 90 days. They changed me for the 3 weeks my account was on hold without my knowledge. They then send me a bill for $455. They didn't even transfer my account. Instead they created a new account and told me I have to Pay 1 month in advance. I asked the supervisor to play the recordings with the agents and she said that they weren't available anymore. In short Comcast is a scam. They are also thieves and liars. I don't recommend this company.

In the area that I love there are only two companies that supply this service, One you are forced to install a telephone even if you have a call. The other one offers you billed and cartels, they told me, "You will get 200 Mbps," only gets to 65 if you are lucky. The modem is very cheap and do not work properly after two weeks. They gave me a second one that was worst than the first one, also I was told that I was going to pay for my service $65.00 a month. A month later my bill raise to $70.00. Excuse, "Your bill went up", so I have no patience to argue so I did cancel the service.

I am having a such a bad experience with Comcast and it is kind of impossible to get the right info from customer service. I've been calling for one week and spoke to 5 different agent and I got 5 different answers from each individual. I was not expecting to cancel my service but I also did not expect to be misdirected.
Before I had decided to get a service from Comcast, I called the customer service to make sure that I won't be charged more than $39.99 which I used to pay before with 75 mbps and they confirmed that I will not pay more than $39.99 which is included taxes. Once I called the 3rd agent to schedule a time for installation, he told me technicians will be installing the cable and although I told him that I am not using the tv and do not want to charge for tv, I was again told it is included in the package with no charge.
Now what I am seeing in my first bill is $39.99 + $10.00 (speed increase which I never asked for) + $7.00 (Broadcast tv fee) + 7.53 (tv tax). Before I chose Comcast, wasted my hours to make sure I am not going to charged more than $39.99 and now I am wasting my time to explain the situation I have to every single person over the phone. I also called on Saturday to ask for the speed increase charge and cancel the TV and the lady told me to call the cancellation department on Monday and she said they will cancel the TV.
On Monday, I called the cancellation department and I was told that they cannot cancel and he directed me to the other department. I waited 72 hours (which was the time period that they were supposed to contact with me) and called them again. This time, the other agent was telling me a different thing. I was misled from the beginning to be installed the service and wasted another 2 days to stay home. I am so disappointed with the terrible service and the misdirection.

Had Comcast previously, then went to Direct for several years, decided to return to Comcast and already internet failure box failure, services pay for can't get. When you call in after 15 minutes of getting through the very limited option computer answering service, finally a human to speak to, I ordered the boxes the recommended yet only receive half channel I am paying for so now they say, "Sir you need to upgrade your box service to get those channels," but I already am paying 10 per box and paying for these channels. To me this whole thing is a scam, I ordered these channels and paying for them, "But hey if you want actually watch what you pay for give us even more money," so will be paying a extra 50 to get service already paid for. Then I get a bill that is due 8 days after the service was installed. Very crooked company! Understand the poor ratings.

Just hit cancel. Sigh. I am so tired of the bi-monthly bill battle. I signed up for 19.99. Had that rate for a few months, then it went to 29.99 and then 49.99 and then 74.99. I call, I complained, I got nowhere. I filed a complaint with the FCC and finally Comcast/Xfinity moves to drop rate to 29.99. Exhausted, I agreed to the 29.99 and 5 months later I get a new bill for 49.99.
I call and ask why? They say, "your promotion ended." Sigh, I have to waste another hour on the phone and they run the same routine. "No, this time you will really get the 29.99 and we will credit 20.00 and your real new annual contract starts now." Sigh. "Can I pay my bill now?" "Please hold." Why do I have to fight with them every single month? And what is with their 19 day billing month? How do they get away with that? Maybe someday they will be like Sprint, begging for business, but with a market so burnt they cannot give it away. Just call and press cancel, it is the only way to get anyone to help you with their crooked billing system.

I order service then I upgrade to Triple Play a week or so later. When I upgrade they tell me it's a contract and I have 30 days to cancel risk-free. My service stops working one day after the upgrade. I go a week with limited to no internet and having to reset tv everyday. I call, and advise them that based on what the tech said I need a different cable box to fix the tv, so they say they will send me "One". Wait a few days and get a big box with "Three" cable boxes, one small, one the same as I have and one that's 100 years old. I call tech when the little box they sent don't work and they tell me that box is the standard box. I need the premium one, then they tell me to install the one they sent me, to which I reply "this is the one." After they finally get the situation they offer me 3 choices, wait for another order, go into a store, or a tech. I ask for a tech to which she says "it will be 90 bucks but I can probably get customer service to refund that".
The tech arrives a few days later, and brings the right box and ask why we have an old box and we inform Comcast sent it. He leaves and that night it messes up again. This was the last straw so checked with customer service who said I had until the 20th of June to cancel and I would be within my 30 days. I call customer service and tell them I want my service to end the 17th, enough time for me to get new service. So I get Verizon to install my service on the 16th of June and call again to confirm they cancel service to which they say "Yes sir, please return the equipment within 10 days." This was Saturday so we return it Monday and get a receipt which shows 6/19/2017 one day before the 30-day agreement.
A week or so later I see my online account still shows active so I check and sure enough it's still active, while I dont have any equipment or anything. I call and they tell me it's still on, no one canceled it but they would. I then get a bill for June 17 through July 17th and a $230 early cancellation fee notice. So I call again and explain the situation, and the chat person sees where the contract started for Triple play on May 20th given me 30 days to cancel. She states I have to call in to have them cancel the fee, to which I do and they tell me they can't because I canceled on the 26th, 6 days later. So all in all I will have paid over 700 for 15 days of Comcast service, wasted 7 hours on the phone, and 4 hours on the chat system. Worst company in the world.

Paid my bill last night for $99.00. Then 9 am this morning service was turned off. For a balance of 120.00. They never said it was going to be turned right back off if I paid my late bill of 99.00. I'm a single dad of 3 teens who I homeschool. I really need the internet service. I pay my bill every month. Late yes but I struggle to pay it. I find it cold and unfair. If I had known they were going to turn my service right back off within 10 hours. I never would have paid the bill until I had the whole bill in total. I could have bought food with that money. And now my kids are out of internet and food. I don't get help from the government. I work. And to keep my kids safe I pay to homeschool them. I had to renew my car insurance this month that's why I was so late. I am one of many who work pay to pay. And struggle. Never would I recommend such a shady company to anyone. Avoid Comcast at all times. Shady company.

We've had Comcast for 5 years now because unfortunately it's the only cable in our area. I'm writing this review to help people who actually have the option to pick from different cable and internet providers. Our cable is always blurry and freezes literally all the time, anytime of day. The internet is extremely slow even though we pay for the highest speed option and it's only 3 people using it in my house. Then when we call customer service, they don't help at all. They either make up excuses (it's a temporary problem or just restart 20 times a day!). A complete waste of $200 a month! Stay away from Comcast if you can! I wish I could!

If you can get customer service reps you can understand and who aren't robotically reciting protocol no matter what you're telling them each time you call, you're having better luck than most. I've been on calls and chats for hours with them THIS time around, as have been losing connection for hours at a time. Their latest scheme is to "escalate" your complaint after you've spent hours with their support people and have ultimately scheduled a technician to come out. At that point, someone miraculously "solves" the problem, connectivity comes back on, and they call you to tell you "it's not Comcast". It's Comcast.
So then they tell you that you don't need a tech appointment (one they plan to charge you for), but then the same issue happens in a week or two and it's the entire process all over again. Tomorrow the technician will come out and say they can find nothing wrong and it's not Comcast. Again. And I'll be here with a houseful of visitors with teenagers and have no internet service. I despise this company and wish someone with far more money than I would file a class action suit on behalf of all of us who have put massive amounts of time trying to resolve problems.

I went into Richfield Comcast Xfinity on my mother's behalf. She needed her bill lowered. Couldn't afford $148 a month. I was well received and customer service rep I talked to was very helpful. We checked out her account and found a way to get it reduced to $113. He also handed me an upgraded box at no charge. Mom's been with them for a while. I ran back with paperwork showing her new bill, she was happy. A month goes by first bill is $160. Then $158 and $152. That's when she asked me why it's not going down. So I immediately called. I explained everything over the phone. He was saying she was under contract, which I replied "I have paperwork showing not under contract." Then he replies he didn't show that she was but she verbally had confirmed it. He later said he didn't see that either. I told him to cancel her TV internet. He told me he would put it on a hold to have us see if something could be done.
I ended up calling back for a disconnect, this time I was told how sorry he was and told me he would see what he could do. He pretty much said he could take the telephone off. That save some. I said, "How much?" She never wanted or used it anyway. Then he says it will save you 8 dollars so the bill would be $152. I said, "Look. It suppose to be $113." I told him to disconnect. He too put it on a hold. Which brings me to today. I called to get it disconnected again same thing. Tell him to disconnect. He said he was sorry I didn't call him first. He knew he could give my Mother just what she was looking for. I said "No. Disconnect." So I'm on hold. 5 min later he comes back. Says he took care of it but all of a sudden his computer froze.
So I would have to go through disconnections, I got this awful person on the line cold as ice. Definitely no blood in her veins. Ignored everything I had told her. No sympathy, understanding or thanks for your loyalty. She's adding a early disconnect fee of $86 dollars. I said, "I'm taking this to court." I am leaving out so much. Like I tried to get a hold of the original guy I talked to. Phone rings 5 times then hangs up. Go ahead try it 800-934-6489. I wish we could a rebel against being taken advantage of. What's with all the commercials limited regular basic channels. I grew up when customers mattered and you appreciated their business. Thanks for letting me vent a little. Don't let them take advantage of your family especially if they are elderly. My Mom's in her 80's.

I was being billed over $272.02 a month for eons for triple play with up to 200 mps internet speed and no special channels except Starz. This is a far cry from standard billing. I just had time to research this as I work as a physician. First I looked on the internet where the website did not breakdown all the billing in the largely prix-fix price, except for a bunch of small charges that added up to very little of the total amount. Then I went on the web to find a store to go to near Cambridge MA my home. A variety of addresses came out and I went to each one - all were closed or non-existent. I called Comcast directly and found a store 116 Beacon St in Somerville, not even on the original list. At the store, the rep sat facing a computer screen while I had to stand facing her. She was very nice but I had to use very precise questions to get to the bottom of this. So far, I have not fully succeeded.
First we discovered that I was being billed for 7 not 5 separate COMCAST boxes (total of $12 extra per month = 2,160 over perhaps 15 years). Then I discovered at $10 per month I had spent over $1800 in 15 years for a very dated Comcast modem which I could have purchased separately for a mere $200 - essentially I have purchased 9 modems but only have an old one that I continue being billed for. The rest is a complete void. I did return two out of my 5 boxes, saving $20 a month total. I asked the representative to rebuild my "Triple Play" and this came out to ~ $180 or a net savings of ~ $70 per month! So what was I paying for to warrant the $70 per month fee? That is the black hole that each of you needs to research in your own bills.
I asked for a refund of the two boxes not in my possession that I had been billed for and was credited for $35 as "Comcast doesn't credit back beyond 90 days". I was told to take it up by phone with Customer Service and this is an ongoing miserable experience with no new information yet to report. In summary the MBAs at COMCAST have designed a pretty ugly mousetrap for customers to wade through.
Buy your own modem and determine the different components of your bill. At the store, you are coming in with one problem and the reps are trained to make you buy an even bigger package by pushing over and over. They don't show you their work or give you a receipt for your new package. You can't tell what they are doing while you stand there and they are sitting working the numbers. Apparently the triple play was cheaper than other variations but I did not see the derivation of this info and the numbers on paper didn't add up. Call COMCAST to get the proper address before driving out since the addresses published on line are all mostly duds.
You've had to seen it all and be seasoned to avoid being ripped off. So far, I have yet to get to the bottom of my pricing, though with today's adjustments, my monthly bill is now 185 rather than 272 a month. Clearly this is still outrageous. I am not expecting a retroactive refund of the spread, which is huge for really no added value.

Comcast cable prices are ridiculously high for crappy service! Every week we are calling because either our cable isn't working or the internet is not working. The customer service representatives simply does not care. They are just there for the pay. They told us we had to wait 6 days for a service technician to come out and when I asked for a credit on my account they gave me the runaround.Very upset I left DirecTV for this company. I cringe when I get the bill in the mail. They aren't willing to lower your package. The CSR are rude, inconsiderate, very insensitive. If anyone is looking for a cable service I say run. Do not, I repeat, do not get Xfinity. Poor service for overly priced packages. Not worth the time or money!

I had services installed on June 21st. They worked for exactly 3 hours. I have been on the phone with them for 7 days for a total of 12 hours. I have been told there is one person that I can talk to, when I call that number I get voicemail that tells me she will call back at her convenience which I'm guessing is never. I called again yesterday to be told another story as to why my services are not working because they have found fraud on my social security #. Which no one has even mentioned in my calls daily. No one has given me the same answer twice. I am totally disgusted with this company and now I'm packing up their equipment and taking it to the local UPS store. My advice never use this company EVER. Customer service is the worst I've ever seen.

I have been with Comcast internet for almost a year, I had signed a contract for 1 year, the internet does not work properly, I have had numerous techs out to my house to try to fix the issue and one is blaming the next as to why it keeps going out. Then when you call you get some guy in India who cannot speak English, and have to explain the whole scenario over again. These people are **!! They are supposed to be the best internet provider in the state of Maryland. Total crap. The only thing they are good for is wasting my time and robbing me blind... I will be switching to a different provider at the end of my contract.

So I recently purchased Comcast internet (I had no choice) and I wanted to use my surfboard modem that I had used with them before and I know is working. I call customer service to activate it and the first person says I can't because it is stuck to an old account and they need to "escalate it" to move it. Ok not waiting 3 days. Next call I ask the same question and this lady asks how do I like my service. My response is, "Ma'am I have no internet, how do you think it is?" After her saying "ummmm" 1000 times she says I have to wait 5 days til they activate it and I should buy their 2 in one modem router combo instead. I said, "No I have been through 3 of your modem router combos as they are poorly refurbished nightmares that overheat." I hang up and go to the next call.
Next call is a lady who tries to activate it, she says "I can't activate it but if you bring it to the store they can." And now I'm going to the store tomorrow so they can manually add the Mac address so I can use my internet. I am paying for nothing right now, I know my modem works as it did before. If you have an option to not use Comcast, take that option every time.

When updated services, we were never told that the rate was an introductory rate. The rate shot up with no warning. We had to call to find out and they told us nothing can be done other than changing the internet speed. I'm sick of how Comcast insists on scamming people. This is NOT the first time I've had issues with Comcast, but I am working on this being the last time. Rates always changing without warning and it's not like the service is good anyways. We will be moving soon and for as long as I can help it we will NOT be using Comcast again. It's extremely frustrating when you have no other option. They corner you to use their awful service.

ConsumerAffairs Research Team
The ConsumerAffairs Research Team believes everyone deserves to make smart decisions. We aim to provide readers with the most up-to-date information available about today's consumer products and services.
Comcast is one of the largest Internet providers in the United States. It also offers cable television and phone services, and it has numerous bundling options for customers to choose from.
Fast connection speeds: Internet services are offered at speeds of 6 Mbps and higher. The fastest connections may reach 150 Mbps or more.
Bundling options: Comcast offers many options for bundling services. Customers can choose an Internet package and add various telephone and cable services.
24/7 customer support: Customers can browse the online help section. If they still have questions, 24/7 phone support or chat support is available.
Customer guarantee: Comcast offers a 30-day, money-back guarantee. It also offers bill credits in certain situations, such as a technician arriving late for an appointment.
Home and business options: There are numerous packages available for both residential and commercial customers, and business customers can get a free quote online.
Best for Business owners, work-at-home employees and students.
Compare Internet Service Providers
Comcast Internet Service Company Profile
Company Name:

XFINITY Home Phone Service

Year Founded:

1963

Address:

1701 JFK Boulevard

City:

Philadelphia

State/Province:

PA

Postal Code:

19103

Country:

United States

Website:

http://www.xfinity.com/home-phone-service.html