Consumer Complaints and Reviews

Ok really don't know where to start 'cause there is so many different things happening here. Had Comcast installed a few days ago. Well ever since Friday 6/09/2017 my phone has not work... My mother has lifeline and if there is an emergency she would not dial in. The phone number is a native number but it will not allow anyone to return a call. Have spent a total of 24 hours on the phone since Friday with customer service... The overseas people don't understand how important this is and the sales girl got the wrong number to my account. I have asked to talk to the USA customer service and they refuse to get me anyone. At this point if Comcast can't fix all issues today they may get their ** back. My time is way valuable to be worried and constantly on the phone with dumb people. I need the highest person from Comcast to call me... ASAP. Comcast triple play.

I had canceled my account and was ensured my next billing statement would reflect the changes that were made and no moneys were due since they charged one month in advance. The statement showed a $16.00 credit. I then called BoA to stop my auto payments. Two months later I had a bill for $38.00. I just called them and paid it. I won't ever use their service.

It's hard to get a human on the phone and every time I do get one I get a different answer as to why my phone and WIFI keep going out. They have sent technicians and still haven't figured out why I have "Intermittent Service". It's so frustrating dealing with Comcast!

They have provided not only fantastic internet, they have given us top notch service with billing as well! Very glad we switched our internet provider to them - customer for life if they keep up this good customer service!!!

I have been a customer for at least 12 years --I AM SUPPOSE TO PAY $19.99 + $10.00 EQUIPMENT TOTAL $29.99 --But every month, I get different charges like March $144.00 the company were charging me for HD and 2 boxes which I did not have!! They asked me to pay after credit $93.40 and they said, "You are ok." I paid all in March --then April 2017 they said that I owe 100+ called back and the supervise apologized.
They made a mistake charging $60.00 for a technicians and 9.95 extra box --mistake - I looked for my box and installed, gave me a credit. I was told to paid $30.69 - same mistake. May 2017 --fixed. But every months, I am getting the wrong bill always charging more that $ 29.99 as my contract. The service has been really bad. Today JUNE 8/2017 CALLED. THE FIRST AGENT hang up on me and called back and talked to MISS ERIKA VERY RUDE. She said you paid that and period. I asked her please looked at the history as per Supervisor KENVERLY I had to paid only $30.69 and for May 2017 and all would be normal. BUT WRONG THEY CHARGE WHAT THEY WANT AND GAVE A VERY BAD SERVICE.
This last supervisor or person in charge MISS ERIKA WAS BAD AND RUDE. How a company can treat their customer as bad? My account **. I requested the cheapest cable $19.99 and $10.00 equipment. No more but they keep charging what they want. REALLY BAD SERVICE. Please check on this and what kind of service you give. Thanks.
How do I know I can trust these reviews about XFINITY Home Phone Service?
820,717 reviews on ConsumerAffairs are verified.
We require contact information to ensure our reviewers are real.
We use intelligent software that helps us maintain the integrity of reviews.
Our moderators read all reviews to verify quality and helpfulness.
For more information about reviews on ConsumerAffairs.com please visit our FAQ.

I recently received notice from Comcast providing my personal information to a company named ME2 Productions who subpoenaed Comcast, because the company supposedly stated I downloaded a movie that they don't have rights to, illegally. They state it was downloaded on a day that I wasn't at home due to spending the holidays with family. I am pulling out of Comcast since they are not even investigating the validity of the company or the claims. The lawsuit is in the federal courts waiting on Comcast.

I have had used Comcast for several years off and on. In the past I had no issues. I admit I left off with a balance pending but got that handled and started using their service back in 2015 and no problems for the most part up until I had to cancel. When I did I was to receive a credit that was allegedly mailed out and well 6 months it took before they actually refunded anything that was probably only when I decided to just hook up internet. This time approximately around April I noticed a spike in my use of data and was concerned because nothing really had in our use had really changed that much then I realized the network was public which it should not have been well that goes to show don't trust anyone with your equipment numbers.
Needless to say I called the Security department which the representative said there was another signal that was public however it was not visible on my portal which I think it's funny that all portal access login and passwords are the same which means if you let someone on your wifi not set up for guests they can go in and change your settings leaving you vulnerable to anyone. I then was instructed to swap devices which I did so off to swap out my equipment at the local Xfinity location in Little Rock, AR.
Prior to that I decided that maybe I will get cable so the kids could have a little more options and had set it up with sales over the phone and all was well. I get to the location immediately. I am asked for my social security which I think is pretty commonplace nowadays and so I ramble it off there. I am thinking he was verifying account info and all this to pick up equipment to set up cable on my existing account. He proceeds to say I need to provide $100.00 deposit and I was baffled being I was not told that on the phone. Either way apparently when you pick up vs. having it send via mail they run your credit and he told me after the fact.
I am not surprised because there is more. Ok we establish this and then I said cancel the additional service, I asked for a new modem and wanted out. He then explained that is their policy whenever upgrading meaning adding service to existing service. I grab my new modem after the kid tries to make a sale and this is funny as farts the service upgrade would have brought my bill up to $59.99 and guess what the upgrade to my internet would have brought me up to $59.99. I had an issue with that, I said screw it and went on ahead but I was irritated and needed answers so I called sales and asked what was up with this deposit why was I not told and asked to cancel. The lady was nice and convinced to go on ahead that there was no needed deposit and I calm down and decide to keep service.
I then set up the new internet and chit chat about nothing with the tech guy which he throws in the fact that some of Comcast servers were compromised. Immediately I set up the new device and added 3 devices total and my portal shares all my info and the settings default was the lowest so I set it up the way I need to and see the 3 devices yet I get on my anti virus and pop goes the weasel there an unknown device is on my private network. I called and was transferred to internet support then security and then security says it's fraud and then fraud says that it's not his department.
Finally I asked for the cancellation department and I ask the young lady that even if Comcast Xfinity or Poopcast Poopfinity was the last company to provide service I would go without being connected. The constant misinformation and no one willing to really assist the miscommunication between phone sales and store front sales regarding policies is evident.
Corporate America, in this case it's Comcast, thank you for the poop. The fact is all your poor agents are worried about is getting good reviews and the customer service are not trained in a way that they can think for themselves. They stick to a script making them sound robotic reading a poorly written script. The first option when a person calls should be to speak to a human.
The truth is losing my little contribution to their pockets is menial however I will never tell anyone to use their service and I know I won't be using it anymore just because of their disorganization. Even going into the store I was repeated the same line over and over like I was an imbecile because instead of expressing that yes there is a disconnect of information between the stores and sales on the phone he kept repeating himself like he memorized the poorly written script provided so that tells me that the supervisors have no flexibility either that or he did not give a rat's behind.

Comcast customer service sucks. They are only nice to you when you want to purchase services. I have a two year contract with them and need to move for many different reasons to an area where their service is not provided. I try to get out of my contract because they do not provide service in the area. Comcast then kept me on hold for more than 15 min and still was not helpful. Every time I call I feel like all they do screw me. This is a horrible company and this company should be under investigation for bullying it customers and putting them in unfair situations. They really take advantage of me and my situation. I feel this company is bad in all it does. The service sucks, the customer service sucks, and they suck. If you're moving or even remotely thinking of moving, don't sign up with them for any services.

Comcast will tell you that your bill is going to be X only to find out the following month it's double that. I have been paying the same rate for 2 years and one day my bill doubled. I called in last month, got it "corrected" and this next month I get a bill for $50 higher than the last one which was double what I had been paying for years!!! Comcast is the worst company on planet Earth without exception, I have never seen this level of ineptitude in business.

I've used different internet and cable companies before I saw Xfinity advertisement about their high speed internet. So I decided to switch to Xfinity for high speed internet and cable bundle. Their internet speed fluctuates very much especially during weekends. Also, They have the worst customer service you can ever imagine.
They sent me a new modem to change with their old ones that they installed 5 months ago. It took 4 phone calls and more than 2 hour on the phone with their tech support but the modem would not be installed. They said they are going to send a technician and if there was a modem issue I would not be charged, otherwise I have to pay $60 installation fee. I agreed and their technician supposed to come on Friday but he didn't show up so I called them and they figured they didn't have me on their list for Friday! So I was rescheduled for Monday.
2 technicians showed up on Monday and they both said the wireless system in the modem was not working properly and was not sending any signals. They called Comcast before leaving and explained the situation and I was assured by them and the Comcast agent that I don't need to pay installation fee. After I received the new bill, I figured I was charged for 2 installation fee ($120). After 3 months, they are still working on it and I am supposed to get my money back by the end of past month! It's too much of hassle to deal with them. No one knows what's going on there.

All I can say is if you're contemplating using Comcast as your internet or cable provider, rethink it. Three times I have been stood up for service calls where no one ever showed up or called. This latest time I called to cancel and the woman swore up and down she would have a service technician the next day and not to cancel and give them one more shot. Reluctantly, I did and guess what. No show. No call. I've been without internet for who knows how long, and they've charged me for it. This is a vacation home in New Jersey. When I called up to cancel for sure this time, they say, "Well we changed your service request for two days later." Not a chance in hell. Cancelled after four years and never looking back. Beware of using this company. They will sweet talk you into a deal but your bill will never reflect it. I'd be very careful of using Comcast.

So I moved to a new apartment in January 2017. The tech said they haven't internet connection available in our area. I returned the equipment, and they said I'll receive a refund (by check) within a few weeks. On Feb 15, 2017 I called them again and they said the same. Today May 29, 2017 I'm calling again, and they want to refund only $39 out of $50 that I paid. They don't know where's the check, "seems like it's lost"... Also they don't know what happened with the $10 difference. And they have no answer. I have to keep waiting. DO NOT GET INTERNET FROM THIS PEOPLE.

I thought Nothing could be worse than Time Warner. I was seriously wrong. Service cuts out hourly, or if it does not cut out altogether it slows way down. I am paying for 10mbps. Right. I think it may have hit that ONCE. I do speed tests regularly and on a good day it may hit 5 mbps. On an average day less than two with regular cut-outs. Of course, when they have a monopoly there is no incentive to provide good service.

I was a Comcast customer for years with no problem and returned to them December 2016 thinking service would be the same. I've had 4 bills and amount has gone up $6/mo., download speed is around 30-40, at best, not 75 "BLAST" they supposedly provide and I lost a channel I enjoyed, CMT, because they decided to move it to the sports package. CMT has nothing to do with sports. They want to charge additional 4.99/month for sports package so customers can have CMT channel. I entered into a two year agreement, that Comcast is not adhering to. I received credit for additional fees last month because I refused to pay. If I have to haggle with them again this month (and I will), I'm cancelling agreement, and will NOT pay early termination. Comcast is doing early termination by not honoring an agreement in good faith. I've kept my end of the bargain, they have not.

I got the service in December. When the boxes arrived, they sent everything incorrectly. I called and told them what was shipped and they apologized and sent me new boxes. Again, the shipment was incorrect. By now I was a little upset since it was the second time. When I called they told me to go to the actual store to return the boxes and get the new ones and that they would leave a note on file for when I got to the store.
When I got to the store, I waited for an hour to get helped and there were no notes in the system. When I told the representative what has been going on, he did not believe me and thought I was stealing some of the boxes. After getting firm with the representative, he said "OK" and gave me the correct boxes I was requesting.
After 1 month of having the service, the Guide, On Demand, Internet and Netflix app would take forever to load. I called and they said there was interference and they would send a tech. When the tech came, he said he couldn't fix it and would have to schedule a different tech to resolve the issue. When the other tech came (2 weeks since the problem started) he wasn't able to resolve the issue and added some connectors which will strengthen the connection. Since then, we sometimes have good service, sometimes we don't. The internet never gives you the speed that you are paying for. This is very disappointing as once, long long time ago, the service was good.
A month after this happened, I received a bill with extra charges. I called them (again) and asked why I had those charges and they told me it was in error and that they would credit me the amount for next month. Next months bill came and yes the credit was there, but the extra charges were there again. GGGRRR!!! I called them AGAIN and they credited me again. Luckily this time I didn't get billed incorrectly.
It's been almost 6 months since I've had the service and last month, I updated my preferred billing method to my new bank account which for some reason never reflected in their internal system so the auto-payment was attempted to be debited from an old bank account which has been closed, yet the website says it was paid successfully. I received a letter in the mail from my previous bank, stating that the payment from Comcast Xfinity was tried to process but it was returned since the account is closed.
I called once again and now they can't figure it out. The website shows my correct bank account and their system shows my old account and my new account and they can't figure it out. I first tried using their chat system but I waiting for 20 minutes and it never connected. This service sucks. Don't get Comcast Xfinity!!! You will end with more headaches with their service than anything else. We will definitely end our service and start looking for a new provider. This is unacceptable for the amount of money we pay on a month to month. THEY NEED TO GET THEIR ACT TOGETHER!!!

I am a senior citizen who was not given a service appointment for installation until 3 weeks after I moved here. That meant no internet and no TV for an unbearable time period. When the installer came yesterday, he could not do half the work because I did not have all that was needed. I still have NO internet and only one TV WITHOUT HD service unless I pay more. To top things off, the installation cable is laying on top of my lawn until someone comes to bury it in "maybe" a week. I live in a 55+ community where someone could trip over cable and lawn service will be expected to work around it. This is a terrible situation which I am spending a lot of money to be in. Free enterprise or monopoly at work?!?

I have the Internet service "Performance Starter", I pay 50 + the rental equipment = 10. (I have been paying that for more than 10 years. They should have some deal of giving the equipment to Customers after certain period of time paying for it. I pay a total of 60. They have an offer now of 19.99 for new customers for the same service. I was trying to get more info about that offer, as if I would be a new customer and I went to the store and checked online, and they said that in my area they do not have that service. That is not true. They want to sell the most expensive service by hiding the truth. How the customers can get to know the real services offered in their areas when the Representatives are allowed to lie to get the sales goals. Some public authorities should have the power to avoid that.

While watching something on demand I started to notice that they were cutting parts out of the show to play more commercials! Internet goes out every other day and my bill manages to get higher every month... switching to Verizon FIOS asap!!!

I called to cancel my service on April 28, 2017 with a end date of May 1, 2017. I was told my final bill would be $19.36 and would be automatically deducted from my checking account. They actually took $74.95 from my account on May 9, 2017. I called the customer service number on May 10, 2017 to ask about this error and was apologized to and told it would be 3-4 weeks for a refund. When I stated that was too long to wait and asked to speak to a supervisor I was then told by the agent that he could have my refund to me in 2-3 days due to it being their fault the amount was drafted in error. To which I was happy and thanked him for his help.
On May 19, 2017 I still had not received my refund. I called the customer support number again. To which I was told that it normally takes 2-3 weeks to process the refund (not even the same amount of time). When I explained about my previous call I was told there was no record of that and there is no way to do that. They could put in a "ticket" to have my money returned to me electronically but that would take 2-3 weeks or I could wait 2-3 weeks for a check. Upon me voicing my disappointment in those I was told that he would look into the issue.
When he comes back to the phone he gives me the same two choices. Not only that he tells me there are no notes in the system from my previous call. I feel like I was lied to, as well as like Comcast stole money from me. When asked if I were 2-3 weeks late paying my bill if I would have been charged a late fee I was told "yes." When I asked if I would be receiving a late fee for them keeping my money for what is 2-3 weeks I was told it didn't work that way.

I am beyond frustrated with Comcast and Xfinity. Each time I have to address an issue which all has to do with bad internet connection and very slow internet, it takes most of my morning or most of my evening in trying to solve my problems, and if I am lucky, I won't have to extend it to more than one day. We, as consumers sacrifice our time, trading dealing with these issues for others that could help us earn our money or take care of important tasks in our lives. Our time as consumers have less than "0" value to Comcast, while the game they play means tons of money for them. These issues, however never seem to go away.
Why is it that if we as taxpayers funded the invention of the internet, we cannot have it if not for free, at a reasonable price and a reliable service? Instead we are providing for big profits to Comcast for products that they invented to make more money, but for the consumer means absolutely nothing. The middle class areas get the internet at the highest prices with a horrible connection; and the offers are only available in a few areas. How can that be legal? The internet should belong to the government and make money only to pay for social needs not to fatten the pockets of CEOs.

The most UNRELIABLE service in existence!!! Your internet is down at least some part of 5 days a week if not more. I have had Comcast in other states that were way more reliable than you are here in Albuquerque and on top of it you are charging us $145 per month for basic cable and internet AND DON'T DELIVER!!! I think I'm paying $80 of that for internet and yet you can't deliver!!! ARE YOU FREAKING KIDDING ME??? If I had the chance I would rate you BELOW 1.

Xfinity Comcast has the WORST customer service ever! Unprofessional technicians, who couldn't care less about issues needed to be corrected, pathetic customer service skills, and a wanton disregard for urgency when it comes to wanting to make right what was done wrong! I have been an XFINITY customer for years and I refuse to even pay a single cent to a company who refuses to come replace a cut cable/internet chord outside when an appointment was scheduled! This is unacceptable! I run my business from home and I cannot do that without internet service. No attempts have been made on Xfinity/Comcast's part, to repair the cut line. I have been without internet for a week now. Which means every day I go without internet, I lose money. All Xfinity customer service seems to care about is doing what is convenient for themselves and not what is right for the customers! This is incontrovertibly UNACCEPTABLE!!!

Called customer service to have internet service transferred to different address in a different city however to find they are not in that town same state CO and am told there is 70 bucks charge for breaking contract. How in the hell am I charged for something they cannot provide me with service at new address? Customer service transferred me to their loyal customer service and she was worthless. What a ** joke of a company. In the future I will look at other options before I ever deal with Comcast. They don't care about their customers. Look at your options before you go to this worthless company Comcast. You have been warned.

As many others have posted here, I, too, have service slowdowns and drops constantly. I work from home and it affects my work when my signal goes out so much. I have to reset the modem each time, sometimes having to unplug it to reset. This problem has only gotten worse. Much worse. However, as stated by others Comcast is one of only two service providers for this area and the other had outages of days and weeks right after they bought Verizon Fios Internet. I NEVER had any problems with Verizon Fios and wish they would come back. Or allow AT&T in our area. It's 2017; this is mind-boggling.

I started experiencing data overages on my account (more than 2 TB), I called Comcast tech support a dozen times. Days later a technician changed out my Comcast modem and my data used dropped to nearly nothing. It's been a nightmare trying to determine the problem. Of course they thought it was malware or something I was doing -- it was not. It was their equipment. I wonder how many people have had the same problem and paid the overage fees?

I was happy with my Xfinity internet with $55/month plan (final bill $55). Then out of clouds, I got a call from customer care saying, if I upgrade my services, to $69.99/month I can get cable as well. Also she mentioned that if not satisfied with Cable, I can disconnect any time. Well, this made me feel good. I upgraded. Hhmmm problems invited. :-( Then I got the device for TV in 2 days, and that's not working and called customer care. They came over and fixed the issue and before fixing he clearly stated its no cost for me. So that we allowed him to do, other wise I could have not ended like this.
My first bill after upgrade shooted to $175... Yah no typo. $55 to $175, I would love if it is my stock market price... I called them why charged $60 for the support who fixed the TV service which delivered by Comcast. I wonder I should get credit some bucks. But instead I have to pay them. It took almost 45 mins two-time conversation with Customer care over phone and chat to wipe off that $60. Now my final bill is $92... Where I am landed I was told I am upgrading from $55 to $69.99 but with all hidden things which never told was added now. And Worst part is I can not switch back to my old plan, as it not existing now. And their website is so worst that you never get your plan details, account details. Always sorry page. Conclusion: Finally they cheated me... And as they always be known forever.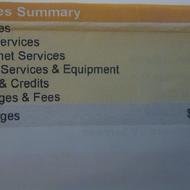 I decided to get service with Comcast. I was offered basic cable with HBO and high speed internet as a package for 54.99. I also would receive a 100 gift card. Well, my first real bill was 132.64. My packaged deal more than doubled after all fees. I have called to talk to them and have been disconnected each time. To top it off I never received my gift card. The worst customer service! There should be a law about all the hidden fees. Do not get service with them! Go elsewhere.

I have submitted a ticket since February after finding out that I had a contract that I was unaware of. No one got back to me on the matter and Comcast wants to force me to pay the fee whether or not they prove the alleged contract. Once you get involved with Comcast, it doesn't seem that you have control of what they want to charge you. They don't feel obligated to prove why I must pay what they say... and there is no Corporate Office to complain to.

Here we are again... Comcast has changed the format of their e-mail... and it does not work. I cannot conduct business. This has been acting up for the last 3 weeks. All I get is system errors on the e-mail system. Been out for over 2 hours today. We need AOL to come back. I thought AT&T was bad... This is worse. Don't sign on their dotted line for service.

We were 100% lied to about the abilities of the X1 box. We were told by the technician when we changed our box that you will not lose any recordings. So I called and was told my signal was weak, because when I deleted a recording I got the loading buttons. So he came and installed a boost box! Then in turn says "call and have another boost box installed." So Monday another technician comes and said we could not get another boost box? He changes out a cord and takes my box out.
So I asked about my losing recordings he says no again like I have been told from the beginning and heard on the commercials!!! Lies. My box is down to 2% - uh where are all my recordings??? So of course my husband (unplugs the box because we were told to if the recordings did not come back) so he calls back and the agent proceeds to rebooting the box! She did not want to stay on the phone for whatever reason, so she claimed to put in a ticket so she or someone else would call back. Which never happened.
So I called and proceeded to tell the agent what my issue is. She begins with "do you own a iPhone and the X1 box is similar to the cloud on the iPhone." WHAT? (Never ever have I heard that reference!)!! ALL MY MOVIES WHICH I SAVED are on a cloud off of an app on a computer!! We were told every last time until today ALL my recordings would come over to the next box. Why would I save them to be accessed off a computer???
Why Comcast? It is false advertisement to pay all that money monthly for a fake box! Waited almost 3 years to get the movies that I love with the belief that I would not be in this position yet again! So Comcast as a whole totally disappointed and saddened by the LIES, LIES, LIES!! And by the way COMCAST is quick TO TURN IT OFF IF WE ARE LATE THOUGH. SO HOW CAN WE BE REIMBURSED FOR ALL THE LIES???

ConsumerAffairs Research Team
The ConsumerAffairs Research Team believes everyone deserves to make smart decisions. We aim to provide readers with the most up-to-date information available about today's consumer products and services.
Comcast is one of the largest Internet providers in the United States. It also offers cable television and phone services, and it has numerous bundling options for customers to choose from.
Fast connection speeds: Internet services are offered at speeds of 6 Mbps and higher. The fastest connections may reach 150 Mbps or more.
Bundling options: Comcast offers many options for bundling services. Customers can choose an Internet package and add various telephone and cable services.
24/7 customer support: Customers can browse the online help section. If they still have questions, 24/7 phone support or chat support is available.
Customer guarantee: Comcast offers a 30-day, money-back guarantee. It also offers bill credits in certain situations, such as a technician arriving late for an appointment.
Home and business options: There are numerous packages available for both residential and commercial customers, and business customers can get a free quote online.
Best for Business owners, work-at-home employees and students.
Compare Internet Service Providers
Comcast Internet Service Company Profile
Company Name:

XFINITY Home Phone Service

Year Founded:

1963

Address:

1701 JFK Boulevard

City:

Philadelphia

State/Province:

PA

Postal Code:

19103

Country:

United States

Website:

http://www.xfinity.com/home-phone-service.html