D.R. Horton Homes
This profile has not been claimed by the company. See reviews below to learn more or submit your own review.
D.R. Horton is an award-winning, family-owned construction business headquartered in Dallas, Texas. The company was founded in 1978 and is now one of the largest homebuilders in the United States. Currently, D.R. Horton builds move-in ready houses in 29 states across the country. The houses are complete or nearly complete and available for immediate purchase.
Overall Satisfaction Rating
5 stars

4 stars

3 stars

2 stars

1 stars
Pros
Energy-efficient
Smart home devices
Move-in ready
Financing available
Cons
No customization
Limited availability
Bottom Line
D.R. Horton Homes are ideal for buyers who are ready to purchase but don't want the hassle of customizing features. D.R. Horton offers energy-efficient features and smart home functionality.
Top D.R. Horton Homes Reviews
How do I know I can trust these reviews about DR Horton Homes?
3,394,090 reviews on ConsumerAffairs are verified.
We require contact information to ensure our reviewers are real.
We use intelligent software that helps us maintain the integrity of reviews.
Our moderators read all reviews to verify quality and helpfulness.
For more information about reviews on ConsumerAffairs.com please visit our FAQ.
Sandra of Conyers, GA
Verified
My experience was phenomenal. It started off with our sales Rep Dosia T, she was awesome. Always available even on her day off. Love love her excellent customer service. Highly re...
Read full review

Frederick & Dee of Douglasville, GA
Verified
We purchased our new construction home about 6 months ago 2019 and the experience was absolutely amazing. If you are looking for a nice home you will get an excellent one with DR ...
Read full review
What is D.R. Horton?
D.R. Horton Homes are available in a variety of floor plans, sizes and styles. To visualize the design and amenities offered by D.R. Horton, visit a model home or tour a finished community. You can schedule in-person visits to a model home during listed business hours, and newly finished houses can be scheduled for viewing directly from the digital listing on the D.R. Horton website.
Characteristics and features of D.R. Horton's homes include:
Open floor plans
State-of-the-art appliances
Energy-efficiency
Integrated geofencing technology
Multiplatform wireless network
One-wire connectivity
Hands-free communication.
You can access all functions of the home's smart devices on the Qolsys IQ Panel, which allows you to use a variety of smart device products from one central location. From the Qolsys IQ Panel, you can adjust the thermostat, set the alarm, lock and unlock doors and set lights on a timer.
D.R. Horton closing costs and home prices
Prices of D.R. Horton homes vary based on the location, floor plan, size and style of the home selected. Most listings do not include closing costs or any related fees, so the price listed may not be 100% accurate. To determine an estimated mortgage payment you can afford, use the mortgage calculator on D.R. Horton's website. Financing and insurance are available through affiliates of D.R. Horton Homes.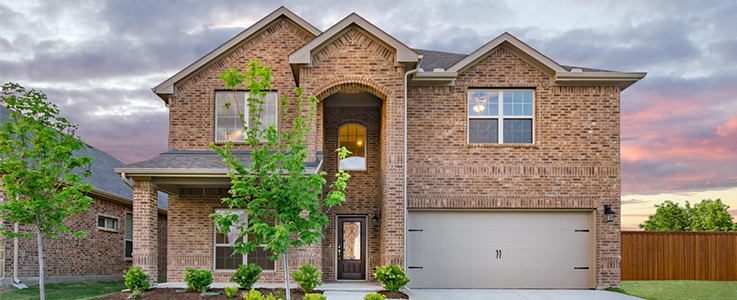 Photo (c) D.R. Horton Homes
D.R. Horton Homes FAQ
What is included in a D.R. Horton home?

A home built by D.R. Horton features energy-efficient construction, integrated geofencing technology, a multiplatform wireless network, one-wire connectivity and hands-free communication. These features are powered by the Qolsys IQ panel. The panel is compatible with a Honeywell thermostat, Amazon Echo Dot, Kwikset Smartcode and Skybell. Some features may be unavailable in Hawaii.

Are D.R. Horton Homes efficient?

D.R. Horton uses energy-efficient roofing materials, siding, windows, heating, ventilation and air conditioning systems. Every D.R. Horton home features at least one appliance or product with an EnergyStar designation.

Do D.R. Horton Homes come with appliances?

Yes. D.R. Horton homes include Whirlpool appliances.

Will D.R. Horton negotiate prices?

The company is open to negotiation with any buyer. When negotiating pricing, consider using D.R. Horton's immediate inventory and preferred vendors. You may receive a lower price.

What is a D.R. Horton smart home?

D.R. Horton smart homes are equipped with alarms, smart thermostats, wireless interior lighting controls, electronic deadbolts and smart video doorbells.
Is D.R. Horton a good builder?
D.R. Horton can be a good choice for buyers who want a move-in ready home that doesn't require any remodeling. While D.R. Horton is a reputable company, it's essential to vet the builder and conduct an appraisal. We like the affordability, convenience and capabilities offered by the company, so if the price works for you and you find a design and floor plan that suits your needs, we recommend D.R. Horton.
D.R. Horton Homes Reviews
A link has directed you to this review. Its location on this page may change next time you visit.
How do I know I can trust these reviews about D.R. Horton Homes?
How do I know I can trust these reviews about DR Horton Homes?
3,394,090 reviews on ConsumerAffairs are verified.
We require contact information to ensure our reviewers are real.
We use intelligent software that helps us maintain the integrity of reviews.
Our moderators read all reviews to verify quality and helpfulness.
For more information about reviews on ConsumerAffairs.com please visit our FAQ.
Page 1 Reviews 0 - 10
Richard of Pataskala, OH Verified Reviewer
Original review: Sept. 16, 2021
We are thoroughly disappointed with the actions and lack of action by D.R. Horton regarding our recent purchase of a model home in the Broadmoore Commons community in Pataskala, Ohio. The contract for purchasing a model home contains a "MODEL HOME ADDENDUM" that among other things indicates you are buying the model home "AS IS, WHERE IS"... "in its current condition, which includes, but not limited to landscaping, fencing, ... appliances, air conditioning and electrical systems, ..." Meaning other than D.R. Horton removing the model furniture, everything else in the home was contractually obligated to stay.
Approximately two weeks before our closing date we visited our home and saw that D.R. Horton had removed all of the model furnishings – along with the Whirlpool 500 Series Dishwasher and Electric Stovetop/Range. Removing the appliances was a clear breach of the Model Home Addendum contract. Our Sales Agent, Christy ** had no explanation as to why the appliances were removed or where they were. Michael **, Sales & Closing Coordinator agreed in an email it was a mistake to remove the appliances. In subsequent communications, Area Manager Holly ** agreed to replace appliances with ones of equal or greater value. After saying the replacement appliances would be installed in the days before our closing date, we were texted a picture of the installed appliances at our closing.
After getting possession of our new home, we came to realized that the replacement appliances were not of "equal or greater value", but were of lesser value and features. In our Home Purchase Agreement in the Purchaser Selection Sheet section it clearly lists Whirlpool 500 Series appliances for a dishwasher and electric cooktop. The replacement appliances were Whirlpool 300 Series appliances that are of lesser value and features than 500 Series models. We were shown 500 Series appliances in our walk throughs and thought we were paying for 500 Series models. This is a classic "bait and switch" tactic used by many unethical businesses.
On August 26th I emailed D.R. Horton employees Holly **, Area Manager, Greg **, Area Manager, Christy **, Sales Agent, and Michael **, Sales & Closing Coordinator that we wanted D.R. Horton to either provide us with 500 Series model dishwasher and electric stovetop or our estimated cost difference between 500 Series models and 300 Series models which we think is $425. On August 31st, three business days later, Holly responded that she would have a "response in the next few days." On September 7th, four business days later, I emailed Holly asking for an update.
Today, as I post this, seven business days later, we have yet to receive any kind of response from D.R. Horton regarding the appliance "bait and switch" tactic or making it right after they breached our contract with them. So it's taken them over three weeks to do nothing actionable. It appears this is not unusual behavior from D.R. Horton and it's totally disappointing as they had an easy opportunity to make things right. Terrible customer service as we will never recommend anyone buy a home from D.R. Horton. PS: Whirlpool 500 Series appliances are readily available at local area Lowe's stores.
Read full review
D.R. Horton Homes response
Hello Richard. Our Columbus, Ohio office is working to resolve your concern.
Be the first one to find this review helpful
M of Freeport, FL Verified Reviewer
Original review: Sept. 15, 2021
The jury is still out on my experience with the home. One major issue is with my driveway and it falling apart day by day and I'm not happy about it. I keep getting the runaround regarding it. The workmanship is shotty at best, (concrete finishers). I noticed this at my walkthrough, but was assured it was nothing to worry about. Well, each day that goes by, it gets worse. With each heavy rain it gets worse.
I've been in my home just a year, as of 9/9/21. The driveway has aggregate popping through everywhere (this should not be happening). The finish work with the driveway was terrible. There is trowel marks everywhere, instead of a nice flat concrete finish. Every place that has deep trowel marks has aggregate showing through. Other areas of the driveway are chipping away in chunks. Seriously? D.R Horton should have their concrete finishers fix it! It's unacceptable at best. It looks terrible. The driveway needs a do over to correct the issues.
My second issue was with the crown molding in my home. I sent a warranty request in, month 7, because at every seam, in every room, the crown seams came apart (shotty finish work). I was told this is not a warranty fix, "Your house settled." Really? No the house didn't settle, it was shotty workmanship and was not caulked properly (caulking only on the surface of the seams instead of filling in the seams). I myself, (a woman) had to get on a ladder with disabled hands to caulk every single seam, in the crown molding, in every room.
I've watched 40 homes go up in my neighborhood since living here and I'll at a later date, comment on that process. The subdivision is almost complete. I've had a good experience with Wyatt throughout the year. He's very responsive and really goes above and beyond to accommodate requests and address issues (except my driveway). He's also very pleasant and polite. D.R. Horton is lucky to have him actually.
The warranty department was just so so, and you have to reach out to the warranty "service providers" several times before even getting a response to get them to your home. I wish I could give a better review at this one year mark but the driveway and the crown molding spoiled that. I'm hoping my aunt and uncle have a better experience with their home since I encouraged them to buy here (2 months after moving in) their closing later this month once their home is complete. I have eight photos but it says each photo exceeds the limit.
Read full review
6 people found this review helpful
Thank you, you have successfully subscribed to our newsletter! Enjoy reading our tips and recommendations.
Donna of Fruitland, MD Verified Reviewer
Original review: Sept. 14, 2021
I purchased my D.R. Horton home in April 2021. Recently I found that my front yard has large rocks directly under the sod which has resulted in my lawn covered in dead sod. I contacted D.R. Horton and I have been told this is not under warranty. My response to them was that I was never told they were going to lay sod down over rocks and no top soil. There is no way this is going to correct itself. When I asked for a contact at the Corporate Office they gave me the company's name that the warranty is through. Basically they do not want to deal with this. I have sent them photos as well as a video of the rocks directly under the sod. Their response to me was the majority of the rocks that are placed around the foundation are removed prior to the final/sod installation. At this point they are not even willing to come out and assess the situation. Unfortunately this did not happen. D.R. Horton so far is unwilling to take any responsibility for their negligence.
5 people found this review helpful
Angela of Greer, SC Verified Reviewer
Original review: Sept. 9, 2021
BUYER BEWARE!!! I think they use the cheapest contractors they can find, irrelevant of quality of work. Since closing on this house in October 2019, I had a number of issues that you would not expect on a brand new home especially in regard to the plumbing. Within my first year after closing, a flap in a toilet tank was already not sealing and since I was not there full time, it cost me a very high water bill before I found out there was a problem. Then I found dirty water coming into my soak tub (which I had not yet even used). Both were fixed but should never have been a problem.
Then six months after my one year warranty expired, my hot water heater (which is located in the far corner of the garage) was leaking and the pan underneath was full. The bottom was rusty and upon removing the two panels, it showed rust there as well. There was a very small leak which had to have been going on for a long time (during the warranty) but how would inhale known since it is completely covered and still functioning. I refused to pay the company used by DR Horton for install since I had so many problems and paid another company.
Rheem covered a new tank but not the install. The company who I called to do the install said the problem may have been caused when it was installed. I had to pay $1,500 myself for this and have been trying since July 2021 to seek some form of reimbursement for this expense, even partial, and have only been told by the area company rep that it was turned over to his supervisor and would remind him about it on 8/18.
I called two days ago since the area rep stopped responding to my calls and left a message for the regional customer care representative Glenn **. He has still never returned my call. I guess before your one year warranty runs out, you better take the panels off your hot water hear to make sure there is nothing going on in there to get them to cover it, and inspect every appliance very closely, even if it is working.



Read full review
4 people found this review helpful
Valerie of Lorena, TX Verified Reviewer
Original review: Sept. 4, 2021
I purchased a house May 21 from DR Horton and upon closing, I was promised my grass would be in within 1-2 weeks. That did not happen and to make a long story short….they laid dead grass and the irrigation system was messed up. I have contacted the building superintendent, his supervisor, my sales agent, the regional office, corporate office and today I contacted the warranty department. I am very disappointed and frustrated. Grass was an add-on which costs extra money and they did not deliver an acceptable product. I have had to spend extra money to try to repair this yard. This is totally unfair!
If it had been completely properly, then all I would have to do is maintain and take care of healthy grass. I'm trying to revive dead grass. I don't think it is asking too much to have grass that is alive laid down. Originally, they only did 1/3 of the yard then came back and laid dead grass. They did not flatten it or anything. It was if they just dropped it down on the ground and kept moving. Bottom line is, make sure you do not go to closing if your grass is not laid or if you are not satisfied with anything else. To say I am disappointed is an understatement.


Read full review
7 people found this review helpful
Prashant of Brandon, FL Verified Reviewer
Original review: Sept. 3, 2021
Would suggest, if you really want peace of mind stay away from DRHorton. Quality is Very poor. You raising a request for the issue and then you have to convenience them that when you walk on the second floor noise is coming. As a work around they put some screw. Question is if a builder knows that poor wood quality is the reason why a better quality is not put across, why a workaround of putting screw is used. It shows the intention. Am really sad that hard earned money is gone. Would also suggest if your broker is suggest immediately change the broker. They are hand in glovers with the broker. in my case Jule ** from offer pad :(
==============================
Requested service notes: this is the 3 request for the same issue **. Vendor to schedule Ticket #**. If things are fixed and I requesting it be fixed, as a home owner is it my mistake if things are correct? Am requesting you to help resolve the issue. This is the second request for the same issue. The entire second floor is making a noise when we walk. Entire family is scared in going to the bedroom, each and every bedroom is making noise. Whole purpose of buying a house is to have a better experience but since we have moved in, life has been disturbed. Did I do anything wrong that I have to go through mental trouble?? It's the hard earn money for such poor quality. Would really appreciate if you can fix this issue? Project Name: Retreat, The / ** Lot # ** Plan: ** COE Date: 3/12/2021
Read full review
13 people found this review helpful
Robert of Port Saint Lucie, FL Verified Reviewer
Original review: Sept. 3, 2021
I put a deposit down on a home in a development in Port St. Lucie, Florida. I currently live a few blocks away, so it was fun to check on the progress, until I started seeing how poorly coordinated they were and that quality wasn't on their checklist. My roof trusses sat out for 3 months before finally being put up. During this time, rainy season started. A couple of weeks after the trusses were completed, the sheathing went on and sat for 3 weeks with almost daily torrential rain, which resulted in most of it being ruined. It was a mess. I contacted the builder about it and was told it would be taken care of. I just happened to arrive on site as the dry in was being performed and notice that NONE of the plywood had been replaced.
As I was emailing the builder, he came up and tried to blame the subs and said he would take care of it. Of course I came back later to check and they did a half ** job fixing the mess. I complained again, was told that it would be corrected again and that I would have an opportunity to inspect it before the dry in, but they never contacted me and did it anyway. I asked why and they said it was because they didn't want to subject the roof to any more rain. Of course I asked the builder and his 2 bosses, "If that's so important to you, how come there are several houses with exposed plywood on site?" No answer.
I can still see sagging plywood from underneath and can't wait to see what it looks like when the shingles go on. On another note, the model home has window frames that are white on the inside. That's what I thought I was buying. The ones going in my house are brown. Nothing I can do about it. This company is horrible and the people that work for them don't care about giving anything but lip service, then hide when confronted.





Read full review
14 people found this review helpful
Vienna of Brighton, CO Verified Reviewer
Original review: Sept. 2, 2021
I am under contract in Fort Lupton. The advertising shows homes with stone, porch railings, backsplash, upgraded cabinets, but that has all gone away. The builder chose all the finishes, I did not. I don't even get to chose where my cable goes, the builder does. I don't even get fan pre-wires in all the bedrooms as they consider those "custom" options. Therefore, I will have to hire contractors once I move into my brand new home! If they could avoid ever communicating with customers they would. They've eliminated all customer service from the process. The customer is there only to pay for the home, it's take it or leave it.
The man/salesperson with whom I signed my contract, was rude, disrespectful and arrogant, and said "have you not signed yet, if you don't want it, I have others that do." I am getting a very basic home and paying almost half a million dollars for it, in my opinion it's double the price of what its worth. This builder is giving the bare minimum and it's unfortunate they are choosing to do business like this.
Read full review
9 people found this review helpful
Leslie of Louisville, TN Verified Reviewer
Original review: Sept. 2, 2021
I'm not quite sure where to begin. We closed December 2020…. We still have items from our original meeting prior to closing that haven't been remedied. However, the largest issue I have is the excavation and grading of the lot. Our lots are larger, half an acre, which is great. Until you realize the home you paid so much for is in a bowl, no grass can grow and mud runs down the entire property because they did a horrific job of grading the lot. These lots should have been built into the landscape to avoid issues with water.
The new excavation crew leader came to our home today and said DR Horton denied his quote to fix the problems. He told us what was wrong on the entire lot and what needed to be done. I'm beyond furious and have told everyone I know that it was the worst decision we have ever made. I'm still waiting on phone calls to advocate for our family and fix our home and property. I understand making money but do it the ethical way. This is our home that we are supposed to love and enjoy, and now I cannot wait until we move again. This is a never ending cycle of sadness.




Read full review
10 people found this review helpful
james of Brandon, FL Verified Reviewer
Original review: Aug. 31, 2021
We bought a DR Horton House. It has been over a year. The positive side is the structure is sturdy. Now we talk about all fixtures which are of base standards. Blinds, light fixtures, Patio doors, Smart Lock, Garage doors, Kitchen granite are basic standard. The sprinkler system is not of the best quality.. Now comes the Boundary line. No fence installed for the Backyard, so it is an additional expense. The front lawn is overlapped, which means The whole block of Green lawn is divided among neighbors. When I cut the grass, We see a partly mowed lawn. No gutters installed, so again additional expense. The structure is sturdy.
7 people found this review helpful
D.R. Horton Homes Company Information
Company Name:

DR Horton Homes

Year Founded:

1978

Address:

1341 Horton Circle

City:

Arlington

State/Province:

TX

Postal Code:

76011

Country:

United States

Website:

www.drhorton.com
You're signed up
We'll start sending you the news you need delivered straight to you. We value your privacy. Unsubscribe easily.