Consumer Complaints and Reviews

I had the policy for a little over a year when my A/C was not cooling upstairs. My unit is about 15 years old and I live in Houston TX. I had 3 different companies come out and take a look 14k, 12k, and 8k for an all new system. After all 3 said the same thing I called Allied. They sent out a guy that said it was just a bad house design. Yes just a bad house design. FYI my house was built in 2002 and they were not going to cover anything because it was not covered in the policy. When asked the lady she told me "Nothing is covered. We just tell customers that in-order for them to sign up." She also said "Don't feel bad. We'll never approve anything that we don't have to and hope the customer does not follow thru." In other words save your money and go somewhere else.

First experience was kitchen drain plugged. Paid the $60 fee. Everything was good. 2nd call was bedroom AC and the company said it could not be repaired so that was not covered and therefore replacement cost was over $4000. Just made 3rd call for water leak in wall behind washing machine. Made call on Friday after the leak was discovered. Was told the plumber would contact me on Monday. No call or at least no message was left. Wednesday I called Allied about no contact from plumber. Was told they had called but I never answered. Was told they had opening for Friday 11AM. By 3PM NO SHOW. Called about this no show and was told that they had made 3 courtesy calls which none showed up on the cell phone as message, no missed calls or recent calls. Was told that earliest reschedule was following Thursday.
I explained that this leak was bad enough that it was now coming up through Laminate Flooring and that I had turned off water at the city meter. Then was told that even Monday JULY 4TH that they were booked up. They finally agreed to let me get outside Plumbing Company and they would reimburse me but only the amount that they would pay their Plumbing Company. I had to make sure that the Plumbing Company met all their requirements and that I called Allied before they make the repair.
My Plumbing Co. could not come out until this morning which is Saturday leaving me without water. I had to break out wall, cut copper pipe and put brass coupling with a cap to have water until the plumbers show up today to make repairs. Not only will I not recommend them, I'm going to get a different Home Warranty Co. and contact my title company about the dissatisfaction with their choice of Allied Home Warranty for their customers. I was not given an Order No# so I cannot enter one in this complaint.

We have Allied for our AC/heating unit through our energy provider. The coverage includes two "seasonal tune-ups". They came out today and told us our coil needed to be cleaned, but our policy doesn't cover that. I called to ask why the cleaning wouldn't be included in a tune-up and was told by Allied that the tune-up only includes a visual inspection. Nowhere in their contract does it specify this (or specifically exclude anything either) so I feel this is a deceptive practice. The total charge for the visit was only $75 - I paid $60 of that. For $60 I could have had a contractor come out and clean the coil! I also asked if the system would be replaced by our policy if there was an issue and was told no, they only cover the specific parts that fail. So basically this policy is a waste of money!

I have zero experience with home warranty companies prior to two years ago so don't know if this is normal behavior in home warranty companies or not but do have many years' business experience in which the level of service, communication, and customer care exhibited to me by this company are completely unacceptable. First experience was a garbage disposal and everything went well. Filed a claim, received a contact number for a contractor, contractor called and arranged an appointment, contractor showed up as scheduled, paid my $60 fee, disposal was repaired/replaced, shook hands and parted way.
Second experience was a little different. Filed a claim for smoking and leaking pool heater. Received confirmation email, received contractor contact e-mail, Contractor called and said he was in the area so would drop by, contractor and assistant arrived, paid $60 fee, contractor spent 5 minutes looking at the unit and said it needed to be replaced, I asked what that would run and was told the replacement was completely covered with the exception of having to pay for new gas piping which would be a few hundred dollars, shook hands and they left. The next day I called the contractor to follow up and was told they were waiting for replacement authorization. One week later called Allied and was told the replacement was authorized and the contractor would be contacting me to arrange a delivery date. A week later I called the contractor to check status and was told the unit had been ordered and was shipping from California.
A week later called to check again and was told the unit had been damaged and another had to be ordered. After another week I was contacted by the warranty company and was told that everything was ready and that my part of the repair cost was $2,400 and asked if I wanted to proceed with the repair. I had to talk to my wife and told them I would call back. At that time I started looking at replacement costs and found I could purchase a replacement unit of the same model for $1,250 and have installed for $500 OR I could have the leaking manifold replaced for $500. I called Allied and told them what I had found and asked why the cost they quoted was so much higher and was told the cost they had quoted was the cost through their distributor.
I then asked why we couldn't just replace the leaking manifold which was what my original issue was and was told the contractor didn't look at the manifold and would have to make another trip to our home and I would be required to pay an additional $60. I told the agent that was ridiculous and totally unacceptable. I asked about having a local company make the repair and them reimburse the amount they would pay and was told they couldn't because they were selective in the companies they contracted with to ensure quality work, In the end I purchased a manifold and had a local pool repair company make the repair at my own expense. Chalked it up to a learning experience and something to take into account when looking a new company if I decided to switch.
Third experience was just this week. Hot water heater kept going out and appeared to be leaking water. Filed an online claim, received email thanking me for the claim, received an email from Jesus ** telling me a $60 feel would be due to the contractor and that I would receive an email assigning the contractor within 4 hours, later received an email from "service" stating a contractor would be contacting me but that if in 4 hours I hadn't been contacted or received an email that I needed to call them and tell them they had not assigned a contractor, (I was like, WHAT?), I received no email or contact and needed hot water so went ahead and had the unit repaired. Issue closed, right? Not even! Several days later received an email asking me to provide feedback on my recent experience. I was delighted to see the scale went from 0-10 instead of 1-10.
I made the mistake of assuming they wanted me to be honest so completed the review appropriately. No contractor assigned, No service performed, No follow up from Allied, zero satisfaction level, zero intention of recommending the company to my friends, and zero intention of renewing my contract. I finally got a response from the company. Within two hours received a call about my review and was lectured by the young lady about me not giving them a chance to perform the service. I informed her that I had but they chose to not give a crap and ignored my request. She stated that was not the case at all and that I had a contractual responsibility to contact them and tell them they had not assigned a contractor and they could find no record of me calling them. I explained that I had not called but had the problem taken care of myself since they didn't seem to give a crap about my initial claim.
Her response was that this was not the case and that if I had simply contacted them it would have been taken care of. I disagreed. At that point I was lectured on the fact that I wasn't a licensed plumber so couldn't make the repairs myself and that she couldn't find any record of me submitting invoices for reimbursement, (please note that in the second example it was clearly spelled out to me that submitting invoices for reimbursement was not permitted). I explained to the young lady that there were no invoices submitted because I had no intention of doing so up to that time. Had considered the issue closed, and they wouldn't have heard a word from me on the claim but I received a customer satisfaction survey and I couldn't lie on the survey.
To sum up my experience with this company I would say if a person was unable to change a light bulb on by themselves and needed someone who could handle lower level repairs they would probably be a good choice but, in my opinion, if a person were looking for something more significant like handling repairs on larger items they are not the one I will choose in the future.
Sadly, their response to the survey was not about customer care, as they appeared to still not care about whether my issue was corrected or not, but was 100% about them receiving a poor review. Honestly though I still probably wouldn't have written a review if the "customer service" lady hadn't called to lecture and help me understand just how wrong I was.

I have had Allied Home Warranty for 3 years. It is time to kick them to the curb. Every time I have them out to check or replace something the amount of money they want is ridiculous! They soaked me over $1,400 for a new hot water heater. Their contract makes it sound like you only pay $60.00 and that is it. Not the case. They come up with all these excuses why you need to pay for items i.e. not covered under warranty, additional fee to haul away. They replaced my A/C unit also - had them out 3 times after replacement because it malfunctioned.
Updated on 07/31/2017: So, today was the day I finally got rid of Allied Home Warranty. The only issue was I cancelled my policy today but they already took it out of my checking account. When I spoke to the person he stated I had to pay $25.00 cancellation and one day of service. Not my fault they took it out of my account yesterday and not today. The worst part is they will not be refunding me my money for 4 to 6 weeks and it will be mailed to me. This is **.
How do I know I can trust these reviews about Allied Home Warranty?
850,588 reviews on ConsumerAffairs are verified.
We require contact information to ensure our reviewers are real.
We use intelligent software that helps us maintain the integrity of reviews.
Our moderators read all reviews to verify quality and helpfulness.
For more information about reviews on ConsumerAffairs.com please visit our FAQ.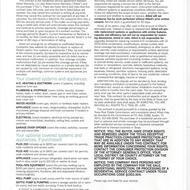 We have been paying Allied Home Warranty for coverage for several years and had them out a few times for repairs on kitchen appliances. When we renewed January 8th, they were offering a HVAC service with the renewal. Their vendor came out & said the compressor was out. He gave a price of over $7,000 & they said they would pay $682. I was shocked because their brochure/contract says it "covers" 2 systems. They sent another person from the vendor out who said it was the inside unit which needed replacing. I was told for doing the whole thing they would pay a little over $1,000 if I would pay $6,000. Again, not really coverage as has been my experience in 20+ years of real estate. I will be filing a complaint with the Board of Insurance & The Better Business Bureau as well because I believe their policy is conflict with the Deceptive Trade Practices Act.

Allied Home Warranty service is terrible. They rip off their customers and do not provide what they promise at the time of signing up. I had issues with my AC and their repair people could not diagnose the root cause of the AC not working and as a result of the issues my tenant broke the lease and moved out and I ended up incurring losses due to the tenant moving out after only two months. I had to pay my agent again to get a new tenant and she also threatened to leave because AC was not working although it was supposedly fixed by AHW agents. But it was still not cooling.
Finally, AWH send me a quotation of $6000 to replace the AC!! I called them to negotiate the price and left voicemails but no one called me back. The tenant was threatening to leave so I had to hire an outside agent who replaced the whole AC unit for $2500. I called AHW and told them the whole scenario and that the AC was replaced for $2500 instead of what AHW agent quoted me for $6000. I asked them for a partial refund for the $2500 that I paid and they refused to pay me anything. I had to go to an outside agent because they did not respond to my calls to explain the reason for the $6000 quotation. I was not going to pay them $6000 but I did not want to loose my second tenant so I went outside supplier and got the AC replaced for $2500. They refused to pay me anything towards this expense. I had detailed discussion with manager Theresa ** and she told me nothing can be done about it.

Received offer from my energy co of a home warranty by a company under Allied Home Warranty for home central air conditioner paid monthly through my energy company. I called in a claim due to my AC leaking Freon through the evaporated coils. A mechanic came by and claimed home warranty covers the inside unit but not the outside ac unit. He provided an estimate with costs over 5000.00 that the warranty covered. Allied refused to repair the AC inside and outside.
I was told by a supervisor named GLORIA that the area manager would return my call. I spoke with this area manager on 5/31 as he claimed he would look into the issue and call back. Area manager Jeff ** never returned my calls. I contacted him 4 times as they continue to tell me he's unavailable and will return my call. This warranty does not exist, they will tell you they cannot repair or cover anything; however the contract clearly indicated the ac would be repaired. This warranty is BOGUS.

I had to contact the Better Business Bureau on this company since they do not deliver on that which they promise. As a member for the past four years with very few claims (possibly three in the entire time) the last attempt was the absolute worst. 4 attempts to get one issue with my refrigerator resolved and several months later, no viable solution was reached. All of the vendors in their network whom they claim have undergone a rigorous vetting process are anything but reputable.
One company assigned to my claim immediately stated they could not help me and informed me to contact the home warranty company for another vendor, then abruptly hung up. Another vendor assigned to work on the appliance is one that works out of the garage of a home who also had less than desirable customer service; especially after the manager/owner of this company yelled at me when I brought to his attention his lack of professionalism on the telephone.
The home warranty contacted yet another vendor who stated would be out on a Saturday to make the repairs. I waited and waited and waited - no phone call, no email and no one showed up. After many telephone conversations with Allied and exchanges which took place in the BBB forum in which they made slanderous remarks about me - a viable solution to this problem was never reached. It is unknown why this company has such a terrible YELP rating (one star - the absolute lowest) yet the BBB who has handled hundreds of complaints still rates them as an A+ member.

Terrible. My AC stopped working. I received my own estimates for around $1000 and was told I had to replace the whole outside unit. I then called Allied who sent someone out who also confirmed that you couldn't just replace the one broken part, you had to replace the whole outside unit but they were going to charge $2000. The kicker... Allied said they would only pay $700 to replace the one broken piece because the rest is a "modification". Never mind that both repair people said it's not even possible to only replace the one piece. Allied is a scam.

Allied Home Warranty "one-page warranty" is nothing but a one-page scam and a way to keep it vague and deny claims. AHW will send out the technician of their choosing and you have no option for a 2nd opinion. The price you will be quoted for any work will be double or triple what it would cost anywhere else. My call was for my A/C. The technician after THREE separate visits said my Air Handler needed to be replaced and Allied would only cover $600.00. The remaining amount $2000.00 would be my responsibility because it was considered "modifications" and those are not covered in their "one page contract." They gave me a ridiculous song and dance about what they covered and didn't cover. It seemed pretty straightforward to me that this was EXACTLY why I had a home warranty in the first place.
I called for a 2nd opinion and 3rd opinion. Both of the opinions came from HomeAdvisor.com referrals. And both of those certified techniques said my problem was NOT the Air Handler and replacing that would not solve my issue. What needs to be replaced is the Air Conditioning unit completely. And to add insult to injury Allied indicates they will not honor or pay for either of the 2 other opinions I have obtained and my ONLY option is to have the repairs that their company says I need or nothing at all. Even though 2 other certified companies say replacing the Air Handler will not fix the problem. How is that for logic?
As with a previous reviewer I am in the process of filing a complaint with the Texas Real Estate Commission Residential Service Program, and with the Texas Deceptive Trade Practices-Consumer Protection Act. I am also speaking to an attorney because of Allied's negligence and deceptive practices. They have placed the residents' health in danger as they have been without air-conditioning for over a month. We as consumers cannot take this kind of treatment lying down!

To follow up on my earlier review, I thought I would share with you how to file a proper complaint against Allied Home Warranty. They are licensed by the Texas Real Estate Commission and that is who everyone needs to file their complaints with. Search for "Texas Real Estate Commission Residential Service Program" then click the link for complaints. Allied is required by law to respond to complaints filed this way. I filed an open records request and obtained past complaint files. I found that in some instances Allied Home Warranty settled with people after they filed complaints.

This "one-page warranty" is nothing but a one-page scam. AHW will send out the technician of their choosing and you have no option for a 2nd opinion. The price you will be quoted for any work will be upwards of double or triple what it would cost anywhere else. I am in the process of selling my home and there were items found that needed to be replaced. They were covered by the warranty according to the one-page warranty. When the bill arrived for the first job, I was charged $295 + $60 service call. The service call was not deducted from the job. They supposedly charged the warranty company $490. The total charge was $785 to replace the lines on my hot water heater. They did not replace the hot water heater itself.
The second call was for my A/C. The technician said my system was completely shot and was not working at all, despite the fact that it was freezing me out. He said I needed to replace BOTH box evaporator coils at a whopping $5,415 of which AHW was agreeing to pay less than $1,300. They gave me a ridiculous song and dance about what they covered and didn't cover. It seemed pretty straightforward to me that this was EXACTLY why I had a home warranty in the first place. I called for a 2nd opinion, which I had to pay for out of pocket after already paying $60 to the first guy, who was a price gouging NRG A/C guy and a good example of why A/C guys have a bad reputation. The 2nd opinion came from a referral from HomeAdvisor.com. He was fast and courteous and basically told me my system was working just fine and that there was nothing wrong with it or the evaporator coils.
I will be cancelling this warranty immediately. This service is garbage. The company rips people off and provides you with a false sense of security. I would definitely advise anyone interested in a home warranty to look elsewhere.

I have had Allied providing a home warranty for 3 years on my rental house. I haven't really used the warranty other than for maintenance (which was no real savings) is recently. I had a foundation problem at this house as it's rampant in North Texas lately, and in having the foundation repaired one sewer pipe broke under the slab. I had a pressure test done and isolation test to determine the location of all leaks, there was thankfully only one leak. The cost to fix the leak is $2500 due to the necessity of tunneling under the slab. The actual repair was almost $500. I called Allied to see if the repair was covered and they told me that accessing the repair is not covered (then how can you fix it?) but the repair would be, however they had to have one of their NRG expert idiots out to assess the situation and run his own tests, which I had already done at a cost over $500.
They refused to accept the findings of a plumber who has been reputably in business for over 20 years. Effectively telling me to go screw myself because it made no sense to pay over $500 again to try to get these ** to pay what little they would be willing to pay. Additionally, I am selling the house and called to set up an AC check to make sure everything was fine well unless "the weather permits" they won't do that. It has to be above 70 degrees which is silly because it either runs properly or it doesn't. They can run the unit all day for all I care just make sure it running properly. This company is dead set on not doing anything if possible. I suggest you save the money you were going to pay any home warranty company unless your house is in really bad shape. Put your money in savings and keep it there for the eventual repair that comes up and tell these jerks to take a flying leap.
I will never pay any home warranty company again, it's a scam and they know it better than you do.

Based on my recent experience I would not recommend the AHW service to anybody. My water heater had a gas leak and AHW has sent Troy **, the technician from their "preferred" service company, NRG, to check and estimate the cost of repairs. Troy provided me with three options ranging from $2,007 to $2,342 depending on the heater models. The cheapest model was quoted at $1,040 while I could get a similar unit for just $298 at Home Depot. Then he added these super-inflated charges: $210 for City Permit and Inspection fee (usually less than $30), $290 for pan drain line (should be $30 as the heater is only 2 feet away from the drain), $197 for the drip pan ($19.98 at Home Depot) and $300 for two-story roof access (should be $0 as the heater is on a first floor). Even with AHW coverage of $500 for the heater, I would've ended up with at least $1,507 for this job.
So, I asked for an independent contractor who did this job for $1,040 (so I saved $500 by not doing work with AHW!) but now AHW is trying any excuse for not covering any cost by citing that the contractor "does not have a website" as their main argument and Wade ** at AHW is not answering my emails. I see a very similar negative experience reported by another customer along with few others and wish I could've read all these reports before signing the contract with AHW.
I was using another home warranty company, American Home Shield, in my previous home but my last realtor suggested the AHW. I regret the switch and will cancel my current contract with AHW. I will also provide my feedback about this experience with AHW to the BBB. Consumers should unite and drive the thieves out of business by voting with their feet first followed by class action lawsuit.

Allied Home Warranty refused to honor its "One-page contract" and repair my plumbing problem. Why do they have a "One-page contract?" Because it is vague and allows them to refuse to honor repair requests at their discretion. Their affiliated contractor is NRG Home Services. NRG and Allied are owned by the same company. It even states so on their website. NRG said my plumbing repairs would not be covered by Allied, but that NRG would do them for $8,400 dollars and would even be so kind as to offer financing. He didn't even need to do an inspection of the house for that estimate. He never went into either bathroom, kitchen, or the utility room. He took no measurements. The two plumbers I called both took measurements and did a detailed inspection to give me estimates.
Allied said repairing or replacing pipes is a "modification" and their contract doesn't cover modifications. So, replacing or repairing anything can be considered a modification and is therefore not covered if it would cost Allied too much money to fix. Allied Home Warranty has an A+ rating with the Better Business Bureau. How do they manage that? They pay to be a member of the BBB and the BBB doesn't want to rate their members low. It hurts their business model. Here is the response I got to my complaint with the BBB for Allied Home Warranty failing to make the repairs required by their contract:
"There are some complaints the BBB cannot process due to our by-laws and national guidelines. The BBB cannot intervene with issues regarding store or company policy. Please understand policies are not required to be posted in the stores or on receipts in the State of Texas. It is very important that consumers ask a lot of questions prior to purchasing a product or use a service to ensure that they understand the company's refund/return/exchange policy clearly. You may wish to pursue your issue through the court system. The number for Small Claims Court information in Harris County is 713.755.5137. The BBB has not notified the other party in question but will keep your letter on file. We sincerely hope you can find another way to resolve your dispute."
It should be noted that Allied Home Warranty's "One-page contract" prohibits you from filing a lawsuit against them (small claims court). It requires you to go through arbitration instead.

Please do not buy this insurance at all. I hope that all those that are shopping for a good home warranty company do not consider this one. They say they have a one page contract and then have their own set of rules. In fact, they are a marketing company for specialized home repair company so they can make money via kickbacks. My water heater was inspected by their company which was NRG Home Services, yes the parent company of Reliant Energy. Both these companies have an exclusivity agreement. That means the customer cannot do their repairs with anyone else.
Now the NRG services tech came to our house and inspected the water heater and said it would cost us $1500 to replace it. I was shocked. He then said there is a $500 credit from Allied Warranty that will be applied. Which means I have to pay $1000 for a basic builder's grade water heater. I checked the price at Lowe's and Home Depot and the cost to replace a water heater with a 6-year warranty for both parts and labor was below $650.
I called Allied Warranty and said that their vendor is charging a lot for something that can be fixed for less. But they insisted that we had to go with the same vendor, NRG. I said the credit they gave to NRG they can provide it to me and I will replace it and also take the liability of any future repairs. But they said no! Which clearly means that Allied Warranty is receiving a kickback for providing clients to NRG. In the process, customers are getting ripped off and both these companies are profiting.
What surprised me is when I provided the quote from Lowe's, the rep from Allied Warranty said we need a store front licensed plumber and not stores like Lowe's or Home Depot. This seems to be deceptive practice and I hope something is done about it. What was also interesting in the process was that I found out that these plumbing companies charge over $200 for a city permit. When I called the city, they said the cost was only $25-$30. When I complained to the city permit manager, he said he was aware of it, but that nothing can be done. But that he would report to Legal and see.
Amazing how the whole system is set up to rip of American consumers. It is time the Texas lawmakers take a note of this. And yes, never use this Allied Home Warranty company. It has so many negative comments on the web and so many complaints to the BBB, yet the BBB has given them A+ rating. A system failure at its core.

We closed on our new home June 2, 2009 and started moving in shortly after that. Our inspection was completed during the 7 days following placing our bid in for the home. The inspector who was recommended to us by RE/MAX Galleria stated on our inspection report, "All 3 air conditioning units were in working condition." Once we moved in, we noticed that one of our units was not working properly. Our seller bought the Allied Home Warranty to protect us, so we called them right away to get a technician out to check on it. The technician stated that it was a pre-existing condition. If it were a pre-existing condition, it would not have worked when the inspection was performed, but it did work then.
The seller also purchased an upgraded "no fault coverage" which states: "There is no denial of coverage (No Fault coverage) for: (a) malfunctions that existed on the effective date of the contract if, at that time, the malfunction was unknown and would not have been detectable by visual inspection or a simple mechanical test, (b) malfunctions caused by a lack of maintenance, (c) malfunctions caused by improperly installed equipment and (d) malfunctions caused by mismatched sized systems. Undersized or poorly designed systems relative to the square footage are not covered by the no fault coverage."
The AC unit was working at the time we did the inspection on the home and up until June 10th. We closed on the home on June 3rd. The AC unit was working on the effective date of the warranty. My husband emailed Allied exactly what they asked for (an addendum to the inspection report stating individually that each AC unit was in working condition at the time of the inspection). My husband emailed Allied several times and called with no return phone calls. I also had to stay on top of the situation daily because we rarely got a call back when they said they would do so. Allied Home Warranty continues to say they will not cover this issue and they were extremely rude with my husband and me.
I have been in customer service for 10-plus years and I would never treat a customer the way they have treated us. This is not what I consider to be good customer service in any way. I'm not sure why Allied was rude to my husband because he maintained an upbeat and friendly attitude every time he spoke to them on the phone and through email. Thank you for your help and I hope this gives you a good idea of what has happened over the last month. This situation has not been resolved.

I called to file a claim the week before the hurricane (Ike - Sept 12th or 13th). I was told that someone would be to my house the next week. No one ever called me back. I called again the week after the hurricane and was told that the company who would handle our claim may have had damage and may not be available yet. I waited another week and called again and was told that someone should have called me by now....they did not. I called again the following week and gave the model number and serial number and was told that the part had to be ordered, it would be in within 10-14 days. I had not heard back (again) so I called on Monday October 13 (now a full month after the hurricane) and was told that we may not cover this item (after I had been told it was ordered and I was just waiting for it to come in).
The problem with the stove is that while we were cooking on the front left eye, we heard a popping noise and looked at it and saw that the front left corner had cracked off! We are new home buyers and our policy says no fault so I am incensed that Allied Home Warranty says that they will not cover the crack. I still have not had any satisfaction and am unable to use the front left eye on my stove.
Allied Home Warranty Company Profile
Company Name:

Allied Home Warranty

Website:

http://www2.alliedhomewarranty.com/alliedhomewarranty/CC1WarrantyHome?BU=Warranty&CS=TX