Xpress Redi-Set-Go Cooker
Consumer Complaints and Reviews

I Purchased my Xpress Platinum in June 2011. I have used my Redi-Set-go Cooker ever since I received it. I enjoyed using the cooker being I'm only cooking for one. Yes the pans peel. Now the heating element to the bottom part has burned out the top still heats. I would like a replacement element for the bottom burner. Do you realize most people do not keep receipts this long.

The Xpress Redi-Set-Go was a gift from my sister and I really liked it. Used it once and it washed up really nice. After that the coating started coming off and I am so disappointed in the product. I would like it to be replaced. Maybe my first one was just a bad one, would like to try it again. How do I do that? Please help. I am sorry.

I purchased 2 redi set go cooking plates. When Mrs Mitchell was using these machines it looked so easy to use and I purchased 2. I was so excited to use them. So I use the recipe for Ribeye steaks using pan spray and brushed bouquet sauce. When it was cooking it smelled so good, after 7 mins open lid and the Ribeye with onions was stuck to the cooking plate and the machine was completely ruined and the teflon came completely off. These are nothing but trash and I pray Mrs Mitchell will send me 2 more redi set go. I am very upset with the products Mrs Mitchell has endorsed. If you have any heart please mail me 2 redi set go.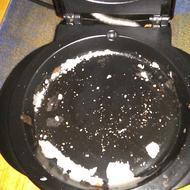 The teflon coating on the pan,flakes. 1 major problem as I use over the 4 weeks (I followed the instruction on the usage, only using the silicon spatula and cleaning using mild detergent and damp cloth); however, so much of the teflon coating on the pan started to peel off. It is dangerous and unhealthy using this to make your pizza or sandwiches. Now I asking for refund. Will await the merchant reply.

First, I had the forerunners of this same product, no timer or on off switch > 2 Gt 101s and the coating peeled in less than a month. One was replaced and it peeled as well. The company was new and based in Littleton, CO, then now maybe in Boulder, CO. Customer service was good then. The Redi-Set Go peeled, as well in less than a month. No replacement offered, you have to buy it. Poor customer service which is now in the Philippines, I think. The pans are flimsy and they won't send recipes for R-S-Go without restarting the whole thing again even though the booklets are the same plus newer ones.
How do I know I can trust these reviews about Xpress Redi Set Go?
695,474 reviews on ConsumerAffairs are verified.
We require contact information to ensure our reviewers are real.
We use intelligent software that helps us maintain the integrity of reviews.
Our moderators read all reviews to verify quality and helpfulness.
For more information about reviews on ConsumerAffairs.com please visit our FAQ.

The Xpress Redi-Set-Go Cooker is a piece of crap. Good concept, but it's the worst built item I have ever bought. The coating was trash. Food stuck from the first time I used it, even with oil. The promoters in the commercial should be ashamed. With the "non-stick" surface peeling from the start, it is very unhealthy and dangerous to use.

TV advertising buy 1 get 2 sets of Redi Set Go Cooker with free bonus at $39.95 plus shipping. I ordered one set and received two sets (four cookers) and other items. Total bill is $209.40, which included $74.70 in shipping. Customer is 82 years old. I am the daughter (Debbie). I called company to inquire about returning the extra products and said that my mother did not order four cookers. Customer service person (Elizabeth **) said that my mother did order all pieces and addition accessories. She said order was placed for (two) on automated system and that was for four pieces with $14.95 shipping per piece, which is outrageous.
I stated that this was somewhat misleading and that my Mom did not order extra accessories either. Elizabeth said very rudely, "Were you there when order was placed?" She said that this was what was ordered and that the shipping of $74.70 (55% of total order) is non-refundable.
I am sure that this company has scammed many people with this product. Is this legal? What are our recourses?

Recently, I checked my bank statement for 12/1/10-1/21/11 and noticed a recurring debit of $24.95 being deducted from my account. I called the company at 1-800-475-1942 on my statement (Membership Services) to inquire about the charges as this was the first time I had heard about this company. I spoke to a Deborah and asked her the following questions: Who are you, what do you sell, how did you get my information and did you send me something for a monthly fee of $24.95. She told me that they were a membership company selling discount movie, restaurant offers.
She further said that I must have purchased something from one of their affiliates and I should have received something from them. She did not say what or when. I explained that the last thing that I would be interested in at this time is some membership for movie and restaurant. I further explained that I have never heard or spoken to anyone in her company, never gave them my financial information and that I never received anything for the money they were deducting. I asked whether she had any record of when I had supposedly purchased whatever the item was and she told me that she did not deal with that. She further asked me what I wanted to do about the membership.
I told her to cancel it and to refund the money that they were fraudulently deducting from my account. She told me that she would cancel the membership and send me a form for the refund. Several days later, the form arrived with the notation "your request to cancel your membership - order number ** was processed on 2/1/11 and no further charges will occur." The note went on to say that since my account number shows up on their paperwork, it was legitimate and I would not get a refund. In October 2010, I had called a company named the Express, Redi Set Go to order a cooking gadget for my daughter. After I gave my payment information, the recording kept rattling off offers for this and that.
I held on for a while hoping that a human would come on to acknowledge my payment. As that did not happen and the voice mail would not end, I hung my phone up, hoping that my order would be processed. About a week later, the order came, along with a bill to say that I had ordered additional cook books. I called the office at 800-357-9213 and explained to Kyle that I did not order or want additional cook books. He agreed to eliminate them but said that I would be charged an additional $6.95. I told him that would be okay as the order came with a free set of the item I had purchased.
In November 2010, I checked my bank statement and noted the $6.95 deduction. I checked my statement again in January 2011 as I noticed that my money was disappearing and found the recurring $24.95. I am 90% sure that this is the company that played careless with my information as I am not a person who regularly order things online. I don't believe that I am the first person this company has taken advantage of as everyone I spoke to has had some similar problem. To date, I believe that they have deducted $24.95 from December to February and I would like some assistance to get this money back. Thank you for your assistance.
Xpress Redi-Set-Go Cooker Company Profile
Company Name:

Xpress Redi Set Go

Website:

www.redisetgo.com