Consumer Complaints and Reviews

I purchased my Staber in 2006. The main control board went out within a month, with one sent rather quickly under warranty. I've had many problems trying to get the machine to go fast the final spin cycle. I ordered a new balance switch, but that didn't help. What made a huge difference was when I took the balance switch apart. I believe that this balance switch was not made correctly as it is pre-loaded far too tightly, I mean, way too tightly. The machine was way too sensitive to any type of vibration and because it was pre-loaded too tightly, the electrical contact would not easily return to center, thereby causing the machine to stall on the final spin cycle, like endlessly stall there.
Anyway, I took the switch apart, used fine sandpaper, 220 or so and removed a small portion of the inside of the white one inch plunger/or plastic rod. I still left the balance switch pre-loaded but not so tightly as to prevent it from returning to center. I used an Ohm meter to check my results. I believe that if you take off too much of the white plastic rod, it will destroy the balance switch, so a little sanding, then reassemble, maybe a little more sanding (extremely light sanding) then reassemble and check results.
The end result is a lightly pre-loaded balance switch that easily returns to electrical center. Because it is pre-loaded way too tightly coming from the factory the balance switch has difficulty returning to electrical center once tripped. Thus causing it to stall on the final spin cycle. Hope that makes sense. I did this to my balance switch years ago and it has worked very, very nicely since. Now instead of junking it out, I purchased a second Staber at a thrift store for $125.00, that works perfectly. I'll use it for parts should the need arise.

I've owned this machine since June 2006. We wash everyday. This April, I replaced the main bearings with the kit from Staber. I have had my share of problems with the machine. These problems weren't the machines fault, like the time I left change in my pocket and it fouled the pump. After a week of smelling old water, I took the machine apart and discovered the standing water problem (my bad, not the machine). This quarter would've ruined other pumps! Cleaned the pump and no smell!
IT IS VERY IMPORTANT TO LEVEL THIS MACHINE! If you don't, it runs badly. Who's fault is that? When I replaced the bearings I cleaned the pump again for the 3rd time of ownership. We live on a farm and my clothes come out clean every time. Because it cleans so well, it throws lots of crap off my clothes that used to stay on. This means I have to take the top off sometimes so that I can clean the machine because it is so good! Our skin is much healthier due to using so little detergent.

Can anyone tell me what causes this machine, no matter how little amount of HE detergent I use, to flood? I know everyone says it is due to using too much soap, but even a mere teaspoon will do it! I am not the handyman in the family so other issues aside -- there have been a couple but taking the insides of the machine apart and replacing screws, etc. seemed to solve those issues for now -- the flooding drives me crazy...

I've read lots of complaints about this washer. I buy and repair all of our appliances. My wife never reads any instructions for the appliances. I read everything and follow instructions carefully. We have 11 children and our Staber washer runs a lot. We have had no problems over the past 7 years. Most of the problems that people complain about would not occur if instructions were followed carefully. The 3 most important things to follow with this machine is: 1. Use ONLY a dedicated circuit to power this machine; 2. Use only HE detergent and no more than the recommended amount; 3. Make sure this baby is level and stable using the adjustable feet (use a leveling tool).

DON'T buy this machine! It will only cause headaches for you. From the beginning- it would leak water out the bottom of the machine. They will tell you, "you are using too much soap." I use HE soap and never use more than a TBS, sometimes even less and it still happens. And not a small amount of water either. Or they will tell you something must have gotten lodged in the drain. You have to take the front of the machine off to check to see if that is the problem. Sometimes it is but more often than not, it just leaks for no reason. It also tears clothes. I thought my towels were just getting old but there were rips in them and then in shirts as well- I have seen from other reviews that this has happened to other people. Customer service is rude and if there is a problem with parts- you have to send them back your motor and or mother board for them to fix and send back. No running to the hardware store for a quick fix if you are able. Can't wait until it finally dies and I can get something else. Never again. There is a reason that you don't see this machine in any stores
How do I know I can trust these reviews about Staber Washer?
851,761 reviews on ConsumerAffairs are verified.
We require contact information to ensure our reviewers are real.
We use intelligent software that helps us maintain the integrity of reviews.
Our moderators read all reviews to verify quality and helpfulness.
For more information about reviews on ConsumerAffairs.com please visit our FAQ.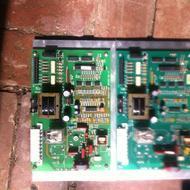 I am a former owner of a Staber 2000 HXW2304 T/L Hex Washer. I bought it in 2001 and gave it up in 2011. It worked quite well with only a few issues. The main motor control board failed in 2002. I got another from Staber but managed to repair the first. The second issue was recurrent. The belt would come off because the pulley would become loose at the shaft. Placing shims between the pulley and its shaft and tightening the bolt and set screws fixed the issue for another 6 to 12 months. I finally gave up on the Staber when the motor bearings seemed to be going. I bought an LG and so far have not regretted it.
I think the Staber was and still is a good idea. When I bought it, there were few washing machines that could save energy and water like the 2000. I'm not sure it is a washing machine for the mechanically faint of heart. In any case, I have two motor control boards, one that I repaired and one that I rescued from the 2000 before it was removed. Someone on this forum was looking for parts? I would be more than happy to part with these for shipping costs.

We purchased a Staber 2304 (W02) model about 9 yrs ago. It was fine for several years. We were excited that we had a machine that saved us money and seemed to work well. Then little things started not working. Bearings, then the door hinge, etc. Little by little it was adding up. Jan of 2012 we replaced the motor. Since they didn't have this model, we had to send it in to have it repaired. It cost $227.13 for them to replace the motor and another $50 for me to ship it to them. Then in Sept 2012, we started having problems with the door latch. We decided to try and figure that out on our own as we were out of money. There is also some leaking now underneath that needs to be taken care of. I asked them if they could send me a copy of what we had spent so we could see how much it is adding up. Of course they never got back to me.
When we first started calling Staber, their customer service was great but over the years it's gotten almost rude. When I was having a hard time trying to figure out an item they actually told me "Ma'am, please wait until your husband gets home and have him call us". I'm pretty ticked that they treated me as if I belonged barefoot and in the kitchen. We have been babying this machine for the last several years and now here we are again today with it not agitating or spinning and troubleshooting the problem. Looks like it might be the motor again. Staber doesn't seem to mind that their washing machine which was a great idea is now becoming more expensive than it's worth. If we can't get the machine working without having to incur any more cost, then I will be buying a new washing machine from a different company.

We purchased 2 Staber washers for approx. $1500/each or both for $3000 upon the recommendation of a "friend" who had simply read about them (Staber propaganda) and did not actually own the Staber washers himself. Within months the front bearings and pulleys went out of both washers. The belts break in less than a year after installing them. No one in the area services them, so if you buy one of these "lemons", you are the service tech with very poor support from a very unknowledgeable Staber support phone service. We have changed the wobbling aluminum pulleys, shocks and boards. The entire building shakes when the Staber is on the spin cycle and when the front bearings go out, which seems to be annually, they can be heard from outside the facility. The clothes baskets are small and not sufficient to wash even one king sized comforter.
We paid $3000 for these washers and our yearly parts, repair bills range from $500 to $1000. We have since purchased a new LG washer and dryer for our second home and it spins faster and quieter, holds twice the clothes which come out cleaner and carrying less water than the Staber. The cost of the LG washer was 40% of the Staber. Buy American? Not if the quality resembles what just came out of a horse's rear end!!! Over the past three years, we are lucky if one of the two Stabers is functioning at any point in time. The Staber company needs to be out-of-business.

I made the bad mistake of buying a Staber washer. From the day the thing was new, it snagged clothes and was only good for washing jeans and rags. The little proximity sensor, mounted on the front bearing hub, never worked. That is such fun. The darn thing poured water on the floor, after the first week of use. About one in ten washes, the washer will not spin. The clothes are left dripping wet. I bought packs of fuses for this washer as it constantly blew the circuit board fuse. The screws that hold the front panel literally wore out from use, several times over. The Whirlpool Duet sitting next to my Staber washed twenty loads for every one the Staber tried to wash. That imported Whirlpool Duet has never cost me a penny for repairs.
My latest experience with Staber "customer service" has my blood pressure stratospheric. I shipped my circuit board to them for repair. They told me that, according to the insane numbers that the circuit board was showing, the board was the problem. I shipped the board by Priority Mail and the tracking number let me know that Staber received the board on 24 May. Every month, I called to inquire if my board was fixed. Every month, the word was manana. In August, Staber then told me that they never got my circuit board. That was surprising. After a few calls to the postal authorities, my lost circuit board was found at Staber.
Today, 12 September, my board finally came back. The "repaired" board was returned in my original Priority Mail shipping box, with a UPS shipping label slapped over my original label. My original packing was used, exactly the way I shipped the board out. Guess what? The darn board does not work. Is that not a darn coincidence? I drove a very long way to Groveport, Ohio to buy this washer. I was thinking about spending another long day to drive back to Groveport, to give this disaster back to Bill, Jim and Constance Staber. Unfortunately, nothing will come of such effort. The dump is a lot closer, and wasting two tanks of gas is just good money chasing a bad choice anyway.

We purchased this washer almost 8 years ago. I have changed the bearing twice. The rubber skirt once. The motor was rebuilt in April of 2012 and fried last week. We have spent over $550 in parts over the past 8 years. The first set of bearings was covered by warranty. I just ordered a new front loading washing machine. I am a handyman and did all the repairs except the motor rebuilding. I would not recommend this washer!

In fairness, I found the remote support decent but not great. We bought this machine, I cannot remember when. You need to be handy to own this machine, which I am. But I have fixed it at least 15 times for various problems: Main Controller board, clogged drain hose, top door/drum cover switch, belt, main bearings (what a ** that was). The machine caught fire, burned the main controller and wiring harness and main motor. The flywheel keeps coming loose and I cannot keep the front panel on for more than 2 days before I have to go back, remove the front panel again & re-tighten the screws even with Lock Tight. After I fixed the fire issue, which stunk up my house for days, the machine worked pretty well. But it caught fire! I cannot recommend this product. Yes, I am handy. Yes, I can fix it but why do I always have to fix & work on this machine? We will be replacing it asap.

I'm okay with this washing machine. I have had it since 1992, maybe since '96 and fix it when it needs fixing. It seems to run more than the problems I have read here in this blog.
I "do" expect myself to investigate and do the work. I may have had the machine waylaid for a couple of weeks, for the past 20 years but could usually work around it until the part showed up. I am on the hunt for extra Staber machines to dismantle and have spare parts around because the store price for replacements is steep. I replaced the bearings once and have found that shielding them with a bit of sheet plastic (from falling/spraying water) seems to prevent the problem from reoccurring (knock on wood...so far). Still on the first belt, I was able to swap out another motor and timer (from a friend's scrapped machine) when the brushes wore down and timer motor went on the fritz.
I bought and replaced the brush pack and have the original motor ready to go again, replaced the shocks from the "original design years" with better water shedding ones. And I had to replace the top rubber skirt (around the opening) and had to get new spring hinges for the drum door. For something that has gone twenty years and will probably go a bit more... provided I can nab some old retired machines prior to being scrapped, I should be good to go for another twenty.
I've had this machine located on the first floor laundry room (next to the kitchen on a tiled 2 x 8 joist floor sub structure) and do not think of it as noisy (tumble spin washer) when compared to others. I do agree that the start up price for new is steep and the replacement parts are pricey. I do appreciate being able to take it apart quickly to fix, change out and or maintain... and then get it up and running again. I would like to believe that the parts are unreasonably high but have not shopped around to compare what a usual life is or even if they are available. I do believe we are in an age where challenges that are of a problem solving nature or are mechanical do put the majority of people "up over the wall" and would want to "drop kick most things" instead of taking a breath and exercising the 'Hmm factor'.

We purchased the Staber washing machine and dryer in 2009. The washing machine seemed to work fine for about a year. After that, the "Normal" cycle became so loud it shakes my entire house when the machine is on Spin. If I use the Permanent cycle, it spins less violently, but clothes, particularly towels, weigh a lot because they still have too much water in them. This pretty much reduces any type of efficiency with the dryer. This problem has gotten progressively worse and we would love to get a new washing machine, a different brand, but we paid so much for this we feel totally stuck with it.
As for the dryer, even the Delicate cycle is very hot. The clothes feel like they're on fire when they come out. The disc that indicates what cycle you're on has broken so it just flips around in circles so I have no idea what cycle I'm on. The plastic handle has completely broken off. First, it started to crumble and then I just had to take it off completely so I wouldn't poke myself with the plastic that was left.
All in all, I like to support American-made products, but these washers and dryers work terribly. The only reason I gave two stars is that Staber customer service will, at least, talk to you on the phone and try to help, but some of the responses for the dryer since it's Whirlpool is, "You'll have to contact them directly to order parts." Really? I need to contact them when you've turned it into a Staber dryer? That's interesting. I don't remember the last time I regretted buying something of this cost as much as this washer and dryer.

We purchased a Staber washer in 2009. It worked okay for about 9 months. At that point, the delicate cycle would start and then stop after about 15 minutes, never to proceed again. Being busy people, we felt that it was not worth the trouble to deal with it at the time. After we had the washer about two and a half years, we noticed the clothes were not becoming very clean and that there was a profound smell. We thoroughly cleaned the washer and this was not a great solution, but it was a little better. Forward another eight months and it started to make a noise during the spin cycle.
This washer was very carefully leveled on a solid floor (tile over a full mud job) so there was not stability issue. I checked the level several times as did a contractor friend of mine. The noise and vibration increased until it was clear that there was a problem with the bearings. I tried to talk to Staber customer service seven times. No technician was ever available. No one returned my calls. The poor woman who answered the phone was absolutely untrained and clueless or a very effective actress. I used the online manual and opened the front to find ball bearings all over the bottom of the washer. Without some guidance from Staber, I could see that this was beyond my capabilities, contrary to their marketing claims about the ease and clarity of end-user repairs.
Facing a bathroom beginning to fill to the ceiling with clothes from very active family members, we bought a GE front loader from Home Depot for $599 delivered. And, thankfully, they took the Staber with them. The GE has worked flawlessly for 18 months so far. It has greater capacity, gets the clothes cleaner, generates a fraction of the noise and uses less electricity and water. I will never ever buy anything from Staber again. As far as I am concerned, it is one step up (maybe) from a scam.

Never again! I purchased a Staber washer 3 years ago, and it broke in the very first wash. I wanted to send it back for a refund, but Staber refused. There was no warranty coverage, even for a brand new washer; we were the warranty! We had nothing but trouble with it since. It is very touchy to use, things left in pockets easily plug up the drain line, loads are constantly unbalanced, with no alarm if there are, and the washer just keeps running for hours on end. Clothes smell like mold, and white are grey. The RPM for spin cycle is so poor that things come out literally sopping wet. You wind up rinsing/spinning 2-3 times by hand. If it breaks, you are on your own for repairs. The water pump went out on it this time and I'm hauling it to the dump and calling it a $1,300 lesson.

I was excited about this washer, but soon, I started smelling mold in our clothes. Upon examination, I found a thick layer of mold inside the compartment that houses the drum. I tried cleaning it several times, but I could never get it out. Now it is making us sick, and the doctor says we all have been exposed to the same mold and scratched his head as to the source. I knew the washer was the culprit. We are off the Sears to buy a new washing machine. Sorry, Staber. Some good ideas but not perfected yet. Consumers should consider avoiding this product because of black mold formation.

Staber makes the point that a machine that is consumer fixable means that the consumer will be fixing it. I have had mine for 5 years, and in those 5 years, it has broken annually. My clothes stink, whites are grey and it does not really rinse well. For the price, I could have purchased a top of the line machine that works. Avoid Staber.

I bought four years ago a top of the line HWX2504 Staber washer. All of a sudden it just quit. I called Staber and they said I could not have anyone else work on it, that I would have to take apart the machine myself and mail the motor and control board to the factory in Ohio. The machine has been broken now thirteen days and counting. I talked to Staber this morning and they said the control board had problems and they would fix it and mail it all back with no warranty. It will cost me about $130.00 plus a couple of weeks' time. What a mistake. No service to speak of.

Here are some problems:
1. The Staber Washer is no longer rated Energy Star 2012 and if you calculate the amount of clothes you can fit in the drum minus the two large baffles inside the drum, it is not cost efficient compared to other Front loaders with larger capacity.
2. It has essentially one wash and two rinses and does not spin out between rinses! If you have dirty clothes, you will not get them as clean as you like and will be forced to wash twice. Pack the drum to full capacity, then there is no movement between clothes.
3. The holes inside the inner drum are cut out and not dimpled like a well crafted inner drum should be. So when your clothes are wet and heavy, they rub against the holes and can remove fibers from clothes.
4. You must use very little soap that does not sud because if you don't, it can damage the washer.
5. Unlike a traditional front loader, you can't see the clothes during the cycle.
6. No service! You are on your own and at the mercy of a the woman on the other end of the phone who does not care. Poor technical support.
7. Poor washing since there are only two ribs (baffles) that moves clothes around. Most washers have three inside the drum.
8. Loud as hell when spinning and only spins up to 750 rpm for the last 2 minutes at that speed. It is 2012 and if you pay $1500 for a washer, it should go to 1,000 rpm so you save a ton on electricity when drying.
9. Parts are not USA made and are European and expensive as hell.
10. $250 for a the controller board, $300 for the motor from Germany, bearing kit, $150, plus shipping cost added!
11. They recommend that you buy their soap which is expensive!
Actually, if the drum were larger and could take more clothes, if the washer had better quality shocks, the washer could spin at 1,200 rpm instead of 750 rpm. If they put better quality bearings, it would last 20 years without a bearing job. If they had better customer service and videos and good manuals on service and troubleshooting, if they had a repair swap program that would be cost effective, if they had an overflow hose to handle suds overflow, then I would buy another Staber.

I've had my Staber for about 11 years now. It works well, but you have to have a least some common sense to operate it, as with many horizontal axis machines:
- Level the machine correctly so the weight is evenly distributed across the 4 legs.
- Use HE detergent. If you don't use low HE detergent in a HE horizontal-axis machine, guess what, you get soap into a lubricated bearing! It washes out the lubrication.
- Don't let the secretary at Staber diagnose your problems. Wait and talk to a tech.
- Don't assume that other machines are better. Both the Whirlpool and the Frigidaire (therefore, also Kenmore) blow up in 5 years: one from bad bearings and the other because the incompatible metals dissolve each other. The repairs for those cost $700, a new machine $800, either of which will die again in 5 years.
If you do hire someone to service it, find someone with some smarts. There are too many appliance techs out there that are just plain parts-changing-monkeys. They have no diagnosing skills and will tell you, "Looks like you need a new one," which means, "I can't figure it out." The even more ignorant ones will tell you, "I wasn't trained on this machine." If they can reason at all, they should be able to get a manual or even just a wiring diagram and figure it out for themselves. So call around and find the smart guy, not someone from the large chains.
In my 11 years with my Staber, I had two problems. The first was it stopped advancing to spin. I had a diagnosis from the secretary and swapped out the circuit board. No improvement. I talked with the tech and while talking, I figured out myself that the lid lock switch wasn't engaging far enough to allow the spin to start. They took the board back and sent me a new lid lock switch. Both were easy to install. Then I burnt out a pump motor. It was the easiest thing to install ever. So as things are going, I'll probably have this at least another 20 years.

My husband and I purchased a Staber washer, model no. HXW2304, series no. W03, serial number B07010907, in February of 2007. We put much time into researching what washer to purchase for our family, and since there are 8 of us, it makes sense to go to a washer which uses less water. We also liked that it could be serviced more easily by the user, uses less soap, that it was top loading, large capacity and USA made.
After using if for a few months, there were some drawbacks in how it would get out of balance easily with bedding and less typical loads. It also couldn't seem to spin just a few things. We still made the best of it, but then encountered problems, which we contacted the company about in October of 2009. We noticed that the problem usually occurred during the first rinse cycle or late in the last wash cycle. Here is one typical example of what would happen: The drum would start to spin at a high rate causing the water to splash out of the washer. The drum then stopped and spun in the opposite direction causing the belt to squeal loudly while the drum caught up with the motor. We shut the washer off. When restarted, the washers breaker tripped. Unplugged washer and reset to beginning of rinse cycle 1. Washer proceeded to operate normally for a short time, then problem re-occurred. When we unplugged the washer for at least a minute, we were able to get the washer to finish the load. This problem repeated itself a few times and then the machine would no longer turn the motor.
We sent our control board in and received the repaired board on October 26th. It began the same pattern only 3 days later on October 29th and then again on the 31st and again on Nov. 4. I had called on Nov. 2 and we were told we would be sent a new board and that this problem can occur when people are off the power grid and get surges. That does not apply to us and we have never noticed any power issues before. We installed the new circuit board on November 7, 2009. We also made all necessary checks in regard to the machine and made sure it was properly balanced. The machine worked normally for many months. But then in early 2011, we began to see the pattern described above, but we wanted to avoid having to be without the machine again, so we kept hoping that the machine would keep going. However, in November 2011, the motor would no longer spin. We couldn't be certain that the motor wasn't also a problem so this time, we sent both the motor and the control board in, but at this point are quite weary of the whole ordeal.
Something just isn't right with this machine and yet Staber handled this like we could be having power surges, instead of considering the possibility that something is wrong with this machine and that this isn't acceptable. That isn't the attitude we received. Since we spent $1200 on this machine, it would be a huge loss to give up at this point, so we were stuck between a rock and a hard place. Now the cost is adding up with shipping costs and the laundromat, not to mention the huge inconvenience. We had only one thought left to try to cover our end regarding this reoccurring problem. My husband had some of the parts to set up a UPS device to protect our machine from possible surges. He spent money on that as well and needed to build a shelf up on the wall above our machine. Again, more money and time just to make this machine work.
So we sent the motor and control board on November 16, 2011. On Dec. 2, we were called and told that there was a burnt resistor but the motor was fine. We went over other matters with Sylvia to make sure all was well with the pump hose and hanger, and nothing was wrong there. We received a repaired control board and our motor back on December 7, 2011. It still didn't spin, but there was a broken wire. Fixed that on the 8th and the machine appeared to work. The UPS device was installed before we began using the machine again. All seemed fine, but then on December 27th, the washer stopped working during its use. The UPS switch had been tripped. We turned it back on and then the machine worked after that. This happened again on February 22, 2012. Same process. We thought that perhaps this meant we had been getting surges and that the UPS device was protecting the machine. However, on February 24th, we had no squealing or none of the usual pattern, but the control board died again. The motor won't spin just as in the other times. Unacceptable. Unacceptable. Unacceptable.
Let me recap this pattern: Purchased in February 2007; Original control board went bad in October 2009. We sent in our board to be repaired; Repaired board went bad 30 days later. New control board was sent in November of 2009; Control board went bad in November of 2011. We sent in our motor and control board to be repaired. Control board was repaired. Motor fine; Repaired board went bad February 24, 2012, just 2.5 months later.
I see an interesting pattern here, in that a new board lasted us no longer than 2.5 years and the repaired boards lasted 30 days to 2.5 months. Unacceptable. Unacceptable. Unacceptable. Since this last occurrence happened late on a Friday and they have no evening or weekend hours, which is really rough, as well, we were faced with what? Going through this again? More Laundromat, more expense and then what will we get? No one has offered something that works. We finally had to go out and purchase another washing machine after 5 years of trouble from a $1200 machine. I would expect that someone could have offered us something better than going through this over and over and over.
Another important detail is that the last new control board we were able to receive was in November of 2009. Once we started having problems with that control board, we learned that Staber no longer was making new control boards for this model since they had a newer model. So already we were reduced to having only repaired boards after having the machine for only 2 years, and then look at the outcome of these repaired boards 30 days and 2.5 months! This pretty much left us with a problematic machine, with no one offering us any real solutions.
Also, due to our continuous problems and needing to take the front of the machine off (originally this was done to be able to make adjustments related to balance, but we found that when the machine went into its screeching spin, splashing water everywhere, that having the front off helped it to dry out faster so that it could work again sooner), we left it off for a 9-month period when the last control board began acting up. As you know, this presents many dangers, especially to young children, which we do have. Our washer is also located just a few feet across from our dryer, which made it tricky if you needed to access the dryer while the washer was going. This is unacceptable that we should have to leave it this way to make our machine dry out when it is malfunctioning.
Also, we found the limited hours for Staber a problem, which left us hanging often on the weekends, besides late afternoon and evenings. Also, the hours kept changing. The hours changed from what they were in the manual and we wrote down the new hours in the manual. The next time we had troubles, we called and we found out we were after hours even though we were calling within the time frame that we wrote down. Then the next time we called, and I was put on hold, the recording gave hours that were different than what we were just told. So, first the hours are quite limited, but then we can't nail them down.
So the long and short of it is that Staber got our money, the postal service got our money, the laundromat got our money, and even Radio Shack got some of our money (the UPS device), and that machine took much of our time, but we have nothing to show for it but this metal box sitting in our garage that can't do what it was designed to do no matter how hard we have tried to make it work. We sent the above correspondence to Staber, hoping they would take responsibility, but here is what happened:
I called Staber March 16th, 2012 since I hadn't heard from them after sending two emails and waiting two weeks for a response. Rachel connected me with Brad **, the director for Staber. He said he hadn't received the emails and gave me an email to send them directly to him. He gave me a cell phone number and told me to call him directly by the end of the day if he hadn't contacted me. He didn't call, so I did and had to leave a message. He never called back. He emailed on Monday, the 19th, and said he was out of town but would try to talk to me Tuesday. That never happened. I tried to call again, but no messages could be left. I emailed the same day asking when a good time to talk would be. He never replied. Within a few days, I called again and left a message. No reply.
On March 28th, I sent an email indicating I felt stuck since he wasn't responding. I asked for a reply that day or the following day. One week of silence. I called Staber on April 4th and talked to Rachel. I asked to talk to Mr. **. After some time on hold, I was told she was still searching for him. Then some man named John gets on the phone to tell me that Brad was on the phone and that he would call me back. That never happened. I called on April 5th and told Rachel I needed to talk to Brad to resolve this. She got back to me and said that Brad sent me an email. He essentially is saying that we have a power problem and they can't do anything.
Staber has no way to prove that we have power issues and we have relayed to them our history of a lack of power issues and that we built the UPS device to protect the washer. It didn't matter to them. We have been in this house for 14 years and have never had problems with appliances, computers, etc. shutting down or being damaged. We never had any problems with our old washers, nor had a problem with our electronic dryer, which we bought the same time as the Staber washer, but it is not a Staber dryer. Also, since the Staber washer died this last time on February 24, 2012, my husband put the UPS device to better use and has been using it to protect all of his computers in his office. He works out of our home and has several computers running all day long. Since he has been using it, there has not been one incident of the UPS device shutting down, even though it shut down twice during the short time we had it set up to protect the washer. Also, our new washer, which is an LG, has had no problems working properly on the same circuit. Claiming that we have an odd energy delivery problem is a scapegoat, and Staber needs to face up to what the real problem is with their machine and take responsibility for it.
We gave Staber every opportunity to resolve our continuous washer problems, but now this is their bottom line. We have filed a complaint with the Ohio Attorney General. There are already three complaints against Staber that have been made through the Attorney General's office. For those of you who have found their product and service to be unacceptable, you may want to consider this. If not for yourself, for many others who can learn from your situation and hopefully Staber will see the need to address foundational issues and consider addressing problems with knowledge, maybe a touch of compassion would be nice, and with a willingness to take responsibility for the failings of their own machine.

In approximately 4 months of usage (100 loads of laundry), the Staber Industries clothes washer, model HXW2504, began to shake violently during its spin cycle. When checked, the bearings holding the wash tub had movement in them as well as the 14" aluminum pulley had developed movement on the steel drive shaft it was mounted on. These washers sell for $2000 when freight is included and we purchased 2 of them. I felt the customer service agent, Silvia, talked at me. I was told that I now could spend $500 to correct what I refer to as an engineering design problem. I am now required to spend $500 to disassemble both washers into pieces at my own expense and time. I would like Staber Industries to refund the $500 in parts used to correct the engineering design problems and I will donate the time to install these needed parts.

I have had some issues with my Staber but have always been able to resolve them. Customer service has been helpful and parts have been readily available. Biggest problem has been bearings failing. I am about to install the third set since. Not a difficult thing to do. Since bearings seem to be a major problem in most of the complaints I read, I would like to offer the following:
When you installed your Staber did you level it front to rear? If the bearings are in failure replace them immediately. If you don't vibrations will cause you other issues, such as, loose connections, possible control board problems and ever motor mounts. If your belt comes up, it's probably due to bearing failure also. It causes the pulley to come out of alignment. When you replace your bearings remove the seals from the sides that face the spacer and pack this area with extra grease. This will allow for better lubrication and longer life.
I have done industrial maintenance work for over 33 years and can tell you that I have found many sealed, pre-lubricated bearings and universal joints that came from the factory without any lubricant in them. The bearing number is 6203-RZ and can be purchased at any bearing supply house, such as BDU, Kaman Industrial, etc. A tube of sealant and a couple of "O" rings and you have what it takes to replace the bearings. Good luck.

We have owned the Staber washing machine model # HXW2404 for 6 years, replacing a 12-year-old Amana. The machine cost $1,699.00 plus freight charges (close to $2K). We decided to pay a bit more to get the additional stainless steel base. And for a machine, that should be trouble free for years. Just this past month, the main bearings failed, causing the drive belt to melt and smoke out the basement. Staber didn't really offer any support other than replacement hub assembly which will cost $205 with shipping. But "they didn't know when they could get them because the manufacturer was on vacation"! We waited 2 weeks. And then in my frustration, I scrapped the machine, because the resale on them is worthless, and not worth the repair costs.
Today (11/12/11) I took the disassembled Staber to the scrap metal merchant expecting to get extra cash for all of the separated stainless steel (inner tube, outer tube, and base). To my surprise, none of it was stainless steel! The stainless utterly failed the magnet test. I got $8 for 80 lbs. of light iron. Staber is selling something they tout as stainless steel which in fact isn't. I challenge all of you Staber owners out there reading this to put a magnet against the inner tube, outer tube, and stainless steel base. If the magnet gets attracted, it is not stainless steel, and you've been had, like me. Staber is therefore violating advertising standards by claiming something which is false.

I have owned a Staber model HXW2304 top loading washing machine since 2004.
I own a 3-family house and the washer serves all three units; the use on the machine has averaged 30 loads a month over the past seven years. This is a very accurate figure because each load done is recorded on a tally sheet. So if you do the math the machine has done 2,520 loads in the past 7 years. The machine cost $850. So again doing the math that works out to 34 cents a load. I have not had a single problem with the machine until just recently when the tub bearings failed. I have ordered the bearings which cost $149.00; Installation is quite simple.
From my experience with this machine I can state quite accurately that this is a very well designed, highly reliable machine that has operated for a considerable time with absolutely no problems. It has been very efficient to operate using much less water and detergent than my previous machines.

I have had my Staber washer (Model: hxw2304) for five years and two and a half months. Two and a half months after the warranty has expired, they think it is reasonable to expect someone to have to pay $205 for a new bearing kit and a belt. I have greased that bearing three times with lithium grease. Each time I thought that it was weird to have to grease my washer. I have never heard of this before, but the instructions said to do it. So, I've got a $1,000 washer that I can only put 2 cubic ft. of clothes in, that I have to run twice to get any real stain out, that has to have regular greasing and belt tension checks.
I've never overloaded it. It is inside of an air-conditioned laundry room and only two people use it. The timer has always stuck and the only savings have been the low amount of soap that I use. So, over the years, I have saved a little money on soap; but, I have had to put up with a washer that doesn't really get my clothes clean (probably because of not enough water being used). And now, I have nothing more than an expensive piece of lawn art. I have been making excuses for this good idea gone south ever since it arrived. I wish that I had done more research before buying this sorry piece of junk. It doesn't make any sense spending another $200 to keep a used (** from the start) washer going.
I think that some people are drawn to the creative design. Creativity doesn't necessarily have any bearing on performance--the Spruce Goose was very creative. Others probably see the price tag and assume anything that pricey can't be a hunk of **. If I charged a million dollars for a Yugo, could I call it a luxury car? Please, to those of you who keep trying to defend this hunk of **.

The bottom line is this machine is not worth the trouble, as you will find out if you look anywhere on the web. It is expensive and unreliable. Even if you are handy with fixing things, why should you pay money for an unreliable product? Is that how you want to spend your Saturdays?
We have had our Staber for 5 years and in the past two years, we have experienced a series of problems that have consumed a lot of time and have left our washer unusable for weeks at a time. The first problem, within one year of ownership, was a broken controller board. We sent that one in and it was replaced free of charge (although we paid for the shipping). The second problem 4 years later was malfunctioning motor, which we troubleshooted with the help of Staber support person. I took the motor out and sent it in for a replacement (it was an expensive part, cost several hundred dollars).
After installing the new motor, the washer sounded much louder than before during high spin cycle. After four months, the belt slipped off during a wash cycle (this had never happened before). I have been unable to get the belt to stay on (it slips off after a few turns). I have called Staber and they were very unhelpful so far. The lady I spoke with did not come across as very knowledgeable and walked me through a useless checklist.
Once it was clear that the problem was the one I said it was, belt slipping off, she had no ideas. She said she would call me back but so far no one has.
For the few people on this list who love their Stabers, my only comment is the following: you got lucky and wound up with one of the few units that did not experience multiple failures. The level of reliability of components in this machine is insanely low in comparison to all other major competitors. It is ridiculous for a controller board to fail in one year, a motor to fail in four years, etc.
These are very mature component technologies that should last 10 years easily. The fact that the machine is designed to be easier to repair by the end user does not justify the fact that it requires repair so frequently. Given all of the high-quality horizontal axis washers available from Europe and Asia, it is not worth going with the only US company (who hasn't gotten their act together). I should add that my machine did not experience problems with corrosion, rust, etc. as some have reported. I can imagine that this would only compound any existing problems, but in my case the problems were strictly the result of poor manufacturing/design choices leading to frequent component failure.

My wife and I bought a staber model hxw 2304 in 2003. It worked really well for a few months. It needed a sump hose hanger and a x55778 m620 bi timer on 12/23/2003 same year we bought it. We got it from the only dealer who had one in Medford Oregon. So I don't know how much the timer had been messed with before we got it. After we put those in it worked good until 8/5/2010, it stopped going through the spin cycle. If I waited overnight, and put it just on the spin cycle (straight down), it would spin the previous nights load.
It also had a clunk sound every time it moved the tub fore or aft. I turned it by hand and discovered it needed a new wheel (pulley), safety wire,drive shaft assembly, o-ring and grease.$170.35. This time when I called staber, I had women who would tell me to check this and that. it sounded like they were reading out of a book. I replaced the proximity switch, and the pressure switch. of course it took about a week to get each order of parts. The techs are not nice, but made me feel like a pain to her. Well guess what! The machine still does not spin.
So today I ordered a new timer, and program selector switch. If I could charge them for my labor it would be expensive just because of the amount of time, and the misery of trying to reach some of the places I had to check. They need to make trouble shooting a whole lot easier or close their doors. This last order I am waiting on costs $104.34. I do not make much money but even if I did, a person should not have to be put through this just because they bought a staber.

I just give up. These American made washing machines are just not worth the trouble. After 2 plus years and countless repairs we refuse to spend any more time or money on our machine.

My story is not such a bad one compared to what some other folks have claimed or experienced. I have owned my washer for approx. 8 or 9 years and have been offering them on my website for the past 7 years. Today, May 24, 2010 is the first time I have ever had a problem. I called Staber to see if they had a field manual (they don't) but I was told that there is an owner's manual online (it also comes with the washer). I told them that I was hoping for something with a little more information.
When I got off the phone, I didn't feel too pleased with the conversation. I went back to the washer and unscrewed the control panel and the front of the machine as recommended. After some checking with a volt meter, I found a continuity problem with the drive motor. I called Staber back and this time I had a better experience. I was told that it seemed that the problem seemed to be with the motor which could be sent back for repair ($200 + S/H). But they recommend that I fiddle with the motor brushes and see if that solved the problem before sending it back. I did and that solved the problem. It seems that sometimes the brushes may not make contact and cause the motor not to work. All in all, my experience was not that bad and was fixable.
On another note, to address cut hands, it should be noted that if you open the clothes basket with two hands as described in the manual, there would be no way to get cut or hurt. The inside hatch is spring loaded and requires two hands to open.
I am sorry to hear that a few others have had bad experiences with Staber and I hope the company works at solving those problems. I will continue to sell Staber Washers because I believe that it is a good product. It lives up to the company's claims, and I have never heard a complaint from anyone I know who owns one or who has purchased one from me.

ConsumerAffairs Research Team
The ConsumerAffairs Research Team believes everyone deserves to make smart decisions. We aim to provide readers with the most up-to-date information available about today's consumer products and services.
Staber is specialized in regards to the production of laundry appliances, and it shows through the efficiency and quality of Staber's washers and dryers. Staber also features patented designs and high-quality materials in their production.
Staber dryers offer huge capacity: The standard Staber dryer offers a massive seven cubic foot drum, and even offers commercial dryers fit for business needs and huge loads.
Stainless steel components point to quality: Staber offers upgraded washing machines that come with a stainless steel base and brushed stainless steel cabinet. The quality of these materials means Staber offers a two-year warranty instead of one for their standard washing machine.
Made right in the USA: Staber features the only top loaded horizontal-axis washer that is made in the US. Staber holds a patent on this washer's design, meaning you get a washer with advanced technology built to last.
Staber offers personalized service: Staber has a reputation for excellent customer service and a website that caters to consumers' needs. There's even a section on hooking up a washer or dryer to solar power for people who want real technical details.
Best for Consumers who like washers and dryers built to last, large families, professionals and businesses.
Compare Washers and Dryers
Staber Washer Company Profile
Company Name:

Staber Washer

Year Founded:

1976

Address:

4800 Homer Ohio Lane

City:

Groveport

State/Province:

OH

Postal Code:

43125

Country:

United States

Website:

http://www.staber.com/